D r. Leslie Steele, who owns Advanced Animal Care with her husband, Dr. David Steele, also a veterinarian, practices what they lovingly refer to as "family pet medicine." Both their professional lives and their personal lives revolve around their desire to help family pets.
"Our patients reach beyond Mount Pleasant. They come from other nearby locations such as Daniel Island, Isle of Palms, Seabrook and Kiawah," said Dr. Steele. "We medically treat our patients as well as help with preventive treatments and consultation."
Dr. Steele knew from the age of 6 that she wanted to be a veterinarian, and today she shares that mutual passion with her entire family.
"All pets, including ours, will sort of gravitate to particular members of the family, but, in reality, they are family members themselves," she commented.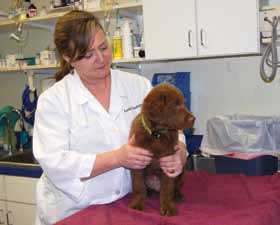 Advanced Animal Care, which has cared for pets since 2001, knows well how best to choose an animal.
"Anyone considering a new pet should consider the energy level of the pet and how it coincides with theirs," Dr. Steele explained. "Also, try to match the breed with the climate in Charleston."
In the South, animals are exposed to parasites such as heartworms that are transmitted through mosquito bites, "especially if a pet owner is moving from a Northern climate where they may only have three months of hot weather and are not used to the continuous threat that can last year-long in South Carolina," she said. She added that
people can help their pets with oral or topical products that fight parasites.
"Also, people can sometimes forget how intense the heat can get around here," Dr. Steele went on to say. "Never leave a dog in a car, never walk during the day and always have water available."
Dr. Steele added that many animals end up being given up for adoption because they have behavioral problems. She encourages regular exercise and training sessions, which will help a dog understand what is expected of him or her.
"Lastly, mixed breeds tend to be healthier than pure breeds, and we recommend avoiding puppy mills. I recommend going to the shelter and spending time with the animal so that you get to know one another before making that commitment," she cautioned.
Advanced Animal Care offers a limited adoption program, typically stray cats that have been treated by their staff.
"In our area, there are more cats than there are homes," she remarked.
To learn more about proper veterinarian treatment for your pet or to view furry friends available for adoption, visit advanced Animal Care online at www.advancedanimalcaremp.com or call (843) 884-9838