Imagine an elementary school perched above a beautiful beach, not unlike a sand castle. Inside, classrooms are level with  he tops of the trees, children can peek into neighboring rooms through porthole-like windows, and they can touch and  closely examine water environments. Instructors are teaching more than just science and math; they delve into biology and  social responsibility as well.
There's really no need to imagine all this. It's what reality is all about for students, parents, faculty and staff at the new  Sullivan's Island Elementary School.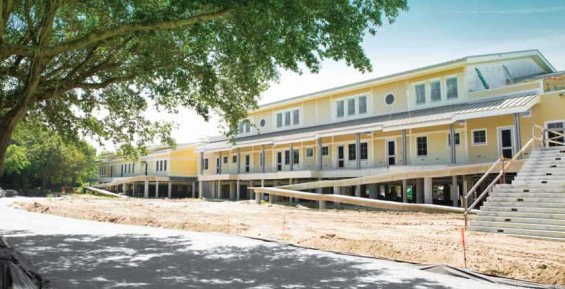 The 74,000-square-foot school, which will open in the fall of 2014, cost $26.5 million and will house 500 students. According to Principal Susan King, the new building lives up to the school's mantra of "learning by the sea."
"It's not just a typical school building," King said. "The theme is to have a 'menu' of different spaces to learn in on a weekly  or daily basis.
Because the school is located within shouting distance of the Atlantic Ocean, it had to be built on stilts, which brings  classrooms to an almost treehouse-like height, King said. Windows are places on interior walls that encourage exploration  and inspiration inside the building, while the unique Design and Discover Lab will teach students preliminary engineering  skills.
Students will learn outside the walls of the school as well, on two second-floor decks. One deck will include a telescope and WeatherBug weather monitoring system borrowed from the Sullivan's Island Fire Department, while another will function as a hands-on garden lab. In addition, an outdoor classroom will be built in the vacant space below the building.
Sullivan's Island Elementary students won't be limited to learning in and around their new school.
"Some of our spaces aren't part of the site, but students can access them using the beach, ocean and the nature trail in the park behind the school," King said.
Interaction between the school and the Sullivan's Island community was a driving force in the school's design, according to Loren Ziff, the School Improvement Council's rebuilding chair.
"What's really exciting about this is that there's been a tremendous amount of community involvement. Residents,  parents, students and especially faculty have been very collaborative and have had a participatory approach to building  a great school," he said.
King agreed.
"We're trying to make it really kid-friendly," she added. "The whole school feels very calming and has a strong influence from nature."
For example, the surrounding environments will categorize the grade levels: kindergarten is the beach habitat, first and second grade are the maritime forest, third grade is the marsh, and fourth and fifth grade are the ocean.
The curriculum will also focus on biology and environmental sciences, with one of the most unique features being the  portable "touch tanks," purchased using funds raised by the Friends of Sullivan's Island Elementary School. Each tank  will house a different water environment and can be moved from classroom to classroom. To King, it's the small details such as the touch tanks that will make a huge impact on the students.
A focus on sustainability will go hand-in-hand with the nature-inspired design and curriculum.
"This is a partial magnet school, and we're really taking it to heart about what that means, so we wanted to create an  education platform that really honors being green and honors living in a more sustainable fashion," Ziff commented.
According to King, Sullivan's Island Elementary School already practices green habits such as recycling. She added that its efforts along these lines will be enhanced at the new school.
"It's just so exciting, not just to have new walls and windows, but we really want to integrate some of the key assets of the location into the curriculum," Ziff pointed out. "It will really foster our kids to be good stewards of the Earth in as  sustainable a way as possible."
School administrators and those who were involved with the planning process for the new school are anticipating its opening, but future students are even more excited about the newer and bigger facility. Betsy Fuller, who lives on Sullivan's Island, said she and her family cannot wait for the new school to open.
"We're very excited about having the school back on the island," she said.
Her three children will be in preschool, kindergarten and third grade, respectively.
She said it's an honor to have such an innovative school in her backyard and to share the advantages it offers with students from surrounding areas.
"It's going to be a top school in South Carolina. Why not share as much as you can?" she asked.
But for her family, the best thing about the new Sullivan's Island Elementary is its proximity to home.
"I think we're most excited about riding our bikes to school," she said with a laugh. "No more driving."
By Taylor Griffith
Photos by Jenn Cady