For people passionate enough to scrape together a living by fishing, it's more than just a job. Guiding is a way of life – a tough, wonderful life. For the rest of us, fishing is just occasional recreation, the once-every-so-often chance to spend time with our kids or maybe get away with the guys. On the surface, the lure of fishing for a living sounds romantic, but, every year, new wannabe fishing guides quickly find out that it's a brutal business.
Have Boat, Will Fish For Cash
Becoming an inshore charter boat fishing guide is pretty simple and, aside from the cost of the boat and tackle, which many new guides already own, isn't prohibitively expensive. Taking charter trips offshore, more than three miles, is a different story, requiring much bigger boats, heavier tackle and higher expenses and taxes.
Under the law, before anyone can accept passengers for hire, they need a captain's license from the U.S. Coast Guard. The entry-level and most popular license for inshore guides is an OUPV – Operator of Uninspected Passenger Vessel. It is often called a "six-pack" because it allows for up to six passengers per trip.
Christine Giles, director of SeaSchool in Charleston, which handles testing requirements for a Coast Guard license, tells applicants the total cost of a six-pack usually runs at least $1,100, which includes drug screening, a physical and CPR/first aid training. Additionally, the South Carolina Department of Natural Resources requires an annual charter boat license, classified as a V1, which costs $50. The time it takes to complete these requirements varies, but most guides said it took about a year to attain the license.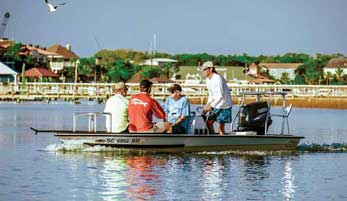 DNR requires charter boat operators to log details from every trip – such as the number of passengers, catches, locations and approximate size of fish – and to fax a monthly report to the agency. Data culled from these reports help DNR manage area fisheries.
While these barriers to entry are fairly low, charter fishing is not typically a financially lucrative business. An average trip might earn $400 for a half-day charter or $600 for an eight-hour trip. There's not a lot of money in helping a visiting Canadian land his first redfish. Guides do their thing because they love fishing and being on the water. According to Orangeburg native, Citadel grad and Mount Pleasant fishing guide Chad Ferris, "My passion is my job." Ferris, who has been guiding in the Lowcountry since 1996, said when he was growing up, it was the fishing trips to Charleston with his father that lured him in.
"I knew then that I wanted to be a guide," he said.
This seems to be a common story among full-time guides: They grew up fishing and there is simply nothing else they would rather do. Jim Dodge, for instance, left behind a 20-year career at a national insurance company to start guiding in Mount Pleasant.
"I survived all the corporate turmoil and was bound and determined to do something I want to do," he said. "Since I left (corporate America), I'd swear I am 10 years younger. I just don't wake up with stress anymore, as long as I have the keys in my pocket and sunscreen in the boat."
More Than Just Fishing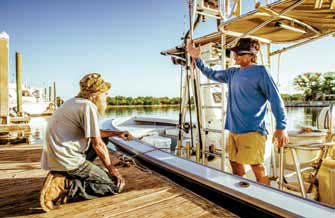 While Dodge left boardroom drama and office memos behind, he still faces plenty of new challenges, such as finding clients and reliably putting them on fish, regardless of season, tides and weather.
"Every day can be different. Just when you think you have them figured out is when (the fish) humble you," Ferris said.
Catching fish is just part of the equation. Like with many small businesses, there also is a lot of paperwork, marketing, selling, scheduling and networking. Add to that everything that goes with fishing, such as catching or preparing bait, cleaning the boat and equipment, fixing tackle, repairing the boat and always more cleaning, and you have a captain with a lot on his plate.
"An inshore guide is captain, wash boy and mate all rolled into one – kinda just doing it all," said Mike Able Sr., who founded Haddrell's Point Tackle on Coleman Boulevard in 1983 and ran both offshore and inshore fishing trips for 13 years.
During the summer, 12-hour days are common, according to Able, with typically a few hours of work to be done before and after the actual fishing experience. And because November through February are generally slow months, Ferris said most guides are reluctant to take days off from May through August. He remembered one long stretch with charters on 35 consecutive days, some of them doubles – two half-day trips.
For many guides, that means a lot of time away from their wife and kids. Family commitments often take a back seat to unpredictable schedules and last-minute bookings. Vickie Waller, president of USOBE, a Charleston-based charter boat booking service, said close to 70 percent of tourists book day-of or next-day trips. That means a guide's family plans for the weekend can be tenuous. As much as dad might like to make that soccer game, a late phone call and the promise of a few hundred dollars can quickly change his plans.
On the opposite end of the spectrum, charter captains might have more free and family time in the winter
months when the phone stops ringing. To help pay the bills, many of them turn to other part-time work. Some shift to guiding hunts in the upstate, while others follow the tourists and migrate south to Florida, operating charter fishing trips there.
For Dodge, who is working on his second full season guiding this year, "It was a long, cold winter. I love duck hunting, so I kinda liked the time off," he said.
But he soon felt he was wasting time and money when he would rather have been guiding. Dodge's free time turned into practice for his pattern fishing, taking notes and learning the winter-time tricks.
"I wasn't getting calls this winter, but I still was out there fishing," he said.
This summer he hopes to build on the 90 trips he booked last year.
"I'd like to be a little busier, but I'm new. For now, I'm right where I should be," he commented.
Rough Seas ahead?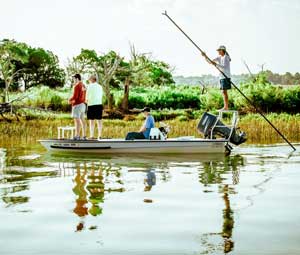 In the late 1980s, long before Charleston was topping international "Best Of " lists, it might have been difficult to locate the one or two fishing guides launching in Mount Pleasant. Today, you'll find no shortage of professionals ready to welcome you aboard. Not to mention, according to some, more than a handful of "Chuck in a truck" guides working under the radar and possibly without licenses. That poses a problem for both the unofficial captain and the paying customer, both of whom can be ticketed and fined by DNR.
There are currently 75 V1 charter boat captains licensed in Mount Pleasant, 24 more than in 2007, a 47 percent growth. Sixteen of those came aboard just last year. With another 179 V1 licenses in Charleston County, the Lowcountry has more than half the saltwater charter boat captains on the entire the South Carolina coast. That's 254 area captains and lots of competition.
Ferris, a seasoned, established pro, booked nearly 275 trips in his best year. But those heydays are over, he said. His business, Tall Tail Charters, consistently now books around 175 days a year, still enough to make a good living. He's doing a lot better than 75 percent of the guides who are reporting only one or two trips each month.
Captains are competing not only for fish and clients but also for dock space to load and unload passengers, which can be hard to find. In Mount Pleasant, during high season and busy holidays, guides try to stay away from Shem Creek, where they know it might be all but impossible to tie up.
"When I was guiding, we'd fish the bays and there was nobody else in there. These days you might leave the
dock with five other boats all going to the same spot," Able said
Regardless of the recent growth, guides still make up a relatively small community, and many of them tend to work together. For instance, seven to nine captains work out of the Isle of Palms Marina.
"We're a family. It's not a competition between us," said Ferris. "We want to see everybody have a good day out here."
Waller agreed that full-time captains enjoy a culture of cooperation.
Waller agreed that full-time captains enjoy a culture of cooperation.
"They all know they need to work and play well together because so much business comes from within the group," she said, adding that captains rely on each other for referrals, collaborate for corporate outings that require multiple boats and even share real-time tips about what's working on a specific day.
The first few years for a fishing guide are particularly tough, and there is much to learn while making very little money. However, with perseverance and perhaps a little luck, a good guide can turn a fun, recreational pastime into a real job.
And for those who truly love fishing, it's a wonderful way to work.
Story and photography by Andy Hagedon