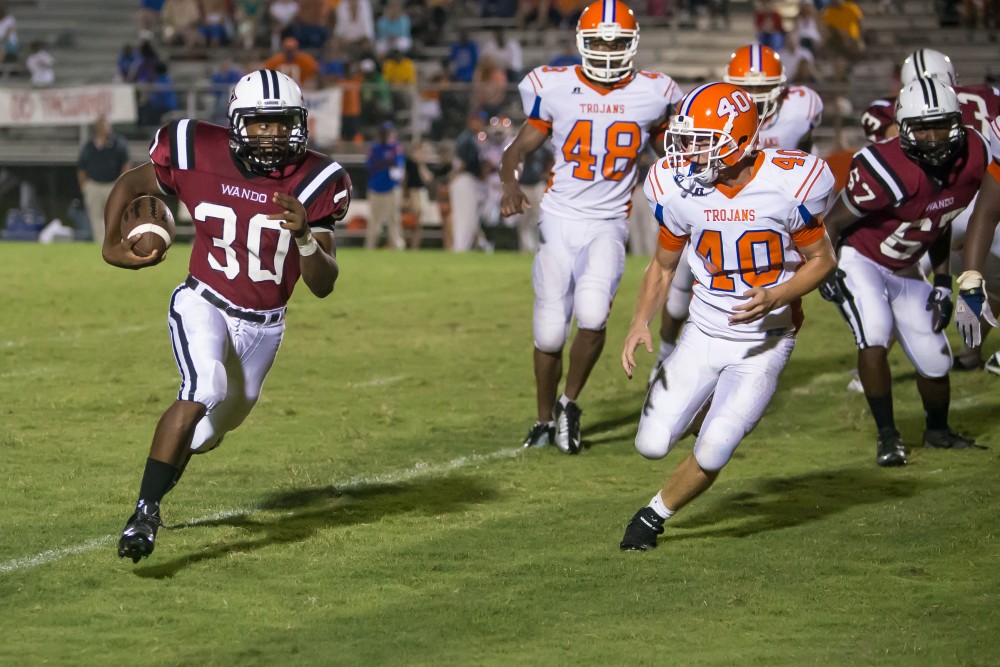 Six years ago, Jimmy Noonan accepted the head coaching position at Wando high school. He'd come from Spring Valley High School in the midlands, where the football culture is ingrained into kids' minds at an early age.
Noonan accepted the challenge of bringing his own brand of football philosophy to a community that was not necessarily a football town. Yet Mount Pleasant is a supportive community, and, on Friday nights, it can create "one of the greatest home-field atmospheres in high school football," according to the Warrior coach.
"The Chop House is most intimidating to our opponents," Noonan continued, referencing Wando's student body cheering section.
In a school where the band receives all the sideline advertising money and a 60-man football roster receives about the same amount of money as a 15-man wrestling team, Noonan is grateful for the parent and fan support given to his squad.
"Our parents are tremendous and always rally to the cause when our program needs something. Their energy, effort and support of our program are second to none," he commented.
In an effort to enhance the Mount Pleasant football culture, Noonan is working to implement a feeder system that establishes football values from a younger age. As of now, Charleston County does not offer middle school football, which is "one of the biggest differences in the football mindset between the Lowcountry and the rest of South Carolina," said Noonan.
Noonan would like to swap out the recreational league "feel-good football" with competitive middle school football that prepares kids for high school. He said around half of the potential football players drop out during their 9th grade year when they are introduced to the rigors of real high school football.
Wando's football record has traditionally been around the .500 mark, but, in 2012, the Warriors had one of their best seasons ever, winning 11 or 12 games. During that season, support from the Mount Pleasant community was overwhelming.
"The community was great that season. It was infectious. That kind of community pride gets into the bloodstream of our players," said the coach.
The roster of that 2012 Wando football team included 14 seniors who would go on to play at the collegiate level; nine earned athletic scholarships. Among them was Gimel President, who currently plays defensive end at Auburn. His father, Zola Simmons, remembers when his son became a captain of the Wando team and believes that, under Noonan's guidance, his son became a leader not only on the field but in life.
"Coach Noonan really put a precedent on Gimel's academics and taught him accountability in the classroom and in football," said Simmons.
This past off-season, Noonan searched for a few players to fill his team's leadership voids. He found his leaders in senior outside linebacker Tyler Ragsdale and junior quarterback Bailey Hart.
Hart is looking to follow in his older brother Christian's footsteps, who quarterbacked the Warriors to 11 wins in 2012. He wants to help his team focus on working together as a unit.
"I want us to become the brotherhood that we learned in 2012 from that season," said Hart.
On the defensive side of the field stands Ragsdale, Wando's senior leader. In this year's annual team endurance tests – the "Warrior Wars" – Ragsdale ran the competition off.
"Our defense this year will be nasty and play together as a unit, as one," said Ragsdale.
By Cullen Murray-Kemp
Photo provided by Wando High School