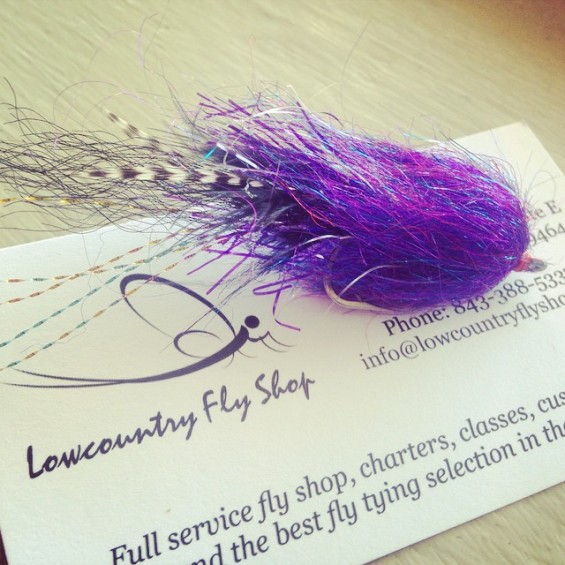 Although I hang out with a few people who enjoy the sport of fishing, I can't say I had a proper education on the matter until I crossed paths with Scott Davis, owner of the Lowcountry Fly Shop. A local stop for fishing enthusiasts for the last four years, Lowcountry Fly Shop is settling into a spacious new location at Moultrie Plaza on Coleman Boulevard, and Davis is looking forward to the opportunities that come with the expanded business.
"The basis of our business is making your own flies, and we needed more space," Davis commented.
Fly fishing, which has gained popularity in the Lowcountry over the last several years, consists of using lightweight "flies" – usually handmade out of natural materials such as hair, feathers and fur – to bait a fishing line. According to Davis, the movement of the lightweight fly is what lures the fish. The benefits of fly fishing include being able to do it year-round and the satisfaction that comes with making flies with your own two hands. As for Davis, he got addicted to the sport during college while working at local tackle shops.
"I naturally fell into the guiding aspect of it," he said. "The industry has grown, and Charleston seems to be in the spotlight. We're a unique fishery with a 6-foot tide range – and the tourism aspect of it doesn't hurt."
A range of products are available at the Lowcountry Fly Shop; it's one of the largest fly tying departments in the Southeast. Most of Davis' clientele enjoy making their own flies, but they can also purchase the ready-made variety. Even those who are interested in freshwater fishing can find what they are looking for at Lowcountry Fly Shop.
"It's not all saltwater. We cater to everyone," Davis assured me.
If you've never fashioned your own fly, a visit to Lowcountry Fly Shop is the perfect occasion to learn. Davis and his staff offer several casting and fly tying classes throughout the year, including a popular class on building fishing rods out of bamboo. Private and group casting lessons are offered, and the group classes are free. In fact, one of the reasons Davis is enthusiastic about his new space is the abundance of classes he plans to offer in 2015. He feels that the personal touch offered by Lowcountry Fly Shop is why his customers come back again and again.
"We offer knowledge, service and the chance to get to know everyone who works here," he pointed out.
Next, Davis gave me a tour of the new store, and I was amazed at the number of interesting flies available and at the work space. Even though I've only fished once in my life – beginner's luck brought me one small bass – I'm thinking of trying it out again. Davis' enthusiasm was infectious as he talked about the number of cool fishermen and fisherwomen he's met.
"We just tied some flies for a man going to Guyana," he said. "There's always a place in the world where the fish are biting."
Contact Lowcountry Fly Shop by calling (843) 388-5337. You can also stop by the new location at 626 Coleman Blvd. and visit LowcountryFlyShop.com for information on upcoming events and classes.
By Denise K. James