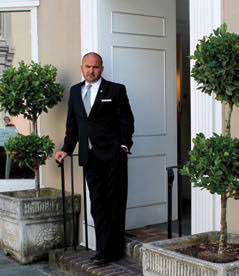 Eddie Phipps is a Mount Pleasant attorney whose offices are located in downtown Charleston. How the heck can that be? The answer is surprisingly simple. Expedience. Born and raised East of the Cooper, both of Phipps' parents worked for the town. He is a graduate of Bishop England High School and was an officer in the Traffic Division of the Mount Pleasant Police Department for seven years. Phipps earned his undergraduate degree from Charleston Southern University while simultaneously working in law enforcement, went on to earn his law degree from Florida Coastal School of Law, passed the South Carolina bar and opened his practice on Coleman Boulevard.
So how did he wind up hanging out his shingle on King Street, near the corner of Queen Street, hard by the courts? Phipps was comfortable enough in his offices in Mount Pleasant until the building that housed his practice was sold. He knew he needed more space and adequate parking but couldn't meet his needs at a reasonable rent in his hometown. The Peninsula beckoned, with better space and on-site parking – and the rest is history.
But the homegrown attorney insists, "We're still a Mount Pleasant law firm. We're right over the bridge with plenty of parking. Mount Pleasant will always be home to me."
Now Phipps has plenty of room to accommodate two attorneys and a support staff of four. The move has also allowed him to comfortably expand the scope of his practice from criminal law – "everything from murder to littering," with a specialty in DUI cases – to include workers' compensation, family law and general business law.
Phipps still remains active in Mount Pleasant affairs, attending most Town Council meetings and participating in local politics, which isn't surprising for a native son whose mother served as clerk of court for 20 years and has a courtroom named for her. Meanwhile, his father, after a long career with Mount Pleasant Waterworks, gave so much of himself to the town's recreation efforts that his name is one of two on the department's "wall of fame."
"I love the practice of law," Phipps said. "It's allowed me to do many other things."
Among those things, he's a part owner of King Street Grille and has become close with another part-owner, Pittsburgh Steelers' star quarterback Ben Roethlisberger.
"I feel that my law enforcement background has been invaluable to me in my legal practice," he said. "For one thing, my training as an accident reconstructionist has been a real asset to me and my clients in motor vehicle cases. My years on the police force also helped me with developing people skills and learning how to deescalate situations.
"In many respects, the real difference between law enforcement and my law practice is that officers on duty frequently have to make split-second decisions. Now I have the luxury of clients coming to me and me being able to give them the time to explain their problems and being able to think about what they've told me and do my research and due diligence before charting a course of action to help them."
Further, he noted, "In the law, just as it is in law enforcement, the number one task we have is problem solving. So there's not all that much difference in what we do. It's all problem solving."
Having grown up around lawyers and courts, Phipps always had an affinity for legal matters, and one day when he appeared in court in his role as a police officer, he observed an attorney he felt to be so incompetent that his immediate reaction was, "If this guy can be a lawyer, so can I." He never regretted that decision.
"We work hard. It's fun. I enjoy doing it," Phipps explained. "Every day is different. And we're helping people. Is there anything more I could ask?"
By Bill Farley