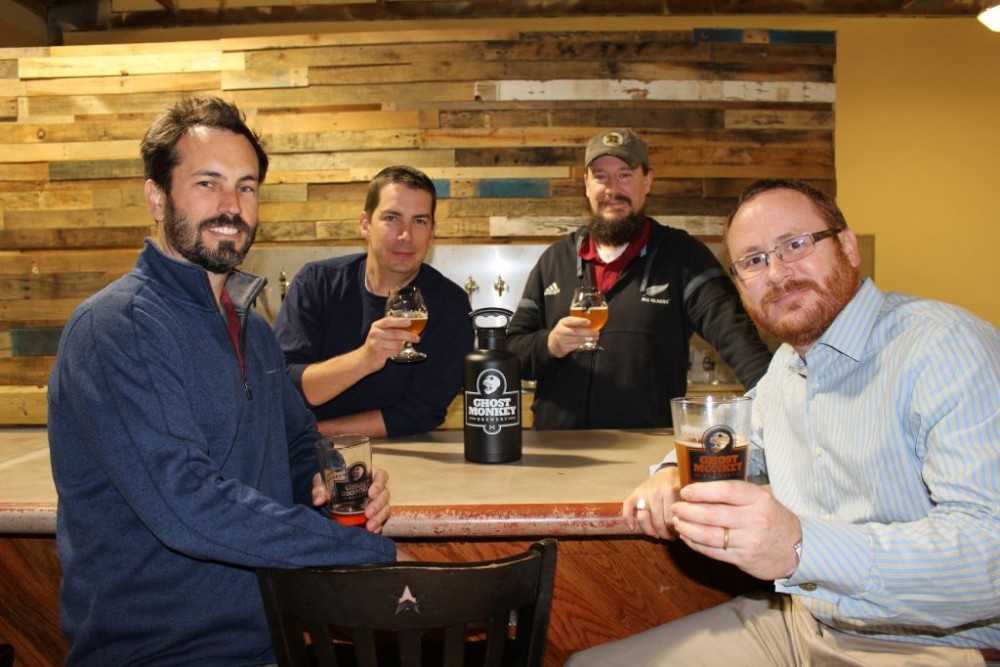 The guys at Ghost Monkey and Two Blokes breweries looked all over the Charleston area for a place to set up shop, but, in the end, they both settled on Mount Pleasant.
"It's got the perfect demographics for craft beer," said Jim Leonard, one of two brewers for Ghost Monkey.
Like Ghost Monkey, Matt Symons and Sean Geddis of Two Blokes looked at Mount Pleasant and saw an undertapped market, and now they are looking to open shop nearby on Long Point Road.
With craft beer exploding in Charleston, Mount Pleasant has developed an impressive scene in its own right, with dedicated craft beer bars, a home brew shop and now a second and third brewery set to open sooner than later.
Westbrook Brewery has been the only brewery in Mount Pleasant since setting up shop on Long Point Road in late 2010. But soon, Ghost Monkey will be their neighbors in a 2,800-square-foot facility with a three-barrel brew system. Meanwhile,Two Blokes will be nearby in a 4,500-square-foot building with a seven-barrel brew system.
To put that in perspective, Holy City Brewing in North Charleston has a 15-barrel brew system.
It's no coincidence that both new breweries will feature a 2,000-square-foot taproom. State law requires brewers to go through a distributor to sell their beer to bars and stores, which squeezes profit margins, so the taprooms will be the one place they can sell directly to the drinking public.
"It's a way to get in front of the folks who matter most," said Geddis, who handles the sales and public relations side of things for Two Blokes. "And it's also a revenue thing."
As such, you might expect the breweries to view each other as competition, especially being in such close proximity, but the opposite is true.
"All the small brewers don't view each other as competition because, as the waters rise, we all come with it," said Leonard.
Westbrook also has a taproom in its brewery, with 12 of its beers on tap and a selection of bottles and cans.
"I think we're going to attract a certain amount of beer tourism," said Symons, the head brewer for Two Blokes. "Whenever I go to a new city I look up the craft bars but also the breweries."
About 75 percent of Two Blokes' volume will go out the door and be distributed, as will some of Ghost Monkey's. When it does, there are more than a few places in town where it could end up.
Coleman Public House has long been a reliable spot for craft beer drinkers, including the Two Blokes themselves. It has 16 rotating taps, a few of which always feature beers from local breweries.
In June 2011, the House of Brews became Mount Pleasant's first dedicated craft beer bar, with a huge range of bottles and cans for sale, as well as a rotating selection of eight beers on tap that can be taken home in a growler.
When House of Brews first opened, it was hard to get people interested, according to owner Rob Davis, but, in the end, "a lot of it was really just talking to people about beer." When someone walked in looking for a Miller Lite, for example, he would suggest a craft pilsner instead, and slowly, he saw palates change.
Sure enough, a little over two years later, Mount Pleasant got a second craft beer bar when Crafty Draught set up in Seaside Farms with 26 taps of rotating craft beers.
It wasn't long before the craft beer scene matured in another direction with the opening of Yeast – Everything Homebrew, which, as the name suggests, is a dedicated home brew shop that offers everything from supplies to classes. Peter Kinslow opened the store after doing some research and, like the new breweries coming to town, discovering an underserved market. He also said he expects the interest in home brewing will grow with the rest of the industry.
"The craft brewers, they make home brewers," he said. "People start to learn about the craft beers, what goes into them, why does this taste one way and this taste the other, and they get more curious."
To people who were already home brewing in Mount Pleasant, the store itself is a catalyst for progress.
"You have to have that expert, that one person who brings everyone together," said John Mutter, a mobile developer for IBM who lives in Dunes West. He started a home brew club that meets every five to seven weeks and makes a couple of batches of beer. He used to buy his materials online, but, since Kinslow opened up his shop, he gets everything he can locally because he knows the importance of having someone who can answer questions and teach new home brewers the finer points of the craft.
"It just takes the tiniest hint of bad stuff to make the worst flavors," he said.
On a warm Sunday in November, Mutter was on his patio stirring wort – a frothy soup of hops and grain sugar that ferments into beer. The concoction featured three varieties of American hops, a twist on a recipe that Mutter found online that he dubbed the Mount Pleasant IPA. As the beer began to ferment and he cleaned his equipment, he pondered just how big the craft beer industry could get in Mount Pleasant.
Mutter decided that "the real winner here is the consumer, who is getting access to so many flavors and ideas about what beer should be."
By Jake Lucas.
Photo provided by Ghost Monkey Brewery.