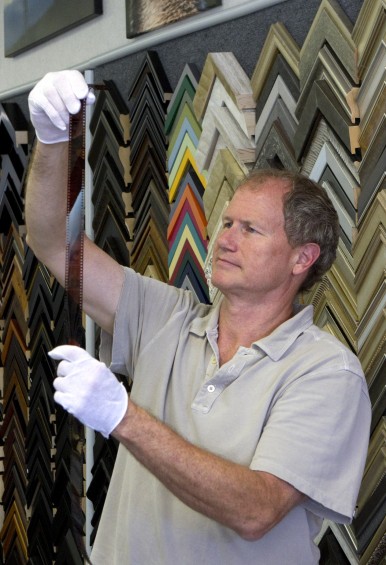 Flash: Your daughter just graduated from high school. Click: The entire family made it home for Christmas dinner. Cheese: Those in the audience smile as the photo is snapped.
Just about everyone enjoys traveling back to an unforgettable moment by reminiscing about a meaningful photo. And although traditional photography has changed drastically in recent years, many photography enthusiasts still prefer to capture those special moments in time in a fashion that will survive for generations to come.
If that describes you, a visit to Prism Photo & Framing in Mount Pleasant might be in order. Owned by Larry Peterka, who has been in the photo processing business in the Charleston area for more than 30 years, Prism Photo advocates the importance of traditional photography. It's an old school, traditional lab that offers one-hour processing, and it's also one of the few places in Charleston that still processes color film.
Not a supporter of cellphone photos in general, Peterka said, "We try to educate people to think of their photos as something long-term. We want to help make a lasting memory for decades."
Peterka said he doesn't like cellphone photos because they alter the sport of picture-taking. He pointed out that cellphones are convenient in the narrow sense but are awkward for print-making and have quality limitations that discourage picture-takers from making hard copies of their photographs.
"I'm a dinosaur when it comes to photography," Peterka said with a chuckle.
At Prism Photo & Framing, the terms traditional and experienced go hand-in-hand. The staff provides services such as duplicating and restoring photos, poster prints, transforming video tapes onto DVDs and scanning and archiving prints, slides and negatives.
The shop uses a chemical-based "wet" printer, which gives prints a traditional texture and the look and feel of a silver-based print. Meanwhile, the industry trend has gone toward inkjet printers that produce a print that is different than what consumers have expected over the years because photo printing is treated as a commodity by most chains, with little human intervention. At Prism Photo & Framing, however, an employee looks at every frame and adjusts color and density to produce a better print.
Prism is also a full-service custom framing shop and a Larson-Juhl gold dealer. Peterka and his crew can turn your photos into tile pictures, coffee mugs, canvases and metal prints and take U.S. and foreign passport photos. And, if you want to drop in just to take a look around, Prism Photo has a large library of Charleston photography, harbor maps and vintage art deco posters.
"By evolving and offering these services, we have been able to merge traditional services with constantly changing technologies," Peterka explained.
"When people are satisfied with their good photos, it promotes excitement. Hard copy photos will survive time. Who knows how digital storage media will last through generations."
In Peterka's mind, a great photo deserves great processing, which, he said, is exactly what you'll get at Prism Photo & Framing.
By Valerie Smith
Photo Provided
Prism Photo & Framing is located in Moultrie Plaza on Coleman Boulevard in Mount Pleasant. To learn more, visit www.prismphotolab.com or call 843-971-0469.