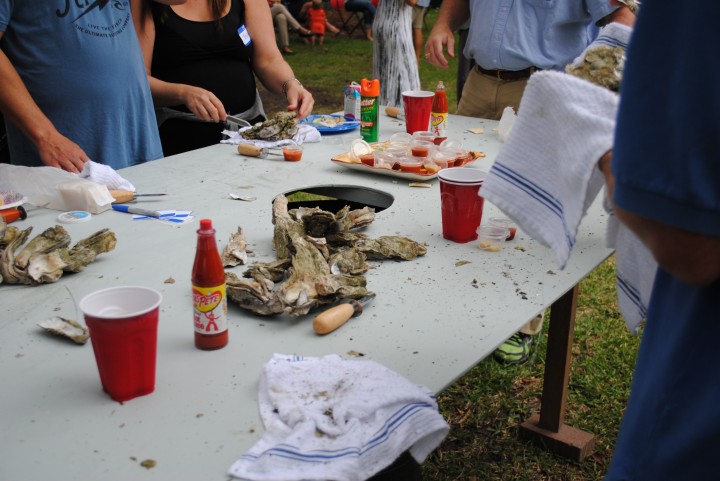 While the wintery months often conjure up images of hot chocolate by the fire, here in Mount Pleasant there's a distinctly Southern tradition that's equally savored: oyster roasts. Many are happy to ignore the cold winter air in exchange for the chance to sidle up to a table laden with freshly steamed oysters. If you fall into this category, you might be interested in the tools and know-how you'll need to host your own oyster roast and perhaps start a tradition of your own.
Rial Fitch of Mount Pleasant Seafood confirmed the popularity of winter roasts.
"People in this area associate cold weather with oysters. Oyster season in Charleston area is generally October through April. Typically, the busiest months are December, January and February. It's cold, it's party time and the oysters are fatter when water is cold," he said.
The requirements for an oyster roast are pretty simple – oysters, a place to cook them and a place to eat them.
Getting your hands on some oysters is relatively easy and surprisingly inexpensive. A bushel of fresh cluster oysters from McClellanville, enough to feed four to seven adults, recently was going for $32 at Mount Pleasant Seafood. The local business also offers Beaufort oysters and singles from other areas.
Be forewarned that your oysters will need some TLC once you pick them up.
Fitch explained: "Clusters are not washed very well. They've been washed one time, but they need to be washed again. You can do it by putting them in a laundry basket. Some people put them on the driveway and simply rinse them off with a hose."
After that, it's cooking time. There are a few options. You can use a turkey steamer, put a big pot on a burner with a basket or put some tin over an open fire to roast them. Oyster steamers, however, are the easiest option. You can rent one at Mount Pleasant Seafood, unless you suspect that hosting an oyster roast might be a repeated adventure. If that's the case, head on over to Royall Ace Hardware, where owner John Royall has a number of different options to choose from.
"You're looking at about at about $120 for pot and basket, plus you need a burner and that's a starter kit. And then I've got a dedicated oyster steamer with wheels on it – it's basically a big box with a burner in it, and that's $599. A mini version of that is $299 and it fits about a third of a bushel. It's a nice basic tabletop unit. I've got one myself; it works really well. You can put corn or crabs in there – you can cook all kinds of things in them," Royall explained.
If you're feeling ambitious and want to impress your guests with oysters that will have them begging for more, Finz Bar & Grill owner Chad Shores has a recommendation.
"The absolute best oysters you can ever have is over an open flame on a grate with hickory or oak firewood," said Shores. "You can use your own barbecue grill or Big Green Egg to do this. It is harder and harder to come across burlap sacks these days, but you will need to locate a few to do this type of cooking."
Shores explained how to maximize your oyster roasting: "Get your fire to a medium flame and keep your burlap sack soaking in a five-gallon bucket full of water. It's as simple as dumping your oysters over the fire and covering them with the saturated burlap sack, being sure to completely cover the oysters. In actuality, you are steaming the oysters a bit and roasting them from the bottom. They soak up some of that smoky flavor from the fire, as well as maintaining that briny flavor our oysters are so well known for. Cook to desired doneness, but they will not take long. Five minutes is usually about right, just depending on how hot your fire is."
Local resident and oyster fan Josh Schaap agreed that the best way to do cook them is over aged oak logs.
"The flavor seeps into the salty goodness of each oyster. The trick is not to overcook or undercook them. You have to watch for the steam to pause and then give that one last "shhhhh." Then you know they are done and yummy. The other way to do it is in a turkey fryer. Put some rock in the bottom so you don't boil the oysters. You only want to steam them," Schaap said.
So you've got your oysters, you've cooked them and now, finally, you're ready to eat them. Long tables are required. Fitch recommended making your own oyster tables.
"You can use sheet of plywood between two sawhorses," he pointed out. "We also rent oyster tables and knives for one-time use."
So how does one eat an oyster?
"You must have an oyster knife to keep your fingers from getting cut up," said Fitch. "The gloves are optional; you can use a rag instead. If you are right handed, put the rag in your left hand and hold the oyster with it. Then use an oyster knife to pry it open with your right hand. If it's closed and raw, go in with the hinge."
He offered a disclaimer: "I can't tell you to eat them raw; I don't know your immune system. I eat them raw every day. When I walk by the shelf, I open one up and slurp it down. Not a day doesn't go by that I don't have an oyster. It's a nice perk to the job."
When your belly is full and the beer is gone, it's time to clean up. Don't forget to recycle the shells, which helps cultivate and restore oyster beds, a critical factor in ensuring future harvests. Put the shells in a container, and, after the party, dump them off at a nearby recycling center. Visit saltwaterfishing.sc.gov/ for details.
By Courtney Davis O'Leary