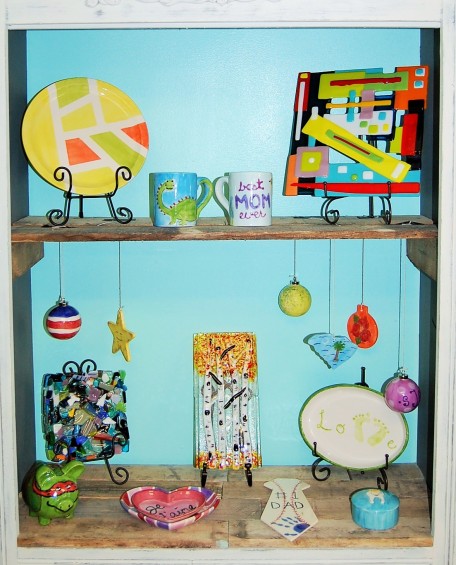 Like many mothers, Heather Ackermann spent last summer searching for an activity her children would enjoy.
But when her family finally found a hobby at an area business – painting pottery – the shop closed and Ackermann's search started again.  
"As soon as the word was out they were closing, I asked my kids, 'Do you want to find something different to do as a hobby?' But they said, 'No, Mom, we love to paint,'" she explained.
Using her children's love of art as inspiration, Ackermann founded ARTspiration, which opened in December 2014.
The studio, located on Ben Sawyer Boulevard, is a space where artists of all ages and experience levels can try their hand at painting ceramic pottery or designing one-of-a-kind fused glass creations.
Those interested in painting can select a ceramic item out of the dozens in the store – from coffee cups and serving trays to animal figurines and piggy banks – and choose from a variety of glazes to paint their design of choice.
To make glasswork, artists select from pieces of colored glass and can create anything from nightlights to holiday ornaments.
Patricia Radford, one of the store managers, said the glasswork sets the studio apart.
"There's no other glass fusing studio in the area," she said. "It's something that's really unique, and it's safe so even children can do it."
Both the ceramic and glass pieces are fired in the kiln after the artists complete them. They can be picked up roughly one week later.
"We really have something for everyone," said store manager Sarah Tiani. "With glass and ceramic, you can do anything. It can be an adult project or a children's project. On a rainy day, this is a perfect place for the kids to be active in a creative environment – rather than staring at a TV – and for the parents and adults, too."
Tiani said each artist's experience is different. A typical studio visit can last from 10 minutes to two hours, and some like to work independently while others may need assistance from the managers, both of whom have an arts teaching background.
The studio is open seven days a week and requires no reservations, which Radford said makes the environment nurturing for those suddenly struck by inspiration.
"If you're feeling inspired, come in and play," Radford said.
The managers also said the studio is a popular place for parties and get-togethers. They've had visits for birthdays, Sunday brunch and even "boy's night out," where the guys can melt their favorite bottles.
ARTspiration also accommodates school groups and will be operating camps that coincide with all school breaks, beginning this coming spring.
The two-day summer camps will be held in the late afternoon for 6- to 10-year-olds. Each camp will have a different theme, varying from the ocean and our local ecosystem to MineCraft, where campers will get to explore cubism. During each camp session, the children will get to create one piece in each of the two mediums.
Ackermann said she knows the camps will be popular, just as the business has been, because it gives children and adults a chance to express themselves.
"Just from talking to moms and children, this is something they feel they got taken away from them, but now word has spread that we're open and they have realized they have that creative outlet back," she commented.
ARTspiration is located at 1256 Ben Sawyer Blvd. in Mount Pleasant. To learn more, visit http://artspirationdesign.com or call 843-416-8075.
By Taylor Griffith.
Photo courtesy of ARTspiration.