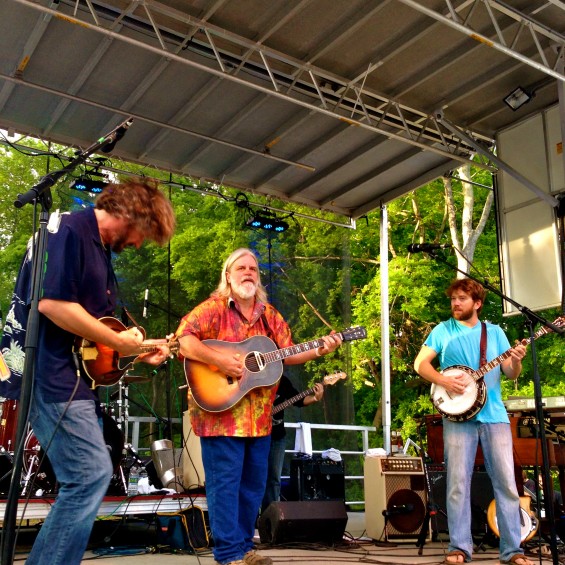 Over the weekend Mount Pleasant had its very own Coachella moment. Despite mud and forecasts of rain, indie-rockers, bluegrassers, hoopers, graffiti artists and a slew of vendors descended upon The Grove at Patriots Point— for one collective dream. That dream was none other than Spring Jam Music Fest. Now in its third year, this eclectic event put on by the Gusto Group and 105.5 The Bridge adds a much-welcomed artistic vibe to Mt. P—proving that to see top-quality music, a trip across the Ravenel to downtown isn't always necessary.
Buenos Aires songstress Sol Black kicked the festivities off— her vocal styling reminiscent of Shakira and Natalie Merchant. Early attendees were also treated to surprise guest Shovels and Rope, who joined fellow Charlestonian musicians The High Divers for an early afternoon set.
Local favorites, The Travelin' Kine delivered Americana with the gusto and grace of a tire swing caught in a twister—moonshine-soaked melodies cut by the harmonica's wail.
Lefty at the Washout brought the salty, island vibes in the style of Pepper and Slightly Stoopid.
LA-based rockers, Milo Greene possessed an '80s essence. With skinny jeans the darkest shade of black and soul-stirring riffs and lyrics they commanded attention.
"1957" was anthem-like in nature, gently doused with collective vocal harmonies. Their cover of Phil Collins' "Take Me Home" almost came off better than the original velvety ballad.
Delta Spirit was indie roots-rock sanded down, but in the best way possible—the musical equivalent of a leather jacket left worn by a thorny tumbleweed. "California," the catchy number about wanting an ex-love to move on and find happiness, had fans breaking out their best shoulder-swaying shimmies. "From Now On" radiated perseverance against heavy percussion.
In between an array of musical acts, folks took in performance art courtesy of GlitterHoopz, Holy City Cirque and The Missing Links break dance crew. One of the real standouts occurred when the enthusiastic kids of The Music Battery Drumline marched their way into our hearts.
Ed Roland, former frontman of Collective Soul brought back the flannel-clad angst of the '90s with a crowd-pleasing rendition of "Shine"— the tune that dominated radio airplay two decades prior.
The headliner Leftover Salmon, hailing from Boulder, Colorado rejuvenated the sunbaked crowd with their signature sound—a shot of bluegrass with a side of toe-tapping twang that coaxed out the inner country-lover in us all. The unabashed jubilancy of festival-attendees was palpable when the boys appropriately broke into "Home to Carolina."
As the sun set over Patriots Point, washing the sky in swirls of cerulean, the meaning of freedom became as potent as the scent of Coastal Crust's woodfired pizza that inhabited The Grove that day. If you can't find some sense of serenity sipping Shandies, while muddying your feet and brightening your spirits, there's little hope. Until next time, Spring Jam, we will anxiously wait for you to dazzle us with your musical prowess, good eats, art and the kind of vibes that just can't be bottled and sold.
By Kalene McCort
Photography by Kalene McCort