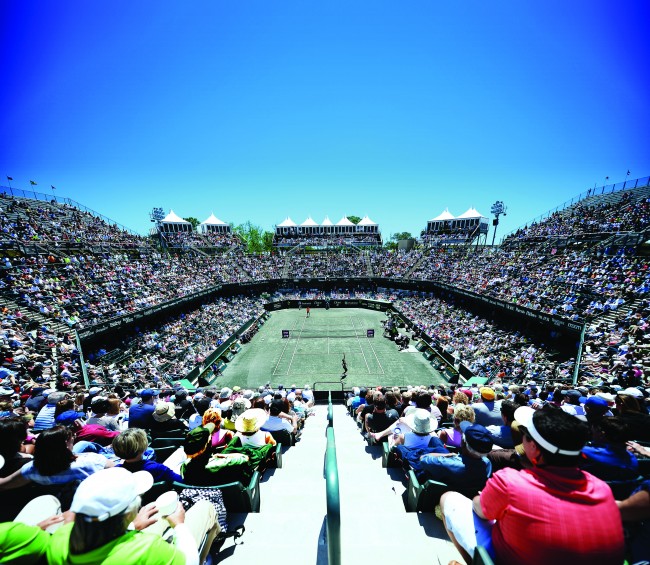 Parents often dream of signing little Jane or Johnny up for a sport and having professional players meet their tyke in person – not to mention offer advice, become a role model and foster dreams of getting there one day, too. Now that MW Tennis has found a home at the Family Circle Cup Tennis Center on Daniel Island, that dream is becoming a reality for many families.
Led by Jeff Wilson and Bryan Minton, MW Tennis is an academy is for all levels of players, including four ladies who will participate in the 2015 Family Circle Cup: Melanie Oudin, Jessica Pegula, Samantha Crawford and Emily Harman. In fact, Wilson and Minton – along with Michael Joyce, MW's pro tennis director, have all coached numerous professional players. Now, at the Family Circle Tennis Center, MW Tennis is combining their professional edge with kids of the East Cooper community.
Pegula, originally from Hilton Head, is enjoying the opportunity to live in Mount Pleasant and mingle with local tennis buffs.
"I love being an example for young players," she commented. "I am interested in coaching kids, and tennis is such a big sport in this area."
Pegula is looking forward to this year's Cup after recovering from her recent knee operation.
"This is her comeback after a year-and-a-half," Joyce pointed out. "I've been coaching Jessica for about three years, and she did very well in the Cup a few years ago."
Joyce himself, who moved to East Cooper after years in Los Angeles, commented that the tennis academy has enhanced the sport for the area; before MW came to Daniel Island, there were no professional players training in the Lowcountry.
"Now we have the girls training here as well as living here," he said.
Wilson, who handles the daily operations of MW, agreed that the academy is striving to make a name within the community. Parents and kids are quickly becoming fans, and the academy currently has around 161 junior players enrolled. This lucky bunch is liable to walk into the Family Circle Cup Tennis Center and see the likes of Pegula – or any of the other three pros – lacing up her sneakers or tying her ponytail. It's an environment that helps the young tennis players appreciate their lessons and get up close and personal with a few who have "made it."
"If you walked around this place at 4:30 p.m., you would see 4, 8 and 12-year-olds, plus professionals," Wilson remarked.
And what, exactly, brought these high profile coaches and players to East Cooper? The same thing that draws any of us to the greater Charleston area – beauty and opportunities.
"The girls have choices regarding where they can play, but they chose here for the location, coaching and support," Wilson said. "They enjoy participating in the community."
When the girls aren't training, they're playing on the road in various national and international tournaments. Much of the time they go together and look forward to returning to East Cooper to play in The Family Circle Cup.
"The girls don't get lonely on the road," Joyce mused. They're young and away from their families, but it helps that they have each other."
Catch Pegula, Oudin, Crawford and Harman locally at the Family Circle Cup, April 4 through April 12. Tickets start at just $25, and kids under 12 are free – plus, kids get the opportunity for a free clinic with MW Tennis if they sign up at the booth. Visit www.familycirclecup.com to learn more.
By Denise K. James.
Photo courtesy of Family Circle Cup.