For most women, a well-fitted bra is an absolute necessity. It's one of the few things you wear often and close to your body, therefore it needs to feel natural throughout the entire day. A poorly fitted or uncomfortable bra can ruin your day, yet, surprisingly, 85 percent of women wear an incorrect bra size.
Bits of Lace Fine Lingerie, first established in downtown Charleston nearly 40 years ago, takes pride in providing the ladies of the Lowcountry with professional bra fittings and high quality, exclusive lingerie lines.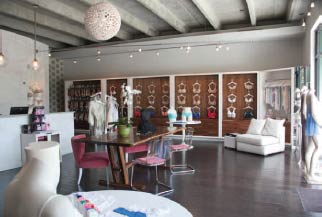 Owner Ruth Brennan, who purchased the King Street boutique in 2000, credits her ability to intuitively understand her clients' needs and her desire to help them to her previous experience as a critical care nurse. In April, she opened a second location on West Coleman Boulevard.
Bits of Lace in Mount Pleasant offers a variety of exclusive European brands, such as PrimaDonna, Marie Jo and Empreinte, and a variety of intimate apparel products, including bras, underwear, corsets, chemises, cashmere robes and blankets, lounge wear, pajama sets and swimwear. Bits of Lace is one of the few boutique retailers in the United States to carry the exclusive French swimwear line, Eres.
"We are known for a high level of customer service," said Bits of Lace Chief Executive Officer Zee Patel. "We understand that walking into a boutique lingerie store can be intimidating for many people; we want to make them feel at home."
Unlike some department store fittings that will often use a measuring tape to fit, Bits of Lace specialists will educate the customer on different styles of cups and band sizes while personally fitting the bra to her body. Bra fit specialists understand how their products are made, down to the types of fabric and wire used in each bra.
"We are the only bra-fit specialists in the area," said Patel.
"All employees complete extensive training in bra fitting. We are highly knowledgeable about the products we carry, and we understand how they fit each woman differently."
Along with a beautiful assortment of fashion lingerie sets, visitors to Bits of Lace will also find a variety of everyday T-shirts, sports bras and strapless bras in a wide range of sizes, from 30B to 46J. Mastectomy and lumpectomy fittings are available by appointment through Brennan, who offers a three-part consultation plan, helping clients find comfortable and fitted foundations that help them feel beautiful and feminine.
"It's all about fit," Patel explained. "What fits perfectly for one person could fit completely differently on another woman of the same proportions. You can truly feel the difference when you wear our bras."
Bits of Lace also makes special accommodations for brides and their attendants and can be privately booked for lingerie parties that include hors d'oeuvres, cocktails, fittings and the opportunity to shower the bride with gifts from her wish list.
Women of all ages, shapes and sizes have found a comfortable, trustworthy place to buy their lingerie, and the Bits of Lace website has opened the door for customers worldwide to purchase these exclusive products online. Clients nationally and globally are able to get a bra fitting from a specialist over the telephone or through applications such as Skype and FaceTime.
"The lines and products we offer are known for their craftsmanship. Combined with our custom fitting and high level of service, we provide our customers with comfortable lingerie that is made to last," Patel said. "Our goal is to find the perfect fit for each individual's needs and lifestyle."
Bits of Lace is located at 453 W. Coleman Blvd. in Mount Pleasant. To find out more, call 843-531-6625 or visit www.bitsoflace.com.