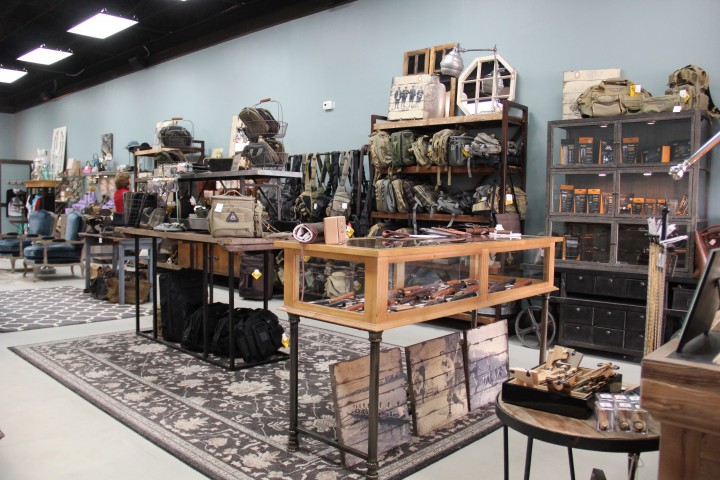 Jeff and Wesley Kennedy opened their boutique in Mount Pleasant in early December 2014, bringing a breath of fresh air to Coleman Boulevard and sparking interest for both male and female patrons. The items offered at Henry & Eva include an array of men's accessories, women's jewelry, soaps, skin-care items and home décor. But that's only the beginning.
The essence of what this shop is really about begins with its name. Henry, Jeff's grandfather, passed along to his grandson a love of knives and all things outdoors.
"Henry was like the greatest, coolest guy ever," Jeff reflected.
Meanwhile, with some family research, Wesley discovered that her great-grandmother's name was Eva Stone. Eva became a source of fascination, and her name was soon weaved into the name of the store.
"It started out just as a men's store, specializing in knives, leather goods and things he was interested in because my husband kind of found himself looking for something different to do," Wesley recalled. "It started out that way, but then we came up with the concept of having men's and the women's goods but not necessarily mirror images of each other. We wanted it to be something fun and eclectic and kind of mirror our personalities as well – and we are definitely opposites!"
The quality of items the store carries speaks for itself, and Jeff pointed out that he has used most of the men's products.
"We wanted things that were made in the United States," said Wesley. "There are a lot of small handmade lines, and we are trying to keep it that way. If we can find a great handmade line that also gives back – we like that."
Local and regional lines carried in the store include Bound Tight wallets, 3 Little Beads, Found Jewelry, Overlap Sewing Studio and Woody's Handmade Knives. Chavez for Charity is a line of bracelets, each a different color, that supports 10 different charities. Blue Planet sunglasses and readers donates a pair of glasses for every pair bought. Half United, a line of jewelry, notepads, notebooks and wallets, donates half of its profit to feeding the hungry.
With Wesley's 30 years of experience in retail and background in interior décor, combined with Jeff's expertise in quality goods for men, this husband-and-wife duo created a niche unlike any other in the area. Realizing that most knives are now purchased online, Jeff hoped to bring his passion alive in a walk-in establishment.
"It's kind of disheartening that there aren't any brick-and-mortar establishments that really stock a nice selection of knives," Jeff explained. "I felt like it was something that I could have fun with and hopefully have a viable business with as well."
Customers can expect to find quite a few gadgets in the front section of Henry & Eva. There's even a gadget tree that features various items that can be added to a wallet or keychain for convenience.
Henry & Eva's offers an accommodating atmosphere for both men and women.
"We like the men to feel comfortable and feel like they are in their own store – they can get to the cash register without having to look through the women's side," Wesley laughed.
Henry & Eva is located at 628 Coleman Blvd. To learn more, call 843-388-4253.
Story By Helen Harris
Photo by Brandon Clark