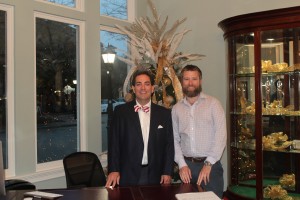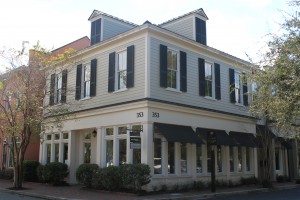 It takes most men what seems like a lifetime to find someone they want to say "I do" to, so when the moment comes to pop the question, shouldn't the ring be as unique and special as she is?
The owner of A Diamond In Time thinks so, and he has built his jewelry business around that theory.
"We don't do business like other jewelry stores," said Allen Mozingo.
Unlike others in the business, Mozingo's store in the I'On Village is intimate, despite its recent expansion to 1,200 square feet, with four showcases and no salesmen other than Mozingo and manager John Nunn.
As the name of the store implies, the cases are filled with loose diamonds, along with new and pre-owned designer watches and a few unique pieces of jewelry.
"We'd rather have a select number of nicer pieces than put on a big show," said Nunn. "We've selected a few nice items to make sure each customer gets exactly what they want for a price they can afford."
Though A Diamond In Time specializes in custom design projects, the store offers a variety of other services, including appraisals, repairs and ring sizing.
Nunn pointed out that A Diamond In Time can accommodate any budget, with prices in the store ranging from $200 to $40,000.
Many people have heard that "You get what you pay for," but Mozingo said with his 25-year background in the jewelry industry and broker connections, customers often get a little bit more.
"Just because it's custom doesn't mean it has to be expensive. It just means it matches your taste," Nunn explained.
The manager said he prefers to think of himself as an "educator" rather than a salesman because he often teaches customers about the nuances of rare gems they selecting for custom pieces of jewelry.
Once the customer has decided on a stone, a computer program similar to what architects use designs the jewelry and shows the customer four different views of the piece.
Nunn said, "It gives them a really good idea of what they're getting into before we've even really gotten started."
Each project is completed by a jeweler or watchmaker who specializes in that type of item, "which allows us to make sure the best person for the job is working on each piece," he explained.
Mozingo and Nunn work hard to establish relationships with specialty jewelers across the country, but they also build strong bonds with their regular customers – so strong that browsers don't visit the store often. Instead, most people who walk through the door are repeat customers or those who have been referred by loyal patrons.
"That's the biggest compliment we can get," Mozingo said. "I see on a daily basis the same customers coming into the store, or someone comes in saying a friend referred them. I know customers wouldn't bring me their friends and family if they didn't trust me."
But even without a referral, Mozingo said he is confident all of A Diamond In Time's customers will find the store's operators friendly and trustworthy, and its products luxurious yet affordable.
"Come in and see for yourself how we do business," he said.
A Diamond In Time is located at 353 N. Shelmore Blvd. For more information, visit www.adiamondintime.com or call 843-388-7568.
By Taylor Griffith.
Photos courtesy of A Diamond in Time.