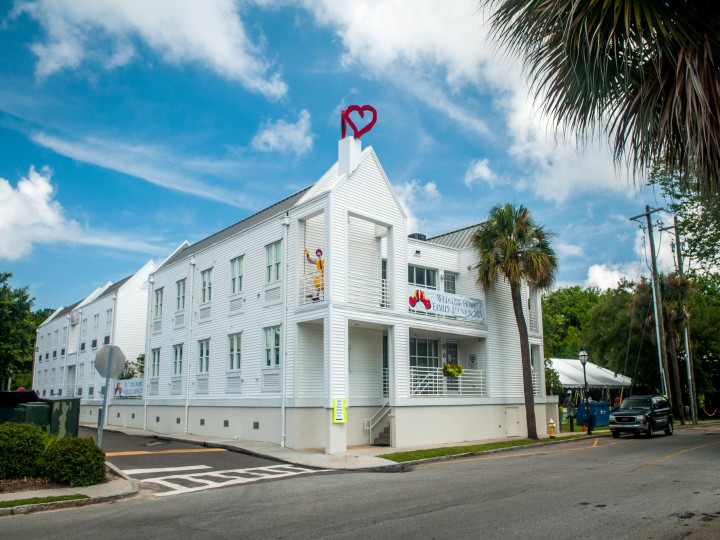 For over 30 years, Charleston's Ronald McDonald House has been an invaluable resource to families of hospitalized children, providing food and shelter so they can focus on the child's return to health without worrying about paying for hotels and restaurants.
Tens of thousands of family members have been helped by the Ronald McDonald House in Charleston, but when the organization embarked on an expansion and upgrade project to add five bedrooms, five bathrooms, a computer room, two sitting areas and a renovated kitchen, it was in need of some outside help.
"We strive to provide our families with three meals a day and knew with the kitchen under renovation, that was going to be difficult," explained Rachel Hubbard, Marketing and Special Events Coordinator for the Ronald McDonald House.
Fortunately, they knew just who to ask.
"The Greater Charleston Restaurant Association has been involved from the very beginning, raising funds for the opening of our house in 1983. To date they have raised over $300,000 in both cash and in-kind donations," Hubbard pointed out.
Kimberly Lemasters, volunteer coordinator for the Ronald McDonald House, reached out to the GCRA.
"At an association board meeting, I presented the need for donated dinners during kitchen construction and asked for their help," recalled Lemasters. "(GCRA President) Anthony DiBernardo promised all dinners would be filled right there on the spot without hesitation. Everyone involved has been extremely motivated and supportive."
True to their word, Charleston's restaurants stepped up and came through for the charity, providing 50 meals per night for over a month, including drinks and utensils.
"We strongly believe in being supportive and helping out our local community any way we can, and when the Charleston Restaurant Association reached out to provide food for the Ronald McDonald House, we happily agreed to assist," stated Scott Shor, owner of Edmund's Oast. "The Ronald McDonald House offers an important place for families dealing with sick children, and they need to be nourished and cared for. When we heard the kitchen was out of service, we gladly offered to help in any way and were glad we could cook a dinner during that time."
For many of the restaurateurs, helping out on this project was much more meaningful than just donating food to charity. After all, helping families of sick children is something everyone can empathize with, regardless of whether they've been in that position themselves. Joe Fischbein, co-owner of Five Loaves Cafe and Sesame, has seen that situation play out from the other side and has a special interest in the work done by the Ronald McDonald House.
"I had to spend three weeks in the hospital when I was 10 years old," recalled Fischbein, "so I have a little understanding of what these children and families are going through. Organizations that cater to children are near and dear to me. We love to help and give back to the community."
Of course preparing, packaging and delivering 50 meals a night involves the entire restaurant staff pitching in, and doing it without sacrificing service for their paying customers.
"Whoever's on shift pitches in. We box up the food and deliver it over there," explained Chip Roberts, co-owner of The Kickin' Chicken. "There were two different occasions that we donated meals for 50 people. That's part of our culture – we do a lot of charitable work and give back to the community whenever we can, especially when it involves kids and special needs children. Anything with kids involved is a no-brainer for us."
Hubbard emphasized that nothing is more important to the Ronald McDonald House than its mission to help the families of hospitalized children and that the GCRA's overwhelming support allowed the organization to continue to take care of those families' basic needs so they could focus on what matters to them most – their kids.
"We relied very heavily on these restaurants to bring in dinners for the families and could not be more thankful for the Charleston Restaurant Association's support," said Hubbard. "After a long day at the hospital, the last thing we want our families to have to worry about is what they are going to eat that evening."
Thanks to the GCRA, those families ate well.
Story by Brian Barrie. 
Photo provided by Charleston RMH. 
____________________________________________________________________________________________________________________________________________________________________
Participating restaurants included:
Five Loaves/Sesame (2 meals)
St. James Gate Irish Pub (2 meals)
My Father's Moustache
Swig & Swine (2 meals)
P.F. Chang's China Bistro
The Gin Joint
Fleet Landing
Edmund's Oast
The Green Goat (2 meals)
82 Queen (2 meals)
Rio Bertolini's Pasta (2 meals)
Crave Kitchen & Cocktails
Tsunami
Art Institute of Charleston (4 meals)
Katsu
Kickin' Chicken (2 meals)
Lowcountry Bistro (2 meals)
Graze
Southerly
The Islander
Triangle Mount Pleasant
Fish
Taziki's (2 meals)
DeSano Pizza Bakery (2 meals)
Virginia's on King
Red's/Tavern & Table
Sol Southwest Kitchen & Tequila Bar
Texas Roadhouse
Tristian Catering
La Tabella
The Shelter Kitchen and Bar
Halo Charleston