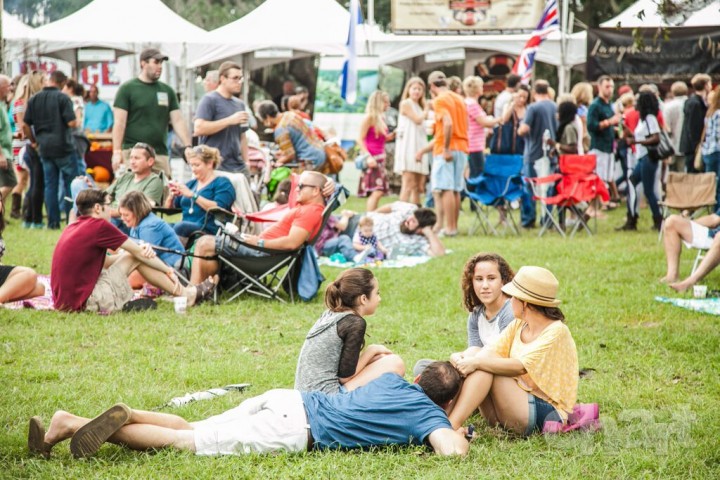 To say Charleston is a town full of foodies would be an understatement. We praise the farm-to-table, small batch, innovative dishes assembled with grace by those who know their way around the kitchen. Whether it's the opening of a new restaurant or the arrival of a new farmers' market vendor, each is met with enthusiasm. Cuisine isn't just an extra in our story; it's the main star.
There's one event in which emerging talent and seasoned favorites get to share the spotlight every fall. Now in its 35th year, Southern Living's Taste of Charleston will feature 50 of the Lowcountry's best restaurants on Sept. 25, 26 and 27.
"The quality of the cuisine we have here in the South is top-notch," said Kathy Britzius, executive director of The Greater Charleston Restaurant Association. "Everybody puts their own unique twist on it. We are very fortunate to have such fine chefs in this area."
True rock stars of flavor will be working away under the white tents come September. Craig Deihl, the man behind Cypress and Artisan Meat Share, will be one such innovator bringing delicate pâtés and wine pairings to ticketholders.
"The most rewarding part of putting on Taste of Charleston is seeing how we are evolving," said Britzius. "In my 27 years as executive director, I've seen a lot of things change, but for the better. We are surviving. We are doing so well."
Whether you want to savor a sugar-dusted pastry from Dixie or a sassafras-glazed pork rib from Husk, mouthwatering morsels will be there for the taking. Feast on favorites you know and love and also discover new concoctions you just can't live without.
Taste of Charleston is held at Mount Pleasant's Boone Hall Plantation. Peppered with towering oaks and deeply shaded pink blooming azaleas, the historic 738-acre plantation is the ideal location for an event of this magnitude.
"Boone Hall Plantation is just beautiful," said Britzius. "It makes sense to hold this event at one of the most photographed plantations in the country. Just one visit and it's easy to see why it gets voted number one so often."
Boone Hall is also one of the oldest working plantations in the nation, which adds another dimension to this event based on culinary excellence. Producing crops for over three centuries, you'll still find the fields rich with tomatoes, pumpkins, pecans and strawberries.
Attendees can expect three days of gastro-phenomenons. Leisurely stroll, sip wine and take in the sights, sounds and smells of Taste of Charleston. With live music and a "biergarten" offering up refreshing specialty and imported brews, there truly is something for everyone. In addition to sampling fare from world-renowned chefs, be sure to take in the legendary waiters' race – where the ability of service-industry pros to pour and serve is put to the test.
Children under the age of 10 are admitted free to Taste of Charleston. Youngsters can hone their chef skills at the "Kids' Kitchen Sideshow," where they can get a little messy and actually taste some of the food they create.
Not only does Taste of Charleston showcase the undeniable talent of the culinary world, it also gives back to several organizations working to feed the spirits of many. A portion of the event's proceeds will be donated to charities such as Ronald McDonald House, the Hollings Cancer Center and Shriners Hospital for Children.
Food is what links us together. Recipe cards passed down from generations hold more than just oil-smudged ink. They hold tradition. Just one whiff of steam rising from golden cornbread or that sound of a snow crab's claw cracking can take us back to a moment in time. Make your own memories at Taste of Charleston this September.
By Kalene McCort. 
Photo provided by Taste of Charleston.