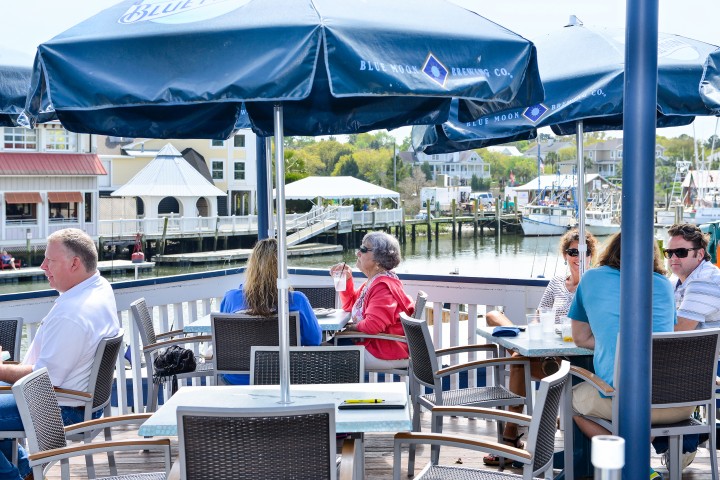 Why would we live in the Lowcountry if we didn't ever dine outdoors? It's one of the perks we enjoy during the warmer months (or even the not-so-warm months, thanks to our mild winters), and, when the view includes water, it's even better. Here in East Cooper we have a great selection of places to dine on the water this summer, from Shem Creek to the Isle of Palms. The best part is that Cullen and I did the hard work for you, visiting each spot and researching the best cocktails, menu items and places to sit. Now all you need to do is gather friends and family, make a reservation and soak it all in.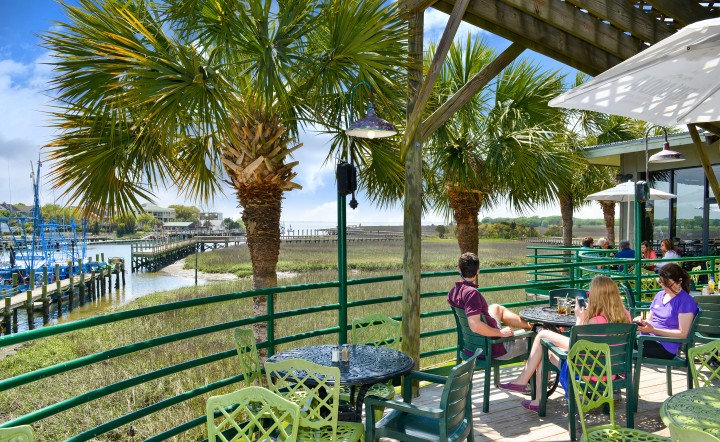 Vickery's
Denise
There are three places to enjoy the view at Vickery's: the restaurant patio, the Shark Fin Bar and Muddy's, which is located downstairs from the dining room. General Manager Jared Alverson, who is originally from San Diego, said the views at sunset are "spectacular."
A Shem Creek institution, the menu at Vickery's doesn't change a whole lot, and staples such as burgers and the Lowcountry Saute keep regulars coming back. If you're looking for a bar snack, Alverson highly recommends the salsa and chips during happy hour, which is made with an employee's personal recipe. As for their signature cocktail, it's the ultimate classic: a bloody mary.
"What we do with the bloodies is unusual," Alverson revealed. "But it's a secret recipe, so we can't tell you. We don't want any other restaurants doing it!"
Cullen
A perfect view, although they are few and far between, can transform a person from uptight and overstressed to relaxed and charming. This spring, as the sun set over the Patriots Point Links and kissed goodbye to the inner harbor, that's what happened to me at Vickery's. It doesn't hurt that the restaurant has created multiple, fully functioning bars, each with a distinctly different feel and each with an equally awesome view. Longtime Vickery's Manager Jared Alverson seemed easy-going, except when we brought up the restaurant's floor-to-ceiling glass windows,
"They must be clean! That is my absolute biggest pet peeve," said Alverson.
With a view like that, we understand.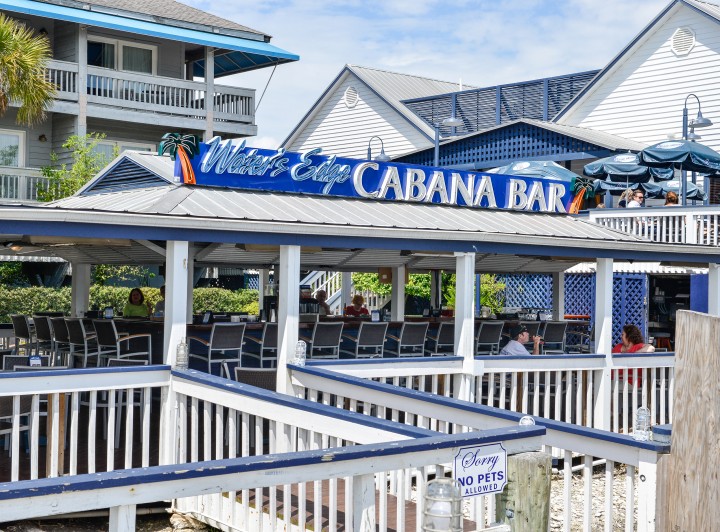 Water's Edge
Denise
If you're local, chances are you've enjoyed the views at Water's Edge. Cullen and I caught up with manager Britt Wilson, ordered two of the most popular drinks – the Bay Breeze and the Peach Daiquiri – and watched the regulars take their usual seats.
The Peach Daiquiri I sipped reminded me of lazy summer days. Wilson revealed that it's his mother's secret recipe. Meanwhile, Water's Edge sells plenty of classic Bay Breezes and, of course, beer. Patrons can choose between relaxing at the Cabana Bar or on the upstairs patio; food is served in both places.
Speaking of food, Wilson made our mouths water with his suggestions that included the whole fried flounder for dinner and the Prince Edward mussels for a snack. At half off during happy hour, they're "a sweet deal," he said.
"It's definitely a local clientele," said Wilson. "See that group on the end? The bartenders have their drinks on the counter before they get here!"
Cullen
When my editor and I stopped in at Water's Edge during our waterfront dining tour, we had both come off stressful days at the magazine.
"I don't want to rewrite my article," I complained.
"Your integrity as a literary genius is hereby at stake," she retorted.
It was nearing 4 p.m. and the people began to pour in. Manager Britt Wilson brought us a couple of Peach Daiquiris – his mother's recipe – and suddenly a rewrite didn't seem like the worst thing in the world. Cecil, a regular at Water's Edge, stopped by our table to profess his love for the restaurant's happy hour.
"Man, these guys really take care of us," Cecil said, as he motioned to the staff that seemed more like his friends than waiters. With a little help from Momma's Peach Daiquiri, Water's Edge was able to drown out the sorrows of a undernourished magazine article.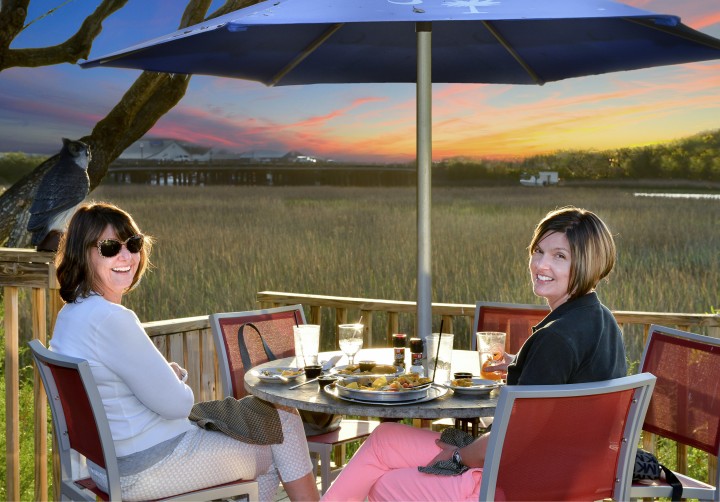 Shem Creek Bar & Grill
Denise
Here's what we learned at Shem Creek Bar & Grill: good juice matters. I ordered the Salty Dog – just grapefruit juice and vodka – which I don't normally drink, and I loved it, thanks to the grapefruit being juiced right in front of my face.
"We're known for freshly squeezed juice," general manager Jason Mellin pointed out.
If you're hungry, Mellin told us that the shrimp broil is the best, "especially if you aren't from around here." And the Shem Creek Saute, with mussels, clams, oysters, scallops and Cajun sausage, sounded pretty tasty as well. The full menu is served on the patio, and the "dock bar" is open at 4 p.m daily during the summer, serving cold appetizers such as the yummy crab dip.
"We've been around 30 years and were one of the first restaurants on the creek," Mellin said. "And we don't have televisions here. It's a great place to have a conversation and enjoy the view."
Cullen
The average Shem Creek Bar & Grill customer is not wearing a "suns out, guns out" tank top and on college spring break. They do not do Jagerbombs while screaming the year of their graduation class. Rather, the theme at Shem Creek Bar & Grill is "simple but good – very good." After decades under the same ownership, those who run the low-key, rustic restaurant know who they are and what they represent. The restaurant and its dock bar are places to enjoy a quiet and quaint ambience and sip a freshly squeezed OJ and vodka. It's a place to appreciate good conversation, good décor (including a charismatic Budweiser lamp and foreign money stapled to the wall) and damn good food. Shem Creek Bar and Grill is refreshingly local.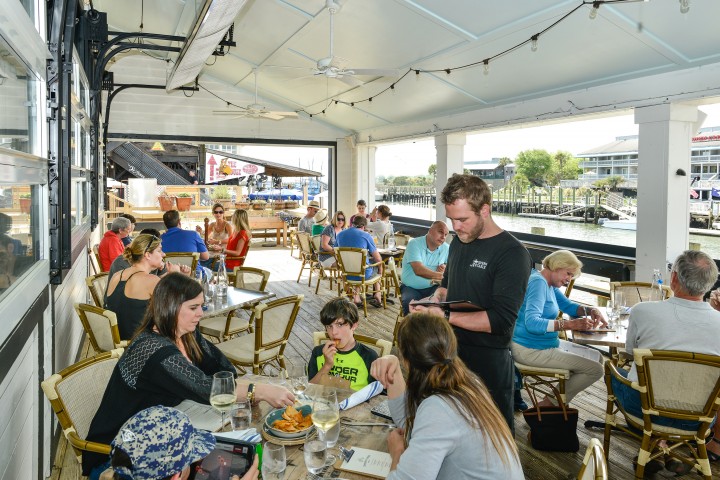 Tavern & Table
Denise
The first time I visited Tavern & Table was during the Mount Pleasant Magazine holiday party – and I had a feeling I would be back quickly. Sure enough, a recent warm day was the perfect occasion to sit at the bar and order an incredibly delicious drink: the Strawberry Blonde. It has fresh strawberry puree, honeysuckle vodka (I had no idea such a thing existed, but I approve), elderflower liqueur and a splash of Prosecco. Talk about YUM.
Food-wise, you can't really go wrong here, but I tend to favor the fire roasted oysters because I'm a sincere oyster fanatic. If you're down on the dock and ordering from the dockside menu, the pimento cheese and bacon jam with crackers is delicious, and the shrimp ceviche is made with local shrimp.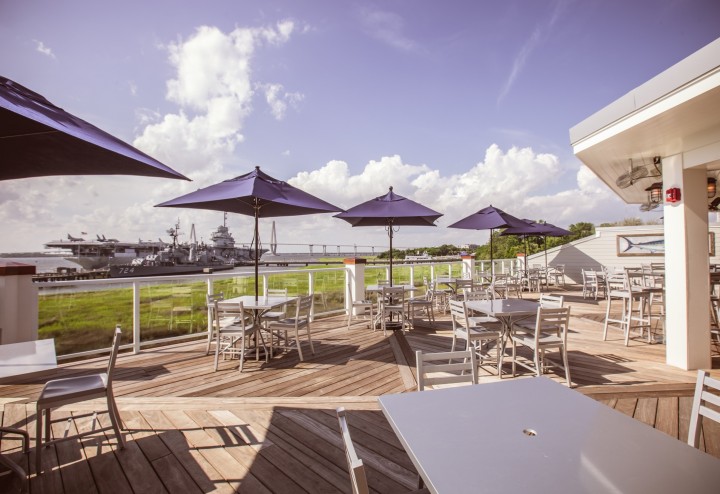 The Fish House
Denise
The Fish House isn't deep in Mount Pleasant – in fact, you can see the beautiful city of Charleston beyond the harbor when you visit this gem at the Charleston Harbor Resort & Marina at Patriots Point. I asked the bartender to fix me a drink when I arrived at the bar, which he promptly did, explaining that he didn't yet have a name for it and had been calling it "Chip's Lemonade," since it was his invention and his name is Chip Keller.
The elaborate cocktail consists of raspberry vodka, EG brand lavender rosemary vodka, homemade lemon simple syrup, pomegranate simple syrup, lemonade and a splash of Prosecco. Whew.
"This drink should be called The Meaning of Life," I suddenly declared, taking another generous sip.
Chip, along with the guy and gal that I'd befriended that evening while sitting at the bar, heartily agreed that it sounded like a great name for a drink.
So, in other words, we drank in the Meaning of Life while we watched the sun get lower over the Charleston Harbor. Oh, and I ordered a steak, which was delicious.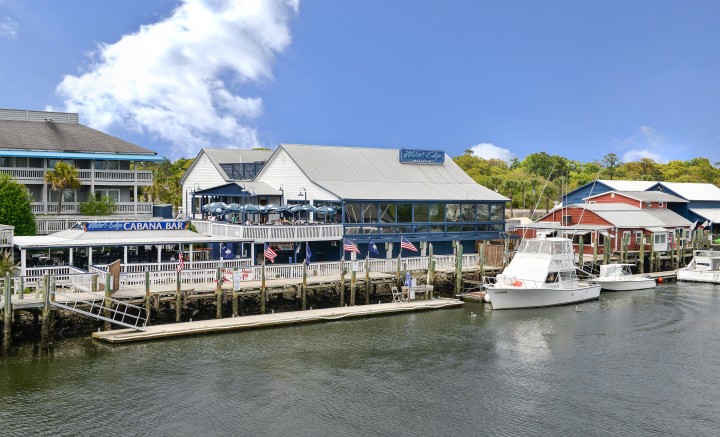 R.B.'s
Denise
Though Cullen and I didn't quite get to have drinks at R.B.'s newly remodeled Saltwater Bar and Grill the day we visited – it was still under construction – we could tell it's going to be spectacular, with plenty of Shem Creek breezes and a bird's eye (pelican's eye?) view.
We sampled the cucumber vodka martini, which was a favorite while researching this story, made with cucumber infused vodka, St. Germain, muddled cucumbers and a splash of lemon. It paired deliciously with the peel-n-eat shrimp and cold crab dip.
Service manager Melissa Goad explained that the new upstairs bar will be available all year, with enormous, garage door-style windows that open or close, depending on the weather.
"We're trying to be more modern," said Goad. "Whereas we used to have a shabbier beach bar up here, this'll be sleeker."
Cullen
There was a moment at R.B.'s when I bit into a sesame-encrusted piece of yellow fin sashimi and washed down the tantalizing tuna with a crisp cucumber martini and thought: "If this is work, then I must be doing something right." R.B.'s dining room, which overlooks Shem Creek, has a comforting feel about it. It's as if Mom and Grandma suddenly garnered top-tier cocktail and culinary capabilities and opened a feel-good family restaurant.
My editor, Denise, carried on with R.B.'s Manager Melissa Goud about the anticipation of the $200,000 renovation to the upstairs bar, The Saltwater Bar and Grill, but I was entranced by the assortment of appetizers and by the Cucumber Martini. Please do not take this lightly because consuming cocktails is one of my passions: The Cucumber Martini at R.B.'s was the best drink I've ever had – period.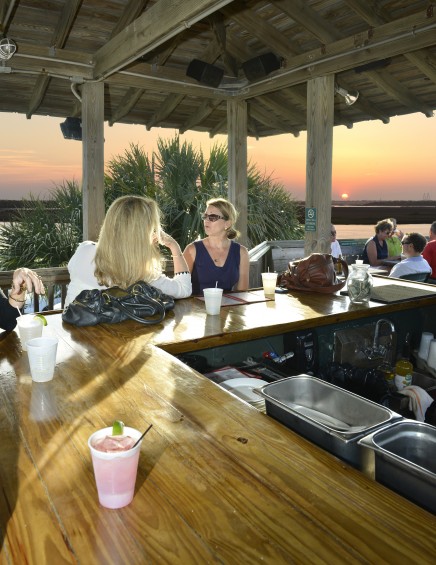 The Boathouse
Denise
Happy hour with Cullen is usually enough of an occasion, but add in the views of Breach Inlet at the Boathouse and it's worthy of a party. We found ourselves at "The Crow Bar," enjoying two of the restaurant's signature cocktails: Sunset Punch and the Boat Breeze, each made with plenty of rum to get a post-beach afternoon started the right way.
But just when I thought the drinks and views were my favorite part, we sampled my favorite dish of the waterfront dining experience: scallop risotto, which was so scrumptious it practically made Cullen late to pick up his puppy, Journey, for a vet appointment.
"Our oysters are the freshest; our calamari and shrimp are excellent as well," emphasized manager Michael Germain.
With all that yummy seafood getting cooked, the Boathouse changes out its cooking oil daily, selling it to locals to be converted into bio-diesel.
"We're 98-percent local," Germain said. "We're all about sustainability here."
Cullen
The Boathouse on the Isle of Palms is an experience. The restaurant's unassuming layout attracts both the casual after-beach beer drinker and the foodie searching for an intimate dinner. My view of Breach Inlet, coupled with a Sunset Punch and a plate of freshly fried local seafood, enabled me to embody the essence of the Isle of Palms.
We shared stories with restaurant manager Michael Germain, who kept us interested with fun facts about the restaurant, like that the dolphins of Breach Inlet will occasionally beach themselves on The Boathouse beach while chasing after bait fish. It all made sense when I maneuvered my fork, filled with sea scallops, prosciutto, asparagus and parmesan risotto, into my mouth: My life had come full circle, and it was a pan-seared scallop.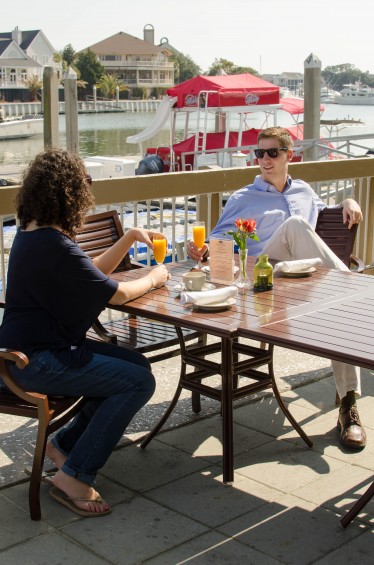 Morgan Creek Grill
Denise
I once took a trip to Goat Island. When I got off the boat, I found myself at Morgan Creek Grill, which indeed seems to be the perfect place to have a drink after a boat ride or a stint on the Isle of Palms.
Lunch is served on the upper deck, according to Kristy Kinney, director of events and promotions, and, while dinner is served in the dining room only, there's a great happy hour menu to choose from at any of the three bars. The Palmer Lightning – a simple but delicious concoction of Firefly vodka and lemonade – is just the thing to sip.
People staying for dinner will want to order the fresh fish with collards, grits and mango salsa, according to Kinney. And snackers can count on $5 small plates during happy hour.
"Patrons can dock their boats on our slips for free," said Kinney. "A lot of golfers from the Wild Dunes course come here for happy hour, too."
Cullen
The sun was shining and a pleasant ocean breeze was drifting up the coast that late March afternoon. Below the roof deck at Morgan Creek Grill, kids played cornhole while enjoying their spring break. I gazed out at the Intracoastal Waterway, which separates Goat Island from the Isle of Palms.
"This is gorgeous," I told Denise.
Thirsty, I drew from my "Lowcounty Lemonade," a provocative mixture of Cathead Honeysuckle vodka, pink lemonade and champagne.
Whether you come from the Dunes West golf course or you are idling in from a morning fishing trip, Morgan Creek Grill is the ideal watering hole for good food, cold drinks and a relaxing atmosphere.
By Denise K. James and Cullen Murray-Kemp
Photos by William Quarles.