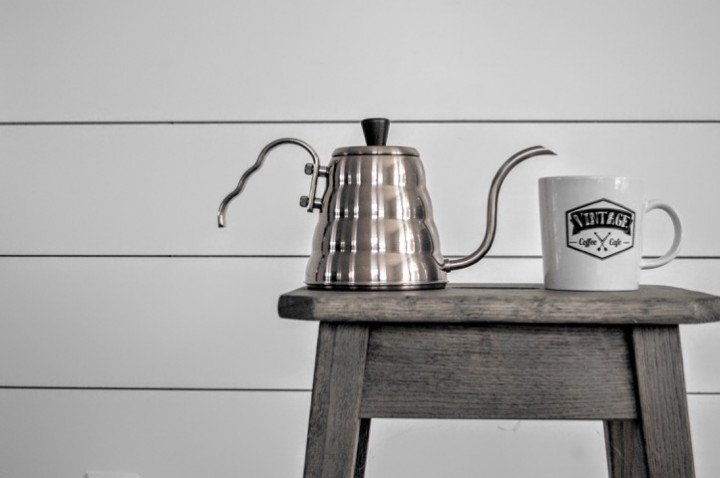 Java. Joe. Mud. Whatever name you assign to the boldly roasted caffeinated beverage that gives you a reason to wake up in the morning, one thing we can all agree on is its importance to getting our motors revved. Whether folks start their day with a light amber blend or a frothy cappuccino, a steaming hot beverage usually takes precedence as the sun rises. And now coffee lovers and foodies in Mount Pleasant have reason to rejoice, with the arrival of Vintage Coffee & Café. This latest endeavor, from Coastal Crust's Brian Piesner, is perfecting the art of perk, one macchiato at a time.
"I wanted to create a place that truly welcomed all within our community," said Piesner. "From families looking to enjoy a great meal to a freelance graphic designer looking to fuel up before a day of work, Vintage accommodates everyone."
The space on Simmons Street is the epitome of inviting and the direct opposite of corporate chain. Vintage is located in a storybook-esque white house, complete with picture windows and surrounded by towering trees. It's as if you are visiting the home of a friend, if said friend had a beverage selection that would rival that of Starbucks. With clean-lined artsy décor and an antique aesthetic, Vintage offers up the ideal environment to power up your computer and get some work in. While the free Wi-Fi and aromatic brews are incentive to visit, the food provides a reason to stay.
Chef Brandy Svec, a graduate of The Cooking and Hospitality Institute of Chicago with over a decade of experience, keeps the menu zestfully innovative. With mouthwatering breakfast dishes such as cinnamon bun French toast, to the more gourmet "Peasant Board," which incorporates various forms of charcuterie, there is sure to be something to satisfy everyone.
"This is not your typical lunch place," said Piesner. "We want to bring our customers back with our uniqueness and flavor."
Using fresh and local ingredients, the thoughtful dishes served up truly catapult Vintage to a level far beyond your basic coffee joint. Instead of typical store-bought bagels, you get a selection of farm-to-table options sure to excite your palate.
The woman behind the creative coffee selection is Powers Gray – a renegade of the roast, who has been steeped in the industry for years. Focusing on shining the spotlight on roasters who offer blends made from sustainably harvested beans, she is dedicated to bringing the finest selection to your cup. Currently, Vintage proudly serves up Counter Culture Coffee – a Durham, North Carolina-based company that recently opened a training center in downtown Charleston.
With plenty of outdoor seating, Vintage is the perfect place to sit, sip and savor. Capturing the hipness of a Portland coffee house, sans pretentiousness, this is one establishment you are going to want to frequent. Private parties can even be arranged for those looking to plan a memorable event filled with stimulating beverages in an equally as engaging environment. Behind this charming establishment there is a sizable outdoor space that Piesner envisions will be the locale for many a festivity.
Soon, Vintage's exterior space will be graced with a funky playground made from a repurposed 1953 Chevy and reclaimed Kentucky paddock wood.
"We are family friendly, right down to the menu and environment," said Piesner. "By creating this unique exterior area, we plan to be more than just a place to grab a coffee."
Vintage Coffee & Café is located at 219 Simmons St. in Mount Pleasant. To learn more, visit www.vintagecoffeecafe.com or call 843-654-9606.
By Kalene McCort.
Photo by Powers Gray.