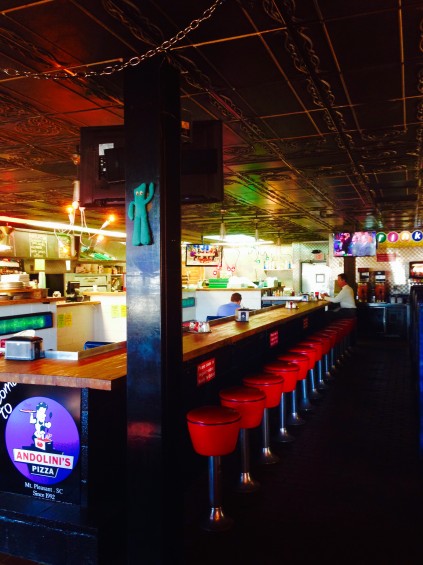 Stepping foot inside the newly renovated Andolini's, I'm immediately hit by the comforting smell of crisp, oven-bound crust reaching its full potential. My eyes are treated to the décor – bold, vibrant, with just the right amount of offbeat bravado, a far cry from the traditional checkered tablecloths you'd expect to find in an establishment with the best New York style pizza in town.
But then again, owners Michael and Edie Rabin aren't ones for going the route most traveled. Veterans in the Charleston restaurant scene for nearly 25 years, this husband-and-wife duo brings a bit of delicious eccentricity to the Lowcountry.
With a funky revamp and enticing menu, something tells me the location at 414 Coleman Blvd. will be an institution of quirk for years to come.
Just one bite of the classically thin mozzarella-laden slice, and it becomes clear why Andolini's has earned the title of 'Best Pizza' from Charleston City Paper for more than two decades.
"We try to make everything as fresh as possible, as fresh as it can be," said Michael Rabin, whose admiration for pizza is rooted in hometown childhood memories of Queens, New York. "We've done it right from the beginning."
From grating the cheese daily to practicing the time-honored tradition of crafting excellent hand-rolled dough, it's the details that separate Andolini's from other parlors.
The menu, much like the music selection, is varied and sure to please just about everyone. Hits from Death Cab For Cutie were followed by classics from folkstress Joni Mitchell, as I sampled two different types of sangria. Just when you think you have Andolini's figured out, they keep the mystery alive with seductive flavors such as Chianti with Grapefruit Elderflower and Pinot Grigio with Honey Basil. Made in-house, using soda from Charleston-based Cannonborough Beverage Co., these cocktails pack a punch.
With a wide variety of beers on tap, including Chucktown favs Revelry and Palmetto, Andolini's is the perfect environment to sit, sip and savor. A Monday special of two large slices and a draft beer for $7 simply cannot be beat.
The ambience – a hodgepodge of odds and ends – comes together in a boho mosaic that is just as appetizing as the cuisine. While the food is provided courtesy of a staff that works hard to bring the very best to your plate, the atmosphere is a quirky culmination of yesteryear's treasures. Overhead you'll find ornate, intricate gold vine plaster tiles, which once adorned Vegas' legendary Sands Hotel and Casino – the birthplace of The Rat Pack.
The wood booths and counters are repurposed from bowling alley lanes. Colorful murals, done by famed graffiti renegades Ishmael and Patch Whisky, stretch from one end of the restaurant to the other.
"You get to know a lot of people and see them grow up in 25 years," said Edie, gazing at a wall displaying framed photos of past and present tie-dye-clad employees. "That's what I love. That's what means a lot to me."
With good food, good vibes and good people, Andolini's is a name you can trust when seeking foodie nirvana. Expand your horizons and come in for an experience outside of the pizza box.
To find out how you can get your piece of the pie, visit www.andolinis.com or call 843-849-7437.
Story and photo by Kalene McCort.