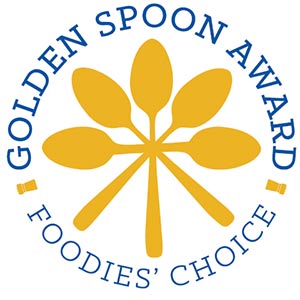 A person living in the Lowcountry has a lot of which to be proud when it comes to eating and drinking. We live in a paradise of sorts when it comes to all things culinary, and national publications never let us forget it. From upscale dining, such as Jeffrey Steingarten's article about Sean Brock in Vogue, to ballpark food, such as the Esquire's "Eat Like a Man" column praising the RiverDogs concession stand, accolades of Charleston's cuisine run the gamut and make us all feel fortunate every time we lift our forks.
Now Mount Pleasant Magazine is introducing the Golden Spoon Awards as a way for local restaurants to hear good news from the locals. Basically, it's a way to say "I love you" to your favorite restaurants and let them know they've given you a good experience. At Mount Pleasant Magazine, we can't help but notice how excited our readers get about food – our restaurant reviews are some of the most widely read content; our In Good Taste section is thriving; and we get an incredible response whenever we give away anything food-related on social media or ask for your favorite recipes.
The Golden Spoon Award results will be published in our September/October issue this year. That gives you plenty of time to get out in the warm weather, have a drink and your favorite meal anywhere in the tri-county area and tell us all about it.
The awards will consist of five different categories: ambience of the restaurant; quality of service; quality of cuisine; selection of beers, wines and cocktails; and overall restaurant value. Each category is represented by a spoon – hence the appearance of five spoons in our nifty new logo. The more spoons a restaurant has, the better. You'll also have the chance to write a short blurb describing your experience.
We look forward to hearing more about your favorite restaurants, and we urge you to share the news of the Golden Spoon Awards with your friends outside of East Cooper, since we're extending the opportunity to win to any restaurant in the tri-county area.
From all of us at Mount Pleasant Magazine, bon appetit! We look forward to reading your answers.