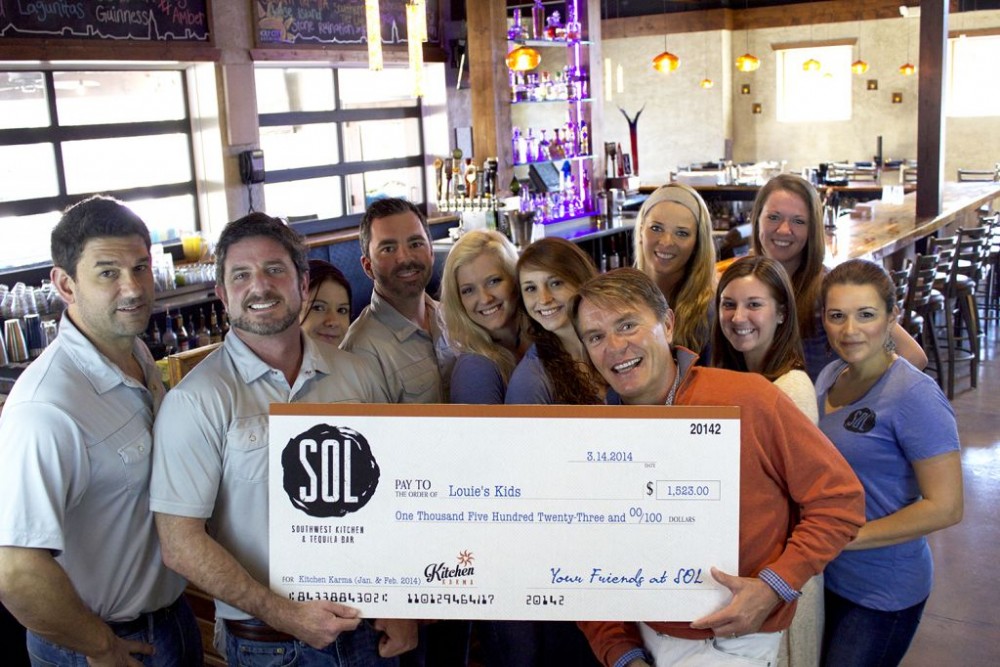 When SOL Southwest Kitchen & Tequila Bar opened its doors in November 2013, the owners wanted to serve up more than just good food and drink.
Right from the start, David Clark, Andy Palmer and Joe Sciortino knew they would use their restaurant as a way to give back to the community.
"Everybody can serve local food, but we wanted to do more right from the beginning. This wasn't an afterthought," said Clark. "You can't sit your restaurant in the middle of a community and not give back."
The partners developed their Kitchen Karma project specifically for that purpose. Every six weeks, they pick a local charity, which must be a 501(c)3 nonprofit, as the beneficiary of Kitchen Karma. They choose one food and one drink item on the menu, and, each time a customer buys those items, $1 is donated to Kitchen Karma.
Clark said $1 per order may not seem like a lot, but the fundraiser is typically so successful that each charity receives around $1,500.
And it's been a success from the start, he said. The Charleston Animal Society received a check for $1,760 after SOL's first round of Kitchen Karma in November and December 2013.
Since then, the beneficiaries have grown to include a wide variety of charities across East Cooper, including Louie's Kids, which works with obese children; The First Tee of Greater Charleston, which uses golf to help children build character; and Happy Wheels at MUSC Children's Hospital, which brings gifts to and provides activities for hospitalized children.
"We'll support any charity that does work locally where the money stays local, but you can tell we have a soft spot for children's groups. All three of us owners have children, so that speaks to us," Clark said.
He explained that hearing what the charities do with the funds is even more exciting than presenting them with a check.
"In July and August this year, Kitchen Karma benefited East Cooper Meals on Wheels. With the $1,200 we raised, they were able to serve 500 meals at no cost to the recipients. Five hundred meals – that incredible, and they're right next door! There are so many good causes here, it's unbelievable, and we want to help as many as we can," Clark said.
At the restaurant's one-year anniversary, SOL had raised more than $10,000 for locally-based nonprofits. Clark said they hope the trend will continue, and the owners can announce they've raised more than $20,000 at their second anniversary party.
SOL has also been working to raise money and awareness for groups that aren't tax-exempt nonprofits through its Spirit Nights, when a group can host an event at SOL and be the recipient of10 percent of the sales.
"We're locally owned and operated, our food is local, but that wasn't enough for us," Clark said. "How could we be locals and support local food producers and not put that good to use? Looking back, Kitchen Karma has been awesome. It's turned out to be everything we wanted when we set out to do this. We can't wait help more nonprofits, raise more money and build more awareness as SOL grows."
SOL is located at 1101 Stockade Lane in Mount Pleasant. To learn more, visit www.solmtpleasant.com or call 843-388-4302.
By Taylor Griffith
 Photo provided.