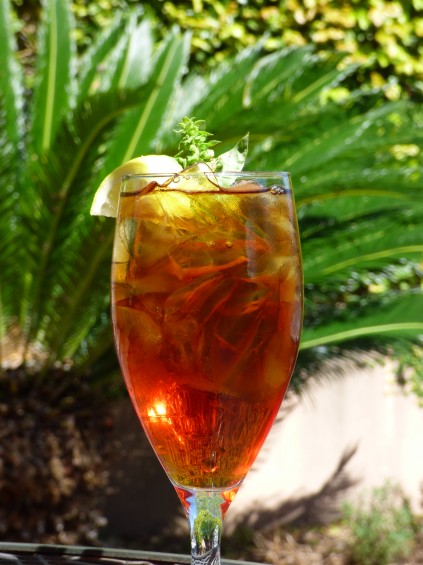 For years, Southern folks have reveled in taking shade under sprawling live oaks while sipping sweet tea. A day of porch swinging pairs perfectly with an iced glass brewed to perfection. Toss in a handful of perfect cubes and some sprigs of mint, and you've got a premier summer beverage. Add a few friends and some liquor to the pitcher and you've got a party.
The crew at Sesame Burgers & Beer in Mount Pleasant serves up countless chilled cocktails all year round, but there's one adult beverage on their menu that seems to capture summertime in the South to a tee. Aptly named The Porch Swing, this refreshing sipper is served in an oversized mason jar. An ideal blend of Firefly Sweet Tea Vodka, Sesame's fresh, house-made lemonade, a splash of simple syrup and soda water, this libation is sure to become your drink of choice.
"We sell a good bit of The Porch Swing," said bartender Valerie Rexroad. "People seem to love that it's so refreshing yet simple."
Other top sellers are Southern Breeze, Kickin Mule and Rexroad's very own creation, Margarita Americana – a slightly different take on the standard salt-rimmed staple, using American Honey Whiskey.
"I find it rewarding when people come in and have a really great time," said Rexroad. "People remember my name. I remember their names. As a bartender, I have the ability to help folks out when they're having a bad time. That's probably why I've been in the service industry as long as I have. Of course, the biggest perk of the job is that I have 20 beers on tap."
The Porch Swing is really a drink best enjoyed outside, and, lucky for us, Sesame's open-air patio lends itself to afternoons lounging with friends under the Carolina sky. Pair it with some mouthwatering sliders and the highly addictive beer-battered onion rings and you've got one memorable meal for the books. Lighter fare, such as Sesame's made-to-order guacamole and an assortment of zesty salads, also compliments this exhilarating elixir.
For Mount Pleasant resident Laura Williams, sweet tea isn't just a refreshing beverage but liquid ancestry. Growing up in her grandparents' Tennessee home, the comforting clinking of full glasses was like the percussion in a Lowcountry soundtrack of chirping mockingbirds and midafternoon sun showers.
"My brother, sister and I grew up in East Tennessee in my grandparents' home, where iced sweet tea was a staple all year. Because Washington County was dry and my grandparents were staunch teetotalers, sweet tea was the beverage of choice!"
"Spiked tea just happened. Experimenting with mixed drinks, cocktails as we know, meant pouring alcohol of choice into a beverage I already enjoyed," said Williams. "I call it an 'enhancement.'"
A top-producing Rodan and Fields Skincare Consultant, Williams has lots of reasons to toast her success.
"Sweet tea is a part of our Southern culture. Every night my husband Bob and I have our wine and also our iced tea," said Williams. "It's a part of us. It's just what we do, like brushing our teeth."
If you seek tea that isn't of the spiked variety, head on down to Laura Alberts on Daniel Island, where they are serving up innovative flavors.
"I think the key to good fresh tea is it being hot brewed, which means the tea leaves steep in hot water and drip, yielding fresh tea," said co-owner Karen Elsey. "To make Southern sweet tea, we make a simple syrup and add it to the freshly steeped tea while the tea is still warm. We offer peach and raspberry syrups made from fresh juices from France, which have no high fructose corn syrup."
Whether you prefer your tea with a splash of alcohol or straight up with lemon slices and cane sugar, the Lowcountry has lots of satisfying options.
If you thirst for more knowledge surrounding this popular beverage, be sure to visit Charleston Tea Plantation on Wadmalaw Island, the only tea plantation of its kind on American soil. Also on Wadmalaw you will find Firefly Distillery and Tasting Room, where you can sample Sweet Tea Bourbon and other "tealightful" variations.
Loose leaf, bagged, over ice or just chilled, be sure to brew up some fun this summer.
Laura Williams' Italian Fly Trap
1 part Sweet Tea Vodka
1 part Grand Gala or Grand Marnier
Splash of Sour Mix
Generous splash of Prosecco
Mix first 3 ingredients and top off with Prosecco. Serve in a tall glass over lots of ice. Garnish with an orange or lemon peel.
Sesame's The Porch Swing
One shot Firefly Sweet Tea Vodka
1 Part house-made lemonade
Splash of simple syrup
Soda water.
Article by Kalene McCort
Photo provided by Laura Alberts