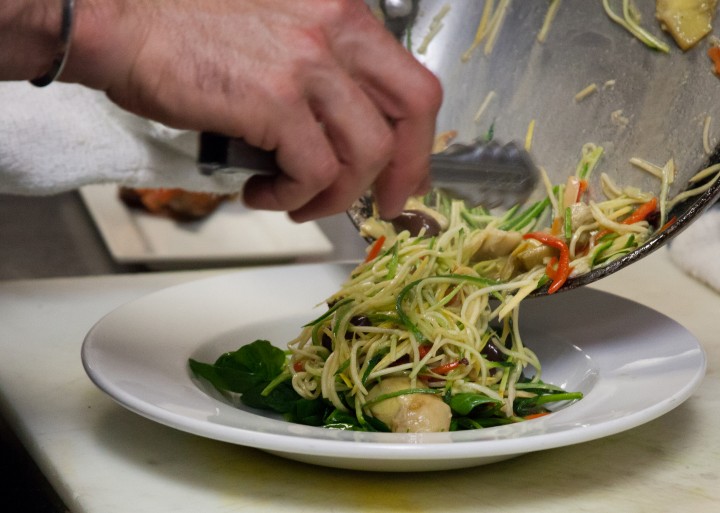 It may seem cliché to say that restaurant strives to "put the customer first," but, at Crave, those are words the owner and staff live by.
"It is our role and honor to provide exceptional service and exceed our guest's expectations each and every time they grant us the privilege to serve them," explained Peter Woodman, owner of Crave Kitchen & Cocktails. "It may sound like a simple concept, but it is true."
Woodman, originally from Ireland, was surprised by the level of service he found when he first visited the area.
"In this industry, and we've got to get back to basics," Woodman said. "At Crave, we focus our training on taking care of the guests."
All that training has paid off.
Out of the 8,000-plus votes cast for more than 145 restaurants in Mount Pleasant Magazine's inaugural Golden Spoon Awards, Crave came out on top with more 5-spoon votes than any other restaurant.
"I only wish I could accurately articulate to you the sense of joy our staff exhibited when we announced (the award) to them," Woodman said. "They literally stood up from the table, high-fiving each other, hooting and laughing. That in itself speaks volumes about how serious our crew takes our restaurant. And to see that spontaneous reaction of genuine joy meant the world to me."
Great customer service is vital, but you're not going to win the kind of accolades that Crave has been collecting lately without pairing that service with top-notch food, and that's where Chef Landen Ganstrom comes in.
"Chef Landen has been at the helm for seven years and is easily one of the top chefs I've come in contact with in 20 years working in this industry," said Woodman.
At the top of Crave's expansive menu, which covers everything from Lowcountry favorites to exotic creations – much of which is sourced from local farmers and fishermen – you'll find the restaurant's famous mac 'n cheese. But this isn't your mother's mac 'n cheese – it's the perennial winner of the Charleston Mac Off. Ganstrom developed the recipe with his daughters and personally oversees each portion that leaves his kitchen.
If it seems unusual that a "comfort food" such as mac 'n cheese holds such an esteemed position on Crave's menu, then you probably haven't been to the restaurant yet. One of Woodman's favorite refrains is that "when a guest comes into your establishment, they're coming into your home," and dining at Crave is truly like dining with good friends who happen to be amazing cooks.
But that warm and fuzzy feeling you have leaving Crave isn't just from the atmosphere; chances are it also comes from the bar that features some of the most innovative cocktails in the area. With house-made mixers and creative garnishes, Mixologist Shaun Gordon's creations are an excellent complement to Ganstrom's menu.
Woodman insists all the credit for Crave's continued success should go to his entire crew.
"I have not created this; Chef Landen has not created this; our management team has not created this. Everyone from the dish guy to the top has. It truly has and will continue to be a team effort and team goal to stand by our core values," he insisted.
Crave is located at 1868 Riviera Drive in Mount Pleasant. To learn more, call 843-884-1177 or visit www.cravekitchenandcocktails.com.
By Brian Barrie.
Photo Provided by Crave.