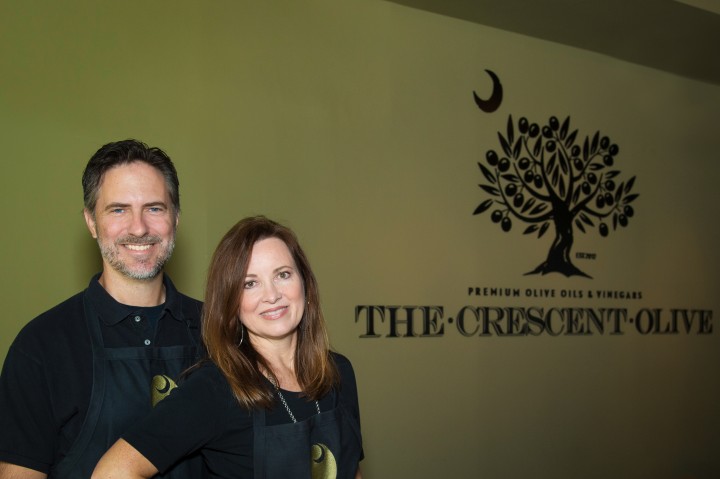 Whether you use it to dress a salad, sauté some shrimp or apply to your skin for a youthful glow, nutrient-rich olive oil is essential for zesting up your cuisine and your life. Legend has it that the goddess Athena generously bestowed the gift of the olive tree to humanity.
One shop in Mount Pleasant is serving up a vast selection of the liquid gold worthy of the gods. From lip-smacking balsamics to subtle herb-infused olive oils, The Crescent Olive has quickly become a beacon for flavor seekers.
Since its opening in 2013, The Crescent Olive has attracted chefs, bakers and curious passersby. With more than 60 balsamic vinegars and olive oils on tap, you are sure to find several that you just can't live without.
"I love educating people about the overall health benefits of olive oil," said owner and self-proclaimed "casual foodie" Mike Easler. "What we sell will really cure what ails."
Similar to wine, each stainless steel jug is marked with the date when the oil was produced. Carrying olive oil based on the growing season, The Crescent Olive sources the finest from both the Northern and Southern hemispheres – switching them out every six months to ensure it is selling the very best.
"The fresher the crush date, the better it is going to taste and the better it is going to be for you," said Easler.
"We offer Certified Ultra Premium extra virgin olive oil," he added. "It trumps organic in terms of quality and freshness."
Aromatic and chock-full of antioxidants, it comes as no surprise to learn The Crescent Olive is the official olive oil of the Charleston Wine and Food Festival.
While visitors are always encouraged to sample any flavor they desire, The Crescent Olive also hosts after-hour tastings where participants can gather up their crew, bring some wine and escape into a world where Coconut Balsamic and Sicilian Lemon dazzle the taste buds.
The ample space lends itself to hosting large groups, and chef-led cooking classes are held monthly. Getting to see, smell and taste how these prized liquids complement dishes is something you just won't find anywhere else.
While dipping pieces of bread into innovative flavors was satisfying, the real fun began when Easler brought out a scoop of vanilla bean ice cream. The robust tang of Espresso Balsamic Vinegar complemented the ice cream so well it had me questioning what I had been doing with chocolate syrup all these years. Just one spoonful will melt away any skepticism surrounding the unusual pairing.
The bartenders at Crave, a restaurant located in the same shopping center, have caught on to the not-just-for-salad trend and created several signature cocktails using the fruit-infused balsamics.
"I think that the biggest misconception about olive oil is that it is just olive oil," said Easler. "There is definitely a vast difference in what lines the supermarket shelves, compared to what we carry here."
In addition to edible items, you'll find soothing soaps, scrubs and lotions made with vitamin-rich olive oil.
Hurry in and discover the limitless possibilities of balsamic and olive oil that will no doubt exceed your expectations and refine your palate. Whether you enjoy dunking focaccia in a melody of oils or using that same mix to scramble some eggs that are anything but ordinary, The Crescent Olive is for you. Listen up. Flavor is calling.
By Kalene McCort
Photo provided by The Crescent Olive.