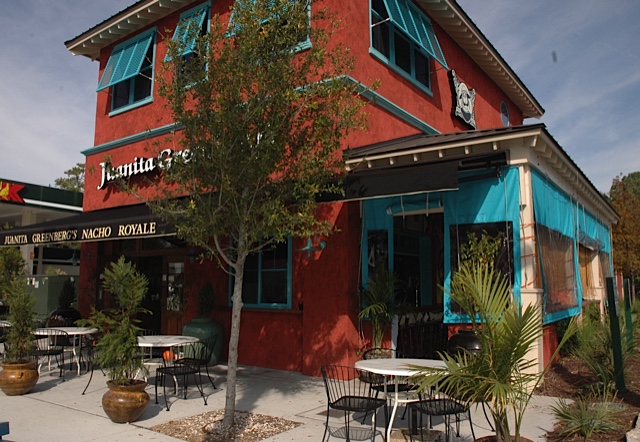 About all Juanita Greenberg's Nacho Royale takes seriously is serving fresh, tasty and budget-conscious Mexican-inspired food and drink. And really, what could be more important than that?
The tall adobe-red building with teal windows and trim stands out on Coleman Boulevard, beckoning curious motorists. Inside, the brick walls that reach toward the vaulted ceiling are adorned with funky décor – big signs lit with bright bulbs, sassy sayings, music paraphernalia, tchotchkes – and a giant Budweiser mural stretches across an upper wall. The large bar area features tall tables, while booths and regular tables are available in the main dining section. Colorful paintings cover the walls in a covered side patio, and there is additional outdoor seating. Flat-screen TVs project from every corner and behind the bar, keeping sports fans entertained.
With a location already established on King Street in downtown Charleston, local owners Michael and Edie Rabin opened the second Juanita Greenberg's in Mount Pleasant in 2011. They have created a haven of playfulness, where customers can check real-life worries at the door. Even the name "Juanita Greenberg" – a twist on the name of a family member – reveals a sense of humor that translates into a casual eatery designed to make patrons happy.
Edie Rabin described the philosophy behind the restaurant: "We like to keep it simple and fresh and good – and inexpensive."
The menu features a variety of "Mexican-ish" food, from giant burritos to tacos – traditional, fish, corn or shrimp. The signature item, Nachos Royale, takes a crispy flour tortilla with black beans, pico de gallo and jalapeños, covered with Monterey jack cheese and topped with lettuce and a choice of eight different proteins such as tofu, chicken, steak or shrimp. Edie revealed that the restaurant plans to roll out new options for diners this spring.
"We are excited about our new menu changes," she said.
Aside from yummy food, the Rabins are also serious about making good drinks – especially when tequila is involved. They offer more than 20 different tequilas, and their popular margaritas are packed with pizazz. Whether a traditional frozen house margarita or a specialty Horny Margarita – Hornitos Reposado and house-made margarita blend – the concoction is sure to elevate an afternoon from mediocre to muy bueno. Of course, the beer selection is no joke, either, with most on tap ranging from $3 to $4.
Music lovers can catch live bands at least three nights a week, with featured acts such as Graham Whorley, The Reckoning Duo and HotBox. (For the most up-to-date live show information, visit Juanita Greenberg's Facebook page.) Those with kids can take advantage of discount family nights. If you are looking for a great deal, it's hard to beat a special of two tacos and a beer for only $7, available all day, every day. And for late-night noshers, the kitchen is open until 1 a.m. seven days a week. There truly is something for everyone.
"It's a great place for big parties and big families," Edie said.
Juanita Greenberg's is located at 410 W. Coleman Blvd. in Mount Pleasant. For more information, call 843-329-6224 or visit http://juanitagreenbergs.com.
By Pamela Brownstein.
Photo courtesy of Juanita Greenberg's.