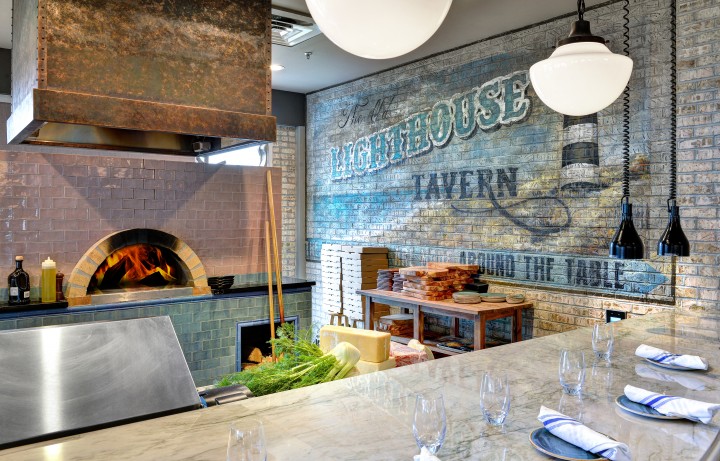 I used to think that I loved meeting other writers. Not that it's changed – if any writers are out there reading this, look me up – but I've realized I love meeting any artist who is serious about his or her craft, food included. And when I met Katie Lorenzen-Smith, head chef at Shem Creek's new restaurant, Tavern & Table, I could tell right away that she is a passionate artist of food. The result of her diligence, as anyone who has tried the restaurant knows, is delicious.
Tavern & Table has been in business since the latter part of 2014. Proprietors Dianne and Cecil Crowley, who currently own Red's Icehouse and founded Wild Wing Cafe, decided to open a new restaurant "that reflected their own tastes." So far, they're pleased with the results: a gorgeous building with plenty of outdoor seating, designed by HGTV's Taniya Nayak; a menu that is versatile, seasonal and brimming with local flavor, thanks to Chef Katie; and a heartfelt following of Mount Pleasant and Lowcountry residents in just the first few months.
"When we dreamed up this restaurant, we wanted something casual – but fresh, handmade and delicious," Dianne Crowley commented.
Chef Katie attended the Scottsdale Culinary Institute and graduated in 2003 before taking a position at a restaurant called Elements at the Sanctuary Camelback Mountain Resort and Spa. But she didn't always know that she wanted to work as a chef. In fact, after college graduation, she got a job at Wells Fargo in her home state of Minnesota, only to be informed by a colleague that she should "make food for a living" after she supplied a company lunch. She worked at Elements for seven years, first as sous chef and pastry chef, then advanced to executive chef. Her mentor and longtime friend, Beau McMillan – of Food Network fame – helped along the way.
"As far as flavors I'm partial to, I've always loved Asian accents, which I did a lot of at Elements," Katie commented. "I love Peruvian food as well. Now, I've immersed myself in Southern cuisine."
One of the coolest things about Tavern & Table is that the menu changes daily; you could have lunch there all week long and not get bored, thanks to the "daily grind," "daily bread," and "daily special." Plus, the charcuterie program means that everything from chicken livers to foie gras is made in-house, along with adornments such as mustard and pickled veggies.
"The changing menu lets us try new things and see whether we should put them permanently on the menu," Katie mused.
A few of Katie's favorites on the current menu – which I quickly ordered while we spoke and declared undying love for – include the fire roasted local oysters, the pimento cheese and bacon jam and the salted caramel panna cotta. Meanwhile, Dianne can't get enough of Katie's food either, and praised the kale and Brussels sprouts salad that "converted her" to being a fan of Brussels sprouts.
"Katie's thought process about food – her flavor profiles, ideas and inventive pairings – have been a good fit," Dianne said. "We've found a great team."
Spring at Tavern & Table promises plenty of fresh produce obtained from local purveyors such as Limehouse Produce, Ambrose Farms, Charleston Oyster Company and "Clammer Dave." Katie is looking forward to using local tomatoes and creating a light menu that patrons will enjoy while looking over Shem Creek. Even brunch is on the horizon.
"Charleston has been fantastic," Katie remarked. "It's good to meet other talented chefs and eat at other great restaurants. And I love Southern flavors – wherever you go, you have to embrace the cuisine."
To learn more about Shem Creek's newest restaurant, visit www.tavernandtable.com or call 843-352-9510.
By Denise K. James
Photo by William Quarles