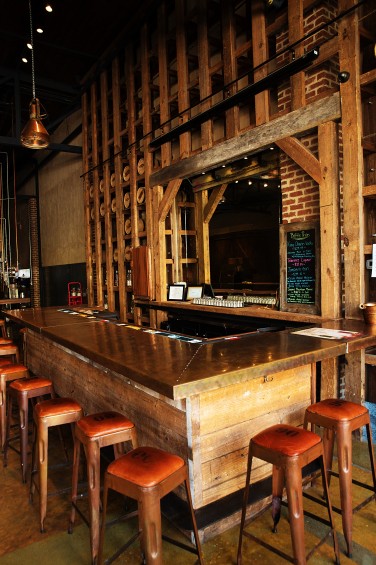 With the holidays comes an opportunity to wow party guests with cocktails that go beyond the basic beverages of years gone by. Why sip on the drinks of last year's Thanksgiving, when you can savor the innovative spirits of now? Charleston Distilling Company is changing the way folks experience liquor, one handcrafted bottle at a time. Whether you enjoy sugar-rimmed stunners or shaken staples with a twist, you're sure to find a base for that ideal refresher.
"The most rewarding aspect for me is to get out from behind a desk and work with my hands every day," said Master Distiller Brent Stephens, president of Charleston Distilling Co. "It is very rewarding to create something from scratch, controlling the entire process from start to finish. I love being able to interact with people and see them enjoy what we have created."
Unlike megabrands, Charleston Distilling Co. sources local wheat, corn, rye and millet to craft their one-of-a-kind blends. From hand-selecting the finest Carolina-grown ingredients to milling them at their own millhouse at Flowers Farm in Summerton, these professionals take the extra step to ensure the contents of your frosted glass are the very best.
"The response has been extremely positive. Many people are surprised to come into the distillery and see that we make award-winning craft-distilled spirits right on King Street in downtown Charleston," said Stephens. "All of our spirits are also unique in their own way, so we have many people that have their eyes opened to something they enjoy and that they may not have ever tried in a bar."
Think you know exactly what pleases your palate? A trip to Charleston Distilling Co. could change your perspective when it comes to your own taste. From barrel-aged gin to '"Tolerance" – whiskey adorned with tinges of ginger and cinnamon – the range of flavor found in each product is vast.
"We have a lot of people that say they don't drink gin before the tasting and end up leaving with a bottle of each of our gins," said Stephens. "Our Jasper's Gin goes beyond the basic juniper flavor with heavy citrus notes and ginger on the finish, whereas the Jasper's Bourbon Barrel Gin is lemon grass forward with notes of star anise on the finish."
A visit to their King Street distillery has a Willy Wonka-like appeal for those who live for the smooth and botanically infused. A golden ticket comes in the form of a guided tasting tour, where folks can sample the liquors crafted right on-site.
Charleston Distilling Co. has brought us favorites such as King Charles Vodka and Jasper's Gin and will follow suit with three additional products in the coming months. A mouth-tingling vodka infused with Carolina Reaper peppers, which are certified as the hottest in the world, will soon be added to the collection. Also on deck are two varieties of rye whiskey, distilled and aged from scratch. One will be Charleston Distilling Co.'s spin on a single-malt whiskey and the other is more of a traditional American peppery rye.
Don't let your friends and family go thirsty this holiday season. You can find Charleston Distilling Co. products in liquor stores statewide. Stock your home bar with the highest quality spirits made from the best ingredients the Lowcountry soil has to offer. Now that's drinking responsibly.
By Kalene McCort.
Photo by Jenn Cady.