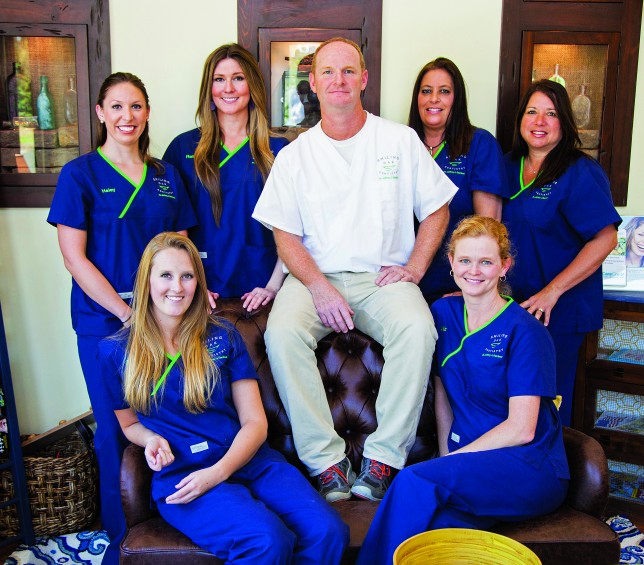 When Dr. Jeff Gardner moved into a new, 3,000-square-foot building in September 2014, he updated his equipment and gave his thriving dental practice a new name. His recipe for success remains the same, however: Hire the best people available, treat them right and they'll do the same for your patients.
"In business, the customer is number one, but the team is number one as well," said Dr. Gardner, who worked in his father's dental practice on James Island from 1992 until 1997, when he purchased his own practice in Mount Pleasant. "Our team gets along. The relationship between team members has to be a very healthy relationship for us to deliver the kind of care we want to deliver to our patients."
"It starts with the hiring process," he added. "We select candidates with a hands-on approach. We have multiple meetings to talk about their strengths and weaknesses. The candidate either adopts the culture of our office or quickly finds another culture. People can see through artificial customer service."
The staff at Smiling Oak Dentistry, the name adopted when the practice moved a few hundred yards further away from the Highway 17 service road, includes Rebecca Arena, Lisette Glennon, hygienists Elizabeth Barron Morrison and Haley Williams and dental assistants Maria Trombley-Puffer and Anna Inabinet.
"I want our employees to learn, to be happy and, at 5 p.m., to go home to their families," Dr. Gardner stated. "We have an energy where employees like being here."
Patients enjoy visiting the practice as well because of its relaxed and friendly atmosphere, said Dr. Gardner, who did his undergraduate work at Furman University and the College of Charleston and earned his dental degree at the Medical University of South Carolina. He hasn't stopped learning since, accumulating enough continuing education credits to earn the designation of fellowship in the Academy of General Dentistry.
Dr. Gardner said he has spent so much time enhancing his education to benefit his patients but also "to keep my own sanity."
"I had a little bit of burnout early in my career, and I didn't know to handle it," he explained. "In the last 20 years, I've gotten into a lot more continuing education. I've really gotten immersed in it and it's added to my skills and skill set."
Smiling Oak Dentistry, which treats patients of all ages, offers a wide range of dental services, including routine cleaning, gum treatment, fillings, pulling teeth, dental implants, dentures, crowns, bridges and cosmetic services such as veneers and teeth whitening.
Dr. Gardner has an active life outside his dental practice. He practiced martial arts at one time and now plays in an adult soccer league, but his new favorite hobby is metal detecting. He has discovered artifacts from the American Revolution, the War of 1812 and the Civil War, including buttons, bullets and his large collection of bottles, now on display in the waiting room of his office.
"When you put a shovel in the ground in Charleston, you don't know what's going to come out," he commented.
Dr. Gardner met his wife, Roberta Zeigler Gardner, in dental school. She is now an orthodontist in Mount Pleasant. Their daughters, Sophie and Lydia, are students at Wando High School.
Smiling Oak Dentistry is located at 1077 Johnnie Dodds Blvd. To learn more, visit www.smilingoakdentistry.com or call 843-884-0335.
By Brian Sherman. 
Photo courtesy of Smiling Oak Dentistry.