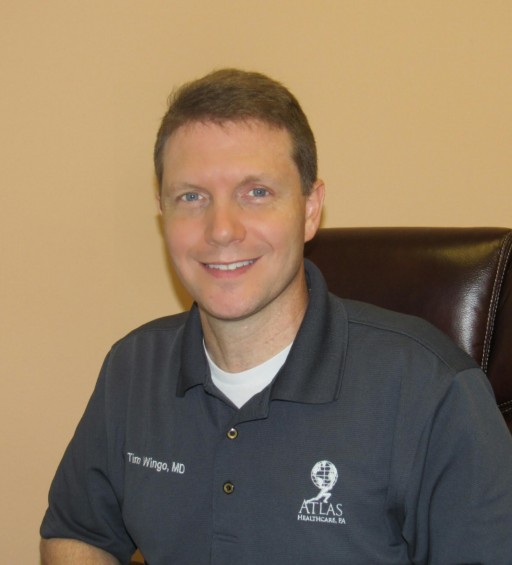 Editor's note: Dr. Timothy Wingo of Atlas Healthcare would like to share with our readers a little bit about how his direct pay practice works and how it can save you and your family money. Here are a few questions he is commonly asked.
What is a direct pay practice?
A direct pay practice does not contract with Medicare, Medicaid, Tricare or private insurance companies. By eliminating costs associated with billing, coding, referrals, authorizations, payment delays, EIB reviews, claim denials, re-submissions, collection risks and other managed care costs, Atlas Healthcare can provide services for less than half the cost of a typical office visit, without the administrative hassles and bureaucracy.
Will Atlas Healthcare file my insurance claims?
No. We will provide our fees and billing codes, upon request, before any services are performed. Insurance carriers are not always willing to provide their allowable fees or disclose which billing codes they will cover. If this is the case, contact the South Carolina Department of Insurance at http://www.doi.sc.gov.
What if I need insurance forms filled out?
Atlas Healthcare does not fill out insurance forms. A copy of your medical records will be forwarded to the insurance company when a signed authorization to release your medical records is received.
What should I bring to my first appointment?
We require a picture ID, a complete list of your current medications with dosing instructions, allergies, plus any X-Rays and imaging reports.
Can I fill out my new patient forms before my first visit?
Please print and complete the New Patient Packet from our website. If you are unable to do so, arrive at least 30 minutes early for your visit.
What is the phone visit or "telemedicine" policy?
If you have a simple problem and understand the limitations of "telemedicine," Dr. Wingo will discuss your complaint with you. Time for discussion, documentation in the chart, and calling in medication to your pharmacy takes valuable time, so a $50 fee will be charged to your credit card.
How do I get a prescription refill?
The best time to request prescription refills is during an office visit. Dr. Wingo will provide enough refills to cover you until your next appointment. Documenting, calling and faxing pharmacies is time-consuming, so a $20 charge will apply to refill requests due to missed or delayed appointments. Requests from the pharmacy to renew an expired prescription will require 24 hours to process, if granted. The $20 fee will apply if a follow-up appointment is due.
What do I do in case of an emergency?
If you have a life-threatening medical emergency, call 911 immediately. Dr. Wingo can be reached after hours by leaving a message on the after-hours line, but only for medically urgent, non-life-threatening issues that cannot wait until the next business day.
Will my medication be covered by my insurance?
Most medications are covered by insurance. If you have a plan that requires prior authorization for your medication, it may take longer to process, or out of pocket expenses may be higher. Prescription samples aren't available.
What if I have a chronic condition requiring medications that are controlled substances?
Dr. Wingo cannot prescribe narcotics or controlled substances on an ongoing basis. If these medications are needed chronically, we will refer you to the appropriate specialist.
Photo Provided
To learn more, contact Dr. Timothy Wingo at 843-352-9353 or visit www.atlascharleston.com.