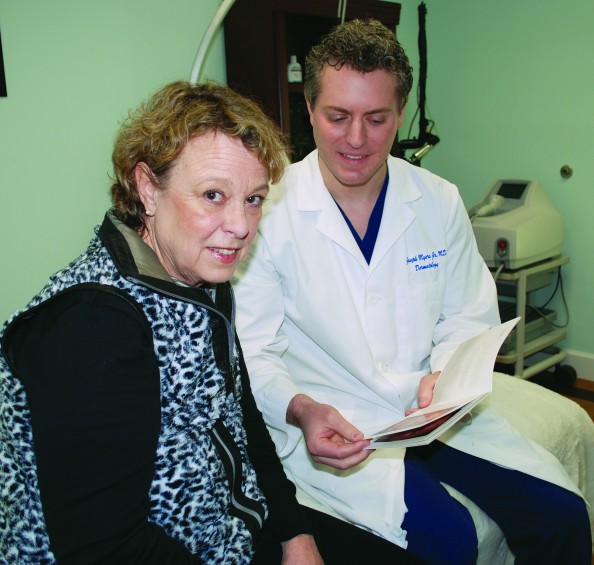 Denise Boyd has faced more hurdles than the average person in the past decade-and-a-half, and, though she's managed to rise above them all, the medical and emotional issues that have punctuated her life since 2001 have taken a toll on her physical appearance.
"A doctor once told me that all the medical problems I've had have added 10 years to my skin," said Boyd.
Late last year, the Moncks Corner resident discovered a way to regain her youthful appearance during a visit with her mother to Coastal Dermatology in Mount Pleasant. Boyd mentioned to Dr. Mittelbronn that she "just didn't feel good about herself."
"Is there anything that you can do to help me look better?" she asked.
The board-certified dermatologist, who has been focusing on all aspects of her patients' care since opening her practice in 2003, suggested that Fraxeltm laser resurfacing would improve the tone and texture of her skin by removing the dark spots and reducing wrinkling.
The procedure, offered for the past eight years by Coastal Dermatology, repairs the effects of sun damage, wrinkling, dark spots, large pores and lumpy texture on a person's face, neck, chest and hands. The Fraxeltm laser was developed for the deep penetration needed to repair damage below the skin's surface. Its "fractionated" technology makes it safer than similar lasers and reduces the patient's downtime after treatments.
Dr. Mittelbronn pointed out that most people are given three to four 30-minute treatments, usually a month apart. After only one treatment, administered by Dr. Joseph Myers at Coastal Dermatology just before Thanksgiving 2014, Boyd could look in the mirror and see things moving in the right direction.
"I have absolutely no regrets," said Boyd, who has suffered from breast cancer, colon cancer, a blood disorder, hernia surgeries, and, most recently, the death of her mother. "It's the best thing I've ever done for myself. I could really tell how much it helped. My face was brighter."
Dr. Mittelbronn said the Fraxeltm treatment damages, in select areas, about 25 percent to 35 percent of the skin. Following the procedure, the undamaged skin helps the damaged skin heal and quickly recover, with few side effects. She said there at no problems with scarring.
According to Dr. Myers, who practices in Coastal Dermatology's Mount Peasant and Pawleys Island offices, there's minimal downtime after each treatment. In most cases, he said, patients might look like they spent a little bit too much time in the Coastal Carolina sun.
"If people didn't know I had the procedure, they didn't even ask about it after about five days," Boyd said.
Dr. Myers said patients generally continue to show improvement as time passes after each Fraxeltm treatment.
Boyd added that the Fraxeltm treatments she is receiving at Coastal Dermatology have made a huge difference in her life.
"Every woman should do something to look better and feel better," she said. "Any woman, or man, for that matter, who has had a serious illness, it takes away from their skin. They need to do something for their skin, just like they would for their heart or lungs."
Coastal Dermatology is located at 2705 N. Highway 17 in Mount Pleasant and 8667 Ocean Highway in Pawleys Island. To find out more about Coastal Dermatology and the Fraxeltm Laser, visit www.coastalderm.net or call 843-881-2265.
By Brian Sherman
 Photo by Brian Sherman.