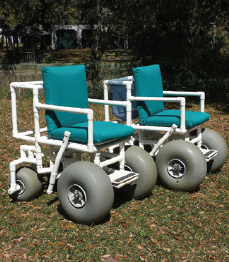 Nate Upchurch made a career in resort management on the beaches along the Carolina coast and understands the joy people feel when they are able to make the sand and water of the Atlantic Ocean their playground.
However, Upchurch also witnessed firsthand the frustrations many families felt when they couldn't make it to the beach because of physical disabilities. "People who are physically limited or disabled or have a family member who is incapable of walking through the sand aren't able to participate like they really want to," said Upchurch. "On Call Hospitality is Charleston's local source for renting quality mobility equipment, including the top-of-the-line Debug® beach wheelchair that makes beach day everyone's favorite day."
On Call Hospitality is the only company in Charleston that rents beach wheelchairs and other types of mobility scooters and standard wheelchairs.
"We offer complimentary delivery and pickup so that our clients can enjoy their vacations rather than have to worry about the details," continued Upchurch. "People are always so grateful because they have the ability to enjoy the beach as an entire family, not with one or two people staying behind."
The Debug® wheelchair moves well across soft sand and uneven surfaces, and it also has swivel armrests and lap and chest belts for added safety.
"The rear wheels articulate and can even sit in the water's edge," Upchurch explained. "It really is remarkable how well the Debug® beach wheelchair works, even in the sand."
On Call Hospitality typically can have a wheelchair ready to roll within 24 hours, though many repeat clients reserve chairs a few months in advance of their vacation to make sure they will be available.
If you plan to spend more than a day at the beach, renting a platform that attaches to a trailer hitch might be the way to go.
The Deluxe Beach Wagon is another option for anyone vacationing at the beach. Featuring specialty tires, it easily hauls your gear across the sand and can accommodate up to 400 pounds.
On Call Hospitality offers several other wheelchair options, including the traditional PVC beach wheelchair, which can accommodate up to 250 pounds, or the Rascal® 500T Scooter and the Pride® Stylus LS wheelchair, which also can be used in city streets or shopping centers.
The Rascal® 500T Scooter boasts a compact design with great maneuverability. It has a headlight, built-in battery charger and even foam-filled, "flat free" tires. The lighter Pride Stylus LS wheelchair features smooth drive tires and casters and fluid-resistant, tension-adjustable seat upholstery.
On Call Hospitality has a wheelchair that will work well in any environment in the Charleston area, from beaches to weddings to gardens.
To learn more about On Call Hospitality, visit www.OnCallHospitality.com or call 843-749-2434.
By Stacey Domingo