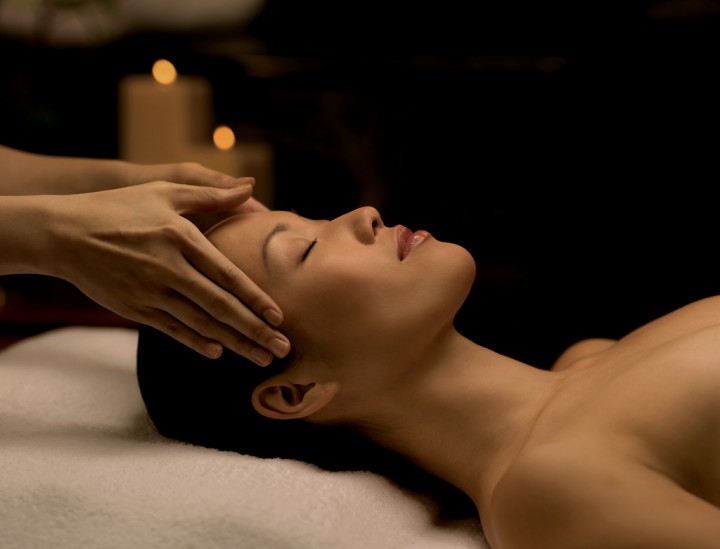 Planning for the holidays can sometimes be stressful. Between trips to the mall, market and, in some cases, the airport, folks can find themselves deep in the throes of hustle and bustle rather than enjoying the seasonal cheer. In between all the decorating, gift purchasing and meal prepping, you must remember to shower yourself with a healthy dose of self-care. Luckily, Mount Pleasant is home to some of the most ideal places to unwind, exhale and get pampered. Think of this list as your guide through the consumer chaos that dominates the season. Have that one family member who's pretty near impossible to shop for? Give the gift of relaxation. Picking up a spa gift card for a loved one and wiping away some of your own stress in the process – talk about killing two birds with one hot stone massage.
The Woodhouse Day Spa
The name alone conjures up an image of a cedar-laden abode high in the Swiss Alps. Fortunately, you can save on airfare and experience this resort-like spa right here in the Lowcountry.
"When a new guest walks in, they are blown away by how luxurious the spa is and how attentive we are," said Woodhouse Day Spa owner Kimberly Powell. "We love welcoming our guests. They love the complimentary glass of wine, the heated lavender neck wrap and fireside relaxation room."
Offering a number of services, Woodhouse provides a cure for just about all that ails. From sleep treatments that incorporate the use of therapeutic sound and essential oils to age-defying seaweed facials, the possibilities are endless.
"The Woodhouse Day Spa gift card truly makes the perfect gift," said Powell. "This allows the recipient to come in and select the perfect service for them and enjoy the spa."
For those that truly want to feel the bliss there is "The Woodhouse Experience" – five hours and 15 minutes of some of the best treatments offered. Enjoy a four-handed massage, a Minkyti facial and finish off the day with delicious food meant to delight your senses.
"Woodhouse Day Spa is a boutique franchise, and the CEO and amazing team at headquarters devote a great deal of time into making sure we are always offering the latest and most results-oriented and relaxing treatments for our guests," said Powell. "Dr. Linda Torrey, with a Ph.D. in Ayurvedics, helps develop world-class protocols for Woodhouse Day Spa."
Want to experience the pampering with a partner? "Two's Company" consists of duet Swedish massages and warm agave nectar pedicures. Leave feeling renewed and rejuvenated in a way you never knew you could.
"We will have several holiday promotions throughout the season," said Powell. "Black Friday, Cyber Monday and the two weeks prior to Christmas we will promote by email and on our Facebook page."
Visit https://charleston.woodhousespas.com/ for more information.
AesthetiSpa Cosmetic Skin & Laser Center
Located on Johnnie Dodds Blvd, AesthetiSpa has been a household name in cosmetic skincare for over a decade. With an engaging staff and innovative treatments, it's clear to see why this establishment continues to attract a loyal following looking to spruce up.
"The most rewarding part of my job is working with women and men to help them feel more confident and beautiful every day," said owner Dr. Christy Cone. "It's so much fun!"
From microdermabrasion to laser vein removal, AesthetiSpa provides guests with the latest techniques the industry has to offer.
"We do offer a full range of wonderful, non-surgical aesthetic services," said Dr. Cone. "The most popular are Botox, Dysport, wrinkle fillers, Thermage and IPL Photorejuvenation."
Explore your options in an environment that aims to soothe and delivery optimal results time and again.
"I want a guest to feel comfortable, safe and at home when they walk through the doors at AesthetiSpa," remarked Dr. Cone. "It's of utmost importance to us to provide very individualized service and the best care possible for each and every client."
Be sure to check their website to register for a 25% off coupon and to keep up with seasonal specials. Visit http://www.aesthetispa.com/.

Stox & Co.
Ideally located in the heart of Mount Pleasant, Stox & Co. is your one-stop shop for all things elegant. Sprinkled with vibrant greenery and sleek chandeliers, the vibe is undeniably chic. While the décor is magazine-worthy and teeming with Zen-appeal, the staff and services offered are even more inviting. Before heading in to indulge in a deep tissue massage or Sweet T Sugar Scrub, you'll most likely be dazzled by the jewelry for sale in the foyer. Sourced by international artists, these natural gemstones are sure to add just the right amount of bohemian bling to your ensemble.
"I believe that the unique atmosphere of the Stox & Co. brand sets us apart from others," said manager Margaret Rogers. "Whether coming in for a salon or spa service or to shop in our boutique, we strive to maintain a relaxing escape for everyone from the moment you enter our doors."
This award-winning spa and salon franchise has provided patrons with two decades of memorable pampering in several South Carolina locations – its latest establishment is on Coleman Boulevard. Residents of the neighboring apartment complex, The Boulevard, always receive 10 percent off of any service.
From customized airbrush tans to botanical hair therapy, the list of services they offer is vast. Be sure to follow Stox & Co. on Facebook and Instagram to keep up with seasonal specials.
"The most rewarding aspect of my job is seeing guests' transformations from the time they walk in the door to the time they leave," said Rogers. "Such transformations go far beyond a new hairstyle; rather it is the sense of their renewed, uplifted spirit. Even short services can make large impacts, and being able to witness that and help cultivate an atmosphere where people can escape from life's circumstances .is ultimately the most rewarding aspect to me."
Visit http://www.stoxandco.com/ for more information.

Mount Pleasant Medi-Spa
This trusted name in the industry continues to serve the folks of Mount Pleasant and beyond. Uniquely, the spa is a sister project of Dr. Heidi Williams, Plastic and Reconstructive Surgery, combining spa services with surgical procedures.
From laser hair removal to facials that are guaranteed to leave you glowing, the services are varied. With highly-skilled aestheticians on hand to brighten up your dark circles and shrink your pores, you'll leave looking and feeling like a new version of yourself.
Mount Pleasant Medi-Spa's in-house makeup artist is also available to get people glammed up before a photo shoot or special event. Call 843-375-0270 for more information.

EcoHealth Wellness Center and Detox Spa
Founded by Naturopathic Doctor Tiffany Jackson, EcoHealth Wellness Center and Detox Spa is the ideal holistic hideaway for those looking to restore balance to the body, mind and soul.
In addition to offering up services to clients that will send them into a state of pure relaxation, this center, on Johnnie Dodds Boulevard, also plays an active role in what you put into your body. Fully understanding that nourishment is the key to maintaining health and beauty, they actually take clients on shopping tours to Whole Foods Market. Grocery trips with expert Dr. Tiffany Jackson are guaranteed to ensure the very best products make their way into your cart. Offered the third Saturday of every month, these health food excursions will have you stocking up on staples that are the best for both body and budget. Say goodbye to the days of crash dieting and hello to an all-encompassing lifestyle change you'll be happy to explore.
Priding themselves on being your "body's gardener," EcoHealth strives to rid your system of the toxins and stress that may have taken a toll over the years. Combining nutrition, herbal medicine and supplements to help achieve all-around wellness, EcoHealth provides a lifelong solution to conscious healthy living. If you need a beverage, EcoHealth provides Kangen water – an ionized alkaline water designed to properly hydrate you and restore pH levels.
Understanding that individuals' needs are different, EcoHealth offers various monthly wellness memberships sure to satisfy everyone. Reach out for a free phone consultation to determine what route is the best for you. Choose from a variety of services, including infrared sauna treatments, Migun massage and organic skin care regimes that are sure to gently brighten, calm and clear. There's even an option to make lips that much more kissable for the mistletoe with exfoliating fruit enzymes.
With cost-effective group rates and a top-notch staff, EcoHealth goes beyond basic treatments to ensure clients live their best lives.
Visit http://ecohealthwellness.com/ for more information.
By Kalene McCort.