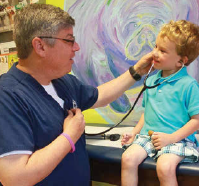 When it comes to your parenting questions, there's a bevy of people, from neighbors and friends to grandparents and colleagues, who are ready and willing to oer opinions to you. Other times, you might want to keep matters – your child's health being one – within a more select group. With Coastal Pediatric Associates as part of that trusted group, a doctor or nurse will always be there to listen.
Open seven days a week –four days until 9 p.m. – with a 24-hour nurse call line, Coastal Pediatric Associates has made it possible to get answers regarding your child's  health whenever you need them. And with office locations in Mount Pleasant, West Ashley and James Island, a caring physician is always nearby.
"We have a great team that works together and allows these flexible hours to be possible," commented Dr. Laurin Graham, who works in the Mount Pleasant office. "Parents can always access us."
So how do you know when to phone a doctor? In the age of "too much information," Dr. Graham cautioned parents against researching symptoms on the Internet or even relying on feedback from other parents or community members. Instead, a parent's own instinct is the most important reason to bring a child to a physician. And solving mysteries about your little one's health – including figuring out "what hurts" – is something the doctors embrace as a cornerstone of pediatric medicine. In other words, they'll know just what to do.
"We take care of kids, and we also take care of the families," Dr. Graham pointed out. "We listen to the parents, reassure them and give them realistic expectations."
Now that spring and summer are on the way in the Lowcountry, many parents will want to schedule wellness visits that will prepare a child and guard his or her health. The warmer months are a good time to "catch up" on your child's overall well-being, including updating vaccinations and testing for allergies. And if you're planning to send your child to overnight camp this year, most will require a yearly physical.
"Camps like to know when your most recent wellness visit was," Dr. Graham explained. "If a wellness visit has been recent, parents can request records through our Web portal. Otherwise, it's a good idea to schedule one early."
Even high school athletes would be wise to sign up for a wellness visit. Dr. Graham commented that South Carolina requires players to visit a physician between the first of April and the starting date of the sport.
"It's best to plan ahead," he affirmed.
Need more proof that Coastal Pediatrics Associates knows best for y\ur child? Consider the fact that the practice is a designated Level 3 Patient Centered Medical Home, recognized for providing the highest level of care in the three-tiered quality grading system, according to Lindsey Young, marketing manager.
"We are the only pediatric practice in the Lowcountry to receive this honor," Young said. We're proud to serve the families of the greater Charleston area with the highest standard in pediatric care. It's our hope that your children will look forward to return visits with medical providers they come to know, love and trust."
Coastal Pediatric Associates is located at 1952 Long Grove Drive in Mount Pleasant. To learn more, visit www.cpakids.com or call 843-971-2992.
By Denise K. James