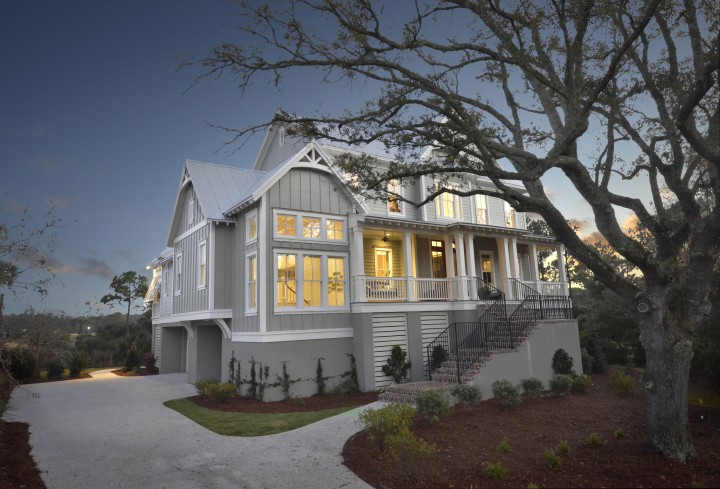 As I walk from room to room at 117 Rivergreen Place on Daniel Island, it's easy to imagine the Daniel Island home might have been lovingly custom built by a fourth-generation Lowcountry builder.
My eyes light on detail after detail: crisp shiplap, vaulted ceilings, exposed beams, the kind of screened porch overlooking the marsh that begs me to abandon my worldly pursuits and get lost instead in a faint sea breeze and a dog-eared copy of a Pat Conroy book.
And it's also easy to imagine the warm, gregarious man giving me the tour is that builder – the one who spent summers growing up learning the art of shiplap and other hallmarks of Southern coastal homes alongside his grandfather and father.
But while the home was custom built and the man standing before me is in fact a custom home builder, his story in the Lowcountry has only just began. His name is Chuck Lattif, and he is the local owner of Arthur Rutenberg Homes.
Until last year, he lived in the Northeast, where his work on the national custom home building level had earned him awards such as Best Custom Home under 6,000 square feet by the Main Line Builder's Association, as well as industry-wide respect – he was appointed chairman of the Historical Architectural Review Board in Lower Merion Township in Pennsylvania.
He fostered his lifelong passion for custom home building by kicking off his career working for three of the largest home building companies in the country – NVR, Weyerhaeuser and Pulte – before starting his own company.
This side of 10 years ago, he even had the privilege of building the Delaware home of Vice President Joe Biden.
But after learning of the opportunity to become a part of the Arthur Rutenberg family – and after being wooed by the Charleston area during subsequent visits – Lattif knew his future in custom home building lay in the Lowcountry.
Listening to Lattif speak, it's clear his respect for the Arthur Rutenberg name extends beyond a professional perspective.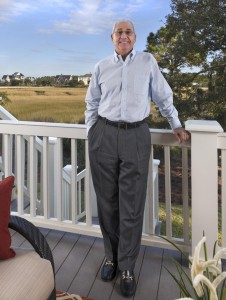 "Art's been in the business for over 60 years and still works five days a week, and he's still an inspiration to how we look at housing and trends," Lattif said of the company's namesake and founder, whom he calls a "terrific individual."
For Lattif, then, investing in a franchise was a no-brainer because it was this franchise.
"What you gain from associating yourself with someone as respected as Art Rutenberg is you know that a great deal of thought has gone into the evolution of the franchise," he explained. "The history makes a big difference."
It's a history that stretches back to 1953, when a 26-year-old appliance dealer in Chicago decided to purchase 10 Florida lots. He immediately set to work designing and building three spec homes.
Thus, Arthur Rutenberg Homes was born, at a time the founder said "loans were made with a handshake, building permits took all of 15 minutes to pick up – 10 of which were devoted to chitchat – and sales contracts were written on a half sheet of paper."
While much has changed since the simple days of the company's inception, the guiding principle remains the same – "form always follows function."
But how does the company find the ideal marriage of the two for modern families whose needs are far more complex than the families of half a century ago?
"We have architects in Clearwater and also in Charlotte who travel the country continually looking at trends in lifestyle," said Lattif, "and their floor plans are a culmination of looking and reviewing and altering our floor plans so that they constantly have a sense of how people live and where they like to live."
And perhaps that's why this home – "the Port Royale" – feels so inherently local.
"The homes we've designed for the Lowcountry have never been built before and, as Art so rightly put it, we want to look like we grew up in Charleston," elaborated Lattif. "We've given a lot of thought to how we design here versus anywhere else. It takes a lot of effort by a lot of people to bring this to fruition."
Savannah Classen of Jilco Kitchen and Bath was one such person; Classen designed the kitchen and the bathrooms for 117 Rivergreen Place.
"We chose a refined cabinetry style to complement the other finishes," Classen pointed out. "Incorporating glass in the upper kitchen cabinets created a clerestory look. It was all about being timeless."
In keeping with the company's commitment to convenience for homeowners, the process of incorporating local design is streamlined, state-of-the-art and offers impressive savings of both budget and time.
"What we like to do is understand their needs – what is it about their current home that they don't like? – and direct them toward what we have to offer that comes closest to what they're looking for," said Lattif.
From there, sales consultant Sharon Cassidy can make changes to the floor plan to suit the homeowner's specific tastes. These changes, she underscored, are at no additional cost.
"We can actually customize the home any way you want," Cassidy said. "We are a custom builder, so we can do whatever you'd like. These are no-cost changes to the client."
Homeowners who want to modify a home plan don't have to worry about impeding the overall process.
"In 48 hours, we'll have the floor plan revised and back to them," said Lattif. "They can do that until they're satisfied with the layout and, when they're done, we can have a budget ready within three or four days."
The family would then travel to the company's design center in Myrtle Beach, where they'd be afforded as much time as they need with one of the company's interior designers to help make all of their selections.
"Along with the budget, they'll receive an itemized list 15 to 20 pages long of absolutely every detail that will go into their home, down to the serial number and model number of their towel bars," added Lattif.
It's a process the veteran builder truly stands behind.
"The one thing that age affords you if you've been in this industry long enough is knowing what things consumers look for that save time and money," he said. "People's lives are so hectic today, and this system that we have allows people to save a great deal of time and a great deal of money. And the homes speak for themselves in terms of design."
Although he only recently moved to the Lowcountry himself, Lattif has already adopted the Southern way of considering everyone who walks through the door to be extended family.
"I was fortunate enough when I worked for large national companies that they allowed me to build a house for my family on my own," he said, "and over the course of 30-plus years of marriage, I've probably built 10 or 11 custom homes for my family."
Through Arthur Rutenberg Homes, Lattif intends to parlay his experience creating custom homes for his loved ones into helping Lowcountry homeowners build the homes of their families' dreams.
With every new home he builds, Lattif said he'll really just be returning part of a greater favor – after all, it's the residents here who've made the Lowcountry home for Lattif and his team.
"It's a wonderful, easy lifestyle," he said, smiling, "and the people have been so incredibly welcoming."
To learn more about Arthur Rutenberg Homes, visit www.arthurrutenberghomes.com or call 843-371-1432.
Story by Julie Sprankles
Photography by William Quarles