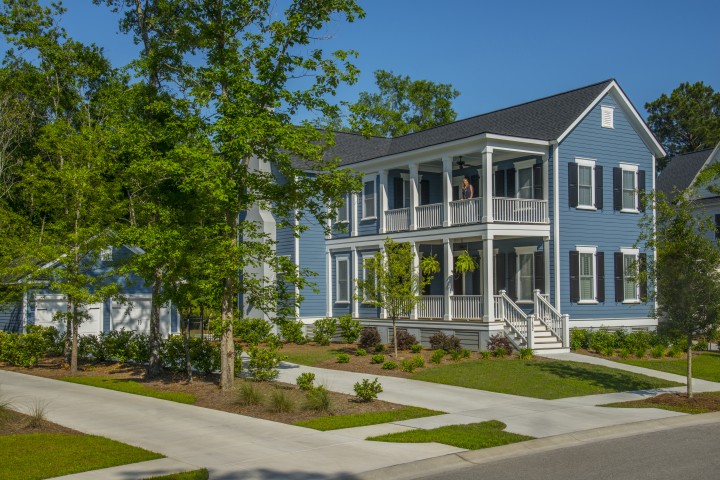 It's a sunny Sunday afternoon, the kind of breezy Lowcountry day that makes the soul well up with an equal mix of gratitude and homegrown pride. As I pull into Carolina Park, a 1,700 acre master-planned community in Mount Pleasant, I roll my car windows up. There's only one thing to do on a day like this: explore.
Now on foot, I start down an idyllic street flanked on either side by charming homes with lovingly well-appointed yards. People sitting on their wide, welcoming porches wave as I pass by, and I return the gesture with a smile.
Peering at the houses stretching out before me, I'm impressed by how personal yet cohesive they appear. With nine top notch builders boasting a variety of home types – townhomes, cottages, classic homes and custom homes – homeowners have the distinctive benefit of being able to choose the style that suits them best and imbue it with their own individual personality.
Stopping in front of a stately blue house with black shutters, I close my eyes for a moment and imagine myself kneeling in the flowerbed, cupping a cluster of yellow lantana before dropping it into the rich soil.
The truth is, it isn't hard to picture a life at Carolina Park – this is the kind of community where people come not just to buy a house, but to make a home.
"The comment we get over and over from people moving in is, 'Gosh, everyone is so friendly and welcoming!' There's just such a sense of community," explained Haley Cuzzell, community sales manager at Carolina Park. "It's pretty unique."
That much is made evident with a cursory glance at my surroundings.
A mother skirts the perimeter of a large pond as she pushes her toddler in a jogging stroller along a trail – one of many that comprise Carolina Park's integrated trail system designed so residents can enjoy the more than 300 carefully preserved acres of wetlands, green space, open space and parks.
Of course, as the temperatures continue to rise in the coming months, the most buzzed about body of water at Carolina Park will be the community's resort-sized pool – which, along with the accompanying amenity center, was recently named the best new facility of its kind in the greater Charleston area at the Prism Awards.
"We're really pleased to have our new pool recognized by the Charleston Home Builders Association. We worked closely with Aqua Blue Pools to develop a special amenity for our residents to enjoy, and they did an amazing job helping us realize our vision for a spectacular recreational environment," said Brian Keels, Carolina Park's marketing director.
Sitting poolside now, I feel a tinge of envy course through me. Soon, the lounge chairs will be filled with residents sunning themselves. Parents will perch on the edge of the pool, dangling their feet in the water as they keep a watchful eye on their kids playing Marco Polo with neighborhood friends.
Afterwards some will simply walk, tan and towel-shouldered, down the street to their homes. Others might throw on a sundress or shorts and a T and head to one of Carolina Park's many other amenities: to Mount Pleasant Active Park for some footwork on a soccer field; to one of the three area churches for fellowship; to Wando High School or The Wando Center for Advanced Studies for educational extracurriculars.
"I don't know of many other places in Mount Pleasant where kids can hop on their bikes and ride to school," said Keels. "It's the kind of nostalgic lifestyle people envision, and we're able to give them that vision."
The area's sense of security is only furthered by construction currently underway on the brand new fire station. Elaborated Keels, "The fire station is really an iconic symbol of community and safety, and we're really excited about the comfort it will bring to our residents."
In the future, residents will also be able to while away days at the brand new public library or stroll around the Town Center to grab a bite to eat or do some boutique shopping. The ultimate ambition, emphasizes Cuzzell, is to build the kind of community that offers the ultimate in convenience: a place in which residents can live, work and play.
"Literally, everything you need is right here at your fingertips," she said. "Whether you're an empty nester or you have young kids, the on-site amenities and desirable Mount Pleasant location make Carolina Park a unique environment that caters to everyone."
And Carolina Park nurtures its community's intrinsic sense of connectivity and practicality often — and enthusiastically — with HOA-hosted events. In early April, nearly 300 people attended the annual Easter Egg Hunt.
"That's something that we love to see," said Keels, "because it gives all of the residents a chance to get together and really get to know each other."
Story by Julie Sprankles. 
Photo provided by Carolina Park.