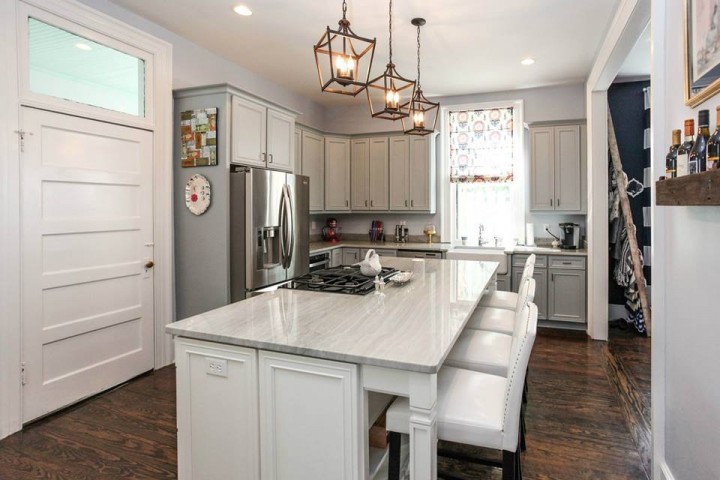 Jilco Kitchen and Bath has been designing kitchens and baths for residential and commercial properties throughout the Lowcountry for 24 years. Locally owned and operated by Bryan Fletcher, the company is based on a foundation of good design and quality customer service, as well as on creating an inspiring culture for its many employees.
With five designers on staff, Jilco does much more than just kitchens and baths.
"We can really do any custom cabinetry and countertops our clients are looking for," said supporting designer Jessica Wilson. "Anywhere you see cabinets throughout the home: living rooms, laundry rooms, storage areas. Recently we designed a pet bathing station in a mud room that required cabinetry to create bench seating."
While Jilco does a lot of commercial work for properties such as apartment complexes, assisted living facilities and offices, the company also specializes in custom residential designs, which can be found anywhere from Mount Pleasant to Charleston to Kiawah and throughout the surrounding areas.
"One of our main focuses is quality customer service. We have several install teams that allow us to take on many projects at one time and work more easily with each client's schedule," Wilson said. "Our designers also work with clients to create a customized solution that meets their budget."
Jilco makes the cabinetry and countertop portion of a home remodel easy for its customers by offering turnkey service, including design consultations, materials, perspective and elevation drawings, delivery, installation and service warranty.
"We first offer a complimentary design consultation to get to know your needs and goals and to understand the details of your project. We will work with you to determine the style of cabinet you want, from framed, frameless or European, to completely custom," Wilson said. "Then we design a realistic solution that is both elegant and efficient. After this consultation, we will provide you with an estimate and 3-D renderings, and we do that all for free."
While most of their clients already have contractors handling the rest of the home facelift process, the staff at Jilco is happy to recommend plumbers, tile specialists and more to complete a job for any customers who come without a builder or contractor.
The Jilco Kitchen and Bath showroom, located on Clements Ferry Road, offers customers an opportunity to see examples of their work, such as a bookshelf-style unit with a mounted TV and a new kitchen and countertop. There also are displays of popular countertop materials, including granite and Silestone quartz.
As a local businessman, Fletcher believes that keeping his employees happy improves the quality of their designs and enhances the customer experience.
"This is a great place to work," Wilson said. "We're like a family, and we get together for parties and lunches. We like being here, and it shows through our work. When that is portrayed to our customers, they like being here, too. I think that's one of the reasons we've stayed in business for 24 years."
Jilco Kitchen and Bath's showroom is open from 8 a.m. to 5 p.m. Monday through Friday. If you are interested in remodeling your home with cabinets and countertops, visit Jilco at 2300 Clements Ferry Road on Daniel Island, or learn more at www.jilcokitchenandbath.com.
Article by Anne Toole
Photo courtesy of Jilco Kitchen and Bath