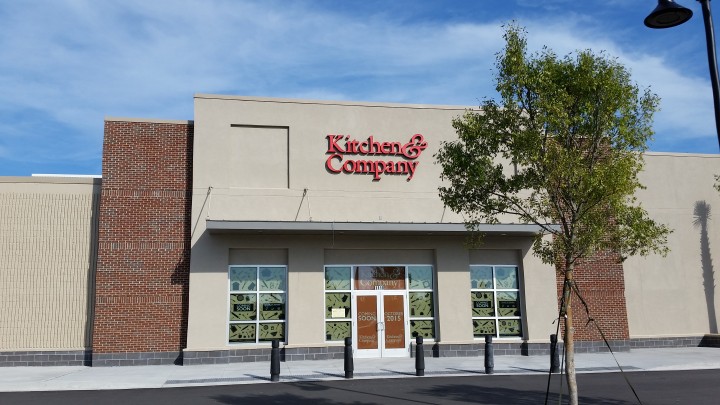 Kitchen & Company is the kind of store you can walk through and fall in love with things you never knew existed.
"There's products that when you go in, you say, 'I didn't realize I needed this,' until you see it," said Marketing Manager Kaela Mast.
Kitchen & Company recently opened its doors in Mount Pleasant, and Mast said the 19,700-square-foot location is now the store's flagship location. With a 120-foot wall featuring more than 3,000 kitchen tools, a beer and wine section to round out dinner party plans and a carefully constructed layout, Mast said it will serve as a model for future stores and renovations.
Kitchen & Company wants to be the destination for cooking, dining and entertaining supplies, Mast said. Its Mount Pleasant store will be just the second to sell beer and wine, but, like all locations, it will offer everything from baking mixes and ice cream makers to plates, glasses, silverware and cookware.
The Mount Pleasant Kitchen & Company is located in Bowman Place – the old K-Mart shopping center – alongside Nordstrom Rack and Dick's Sporting Goods. Mast said she is excited to share a home with those franchises, but, in some ways, she doesn't feel like Kitchen & Company quite fits in.
"You're not going to see a Kitchen & Company in every shopping center, but that's what makes us unique," she said.
At first glance, Kitchen & Company looks like any other retail chain, with corporate offices in Delaware and a parent company – Calvert Retail. Looks can be deceiving, however. The Mount Pleasant store is just the company's ninth, and the corporate office houses all of 13 people. Plus, Kitchen & Company is independently owned, and Mast said that – along with the company's size – gives it the opportunity to really listen to its customers. When people have suggestions for something they would like to see in the store, Mast said Kitchen & Company tries to make it happen. They even refer to their corporate offices as "store support."
"We live by the mentality that our guest is our boss," she said.
The Mount Pleasant store will join the Asheville location as the company's only forays into Southern territory. Company owner Eric Brinsfield visited the Charleston area in 2012 in search of the next place to expand and fell in love with the city. When the opportunity arose to open a store in the Lowcountry, he jumped on it.
Mast said Brinsfield cares deeply about where people get the food they eat and how it's prepared, and she said Kitchen & Company hopes to incorporate that mentality into the new store.
"We really want to connect with local food providers," she said. "We realize they are the engine in the car for us."
All Kitchen & Company stores provide weekly demonstrations to educate people about products and food preparation. Mast said those range from tips and advice on knife sharpening or grilling to the advantages of mandolin slicers.
"We're really excited to educate the people of Mount Pleasant about how you're preparing your food," she concluded.
To learn more, visit www.kitchenandcompany.com.
By Jake Lucas
 Photo provided.