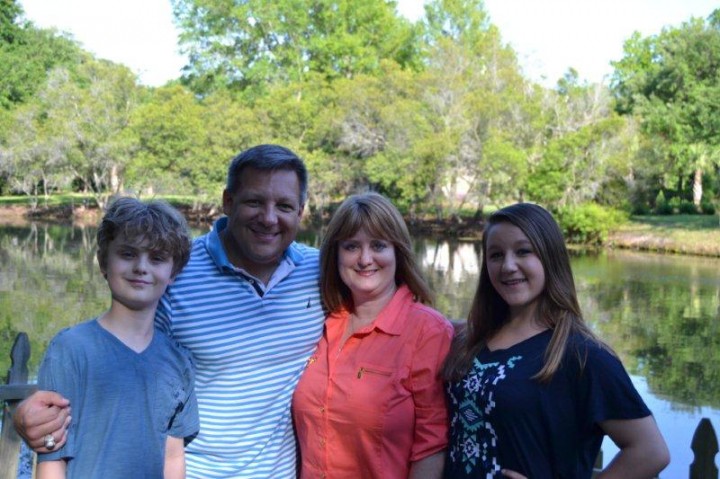 Photo Provided.
Tracy Simerson brought her Appalachian twang and her family from Asheville, North Carolina, to the beautiful island town of Mount Pleasant.
"We were living in Anderson, South Carolina, but my husband and I both wanted to live on the coast where we could raise our children on the water," said Tracy. "Everything then just sort of fell into place. I acquired a position at Roper Hospital where I could continue my social work, and we moved right away."
With two children in tow, 14-year-old Maleah and Connor, 11, the newly-married couple set their sights on a location with a well-regarded school district.
"We first moved to Summerville, which we love, but the traffic is so bad that it takes me an hour-and-a- half to drive 22 miles to work downtown. I just don't want to be on the congested roadways anymore, so Mount Pleasant seems to be a wonderful solution that we are looking forward to," Tracy said.
Jeff Simerson, who met Tracy while attending Marshall College, was a yeoman in the Navy for six years and was also on the dive team. He was stationed in Kings Bay, Georgia, but that wasn't his first taste of life along the Eastern Seaboard.
"I spent my summers in Myrtle Beach at my uncle's beach house, and it has been my dream since I was little boy to live on the coast," said Jeff, who added that choosing the Charleston area wasn't difficult. "It's an honor and privilege to live where men fought and died for the freedom we have today."
He currently is a marketing representative for Pruitt Hospital and plays on his church softball team.
"I do believe in divine intervention," said Tracy. "We are a blended family, and each brought a child with us from our previous marriages. We began this new life together and then decided to move as well. We have been blessed with everything coming together. I am even able to begin a master's program here this fall with USC, our son has joined the Boy Scouts and our daughter has been on the JV cheer squad at Summerville High."
The Simerson family found an attractive home in Crown Point, just off Rifle Range Road. In addition to cutting their commuting times, their new home gives their middle schooler the opportunity to attend the highly-rated Laing Middle School.
"I believe children need a strong middle school to guide them more smoothly into high school," Tracy explained. "Our daughter is switching from Summerville High School to Wando High School, and, while it can be a bit scary, we believe all will go well for her at Wando."
For the Simersons, finding a home in the perfect location proved to be a challenge.
"House hunting was very difficult once we decided to pursue the Mount Pleasant area. It took three months to locate a home because real estate near Laing Middle School is so hot right now. The school is extremely popular and in demand. Houses would go on the market and be sold within hours," remarked Tracy.
Their advice for other newcomers is to allow enough time to find a home in the right location – then take the time to enjoy your new surroundings.
"Get out and enjoy the scenery, the plantations, antique marts and festivals. There is always so much to do," Tracy said. "We look forward to camping, fishing and traveling the waterways."
Even better, Jeff's parents, Faye and Jack, also recently moved to the Lowcountry, and together they are making new family memories.
"My mother has been my biggest cheerleader all my life," said Jeff. "I feel like it's my responsibility to look after both my parents, and I'm working on getting them even closer to us in Mount Pleasant."
By Stacy E. Domingo.