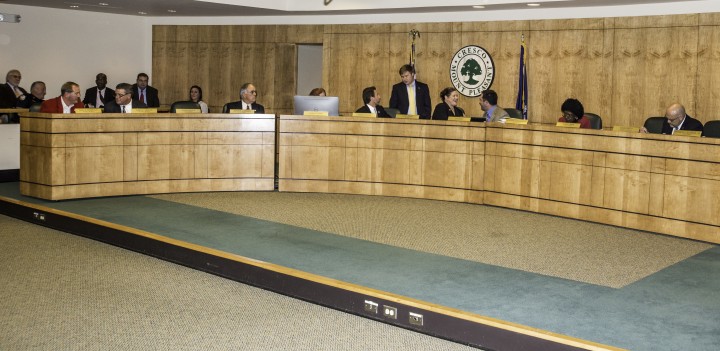 Mount Pleasant's elections are just around the corner, so we thought now would be a perfect time for a refresher course on how the town government operates and how important the four seats that are up for election in November are (spoiler alert: they're very important).
If you've been paying attention, then you know that the town elected Mayor Linda Page two years ago, and, by most accounts she's been doing a good job. What you may not know is that the mayor doesn't have any more power over the laws and ordinances passed than the eight councilmen she works with.
The Basics
Mount Pleasant uses a strong council type of government, which in essence means that most of the power to enact and enforce laws and ordinances lies with the Town Council, and the mayor has less direct influence on laws and ordinances than the mayors in some other cities have.
The mayor is elected every four years and, for all intents and purposes, serves as a ninth member of the Council. In addition to the duties of a Council member, the mayor also acts as the chief executive officer of the town and also has the power to appoint Council members to committees.
Each Council member is elected to a four-year term, with half of the positions up for election every two years. All Council positions are elected at-large, meaning that every Council position represents every citizen in the town. This is different from Charleston and North Charleston, where Council members are chosen from single-member districts – they each represent a specific geographic area.
The strong council form of government is also used by Sullivan's Island and the Isle of Palms.
How is Mount Pleasant Different?
The person responsible for the day-to-day operations of the town is Administrator Eric DeMoura. Hired by the Council, he is a non-partisan professional who is tasked with keeping the town running. The administrator oversees all of the services provided by the town. By contrast, in a strong mayor form of local government such as Charleston's, the mayor's office is in charge of most of what the town administrator handles in Mount Pleasant.
Though many of their duties are the same, the differences between an administrator and a mayor are stark.
"A professional manager is ethically bound and trained to be politically neutral," explained DeMoura. "We don't support candidates or contribute to campaigns, which frees us up to be able to carry out day-to-day direction of operations without political entanglements, so neutrality is very, very important. I run it day to day, but the power doesn't lie with me – the power lies with the elected body."
In other words, DeMoura may be in charge of town operations, but he doesn't set policy – he just carries it out.
A mayor in a strong mayor system, however, is by definition politically entangled, having to constantly reach out to constituents for votes and campaign contributions. And while there are many well-run cities that use the strong mayor system, studies have shown that cities that utilize professional managers operate much more efficiently than cities that don't.
What This Means to You
At this point, you might be asking yourself, "Why do I need to know this?" or "Why does it feel like I'm back in my high school civics class?" Actually, there's a really good reason we wanted to spell this out for you, and it's coming up on Nov. 3, 2015. This year, four of the eight Council seats will be up for grabs, and elections in odd-numbered years – especially in years where the mayor isn't on the ballot – often don't get the attention or turnout they deserve.
So, if you've skimmed down the page to this point because the academic stuff was boring, here's why all of that matters:
The four Council positions that are going to be on the November ballot are much more important than you might think. Each Council seat is basically one-ninth of a mayor. If there's a town issue that's near and dear to your heart – and if there isn't, you're probably not paying attention – then this election is every bit as important to you as the one two years ago when Page was elected.
Of course it's cliche to say that "every vote matters," but, in this case, it's true. In the last municipal election, the candidates with the third and fourth highest vote totals secured their spots on the Council tallying the exact same number of votes, while the 5th place finisher lost by less than 400 votes.
By Brian Barrie
 Photo by Ronnie Martinelli.