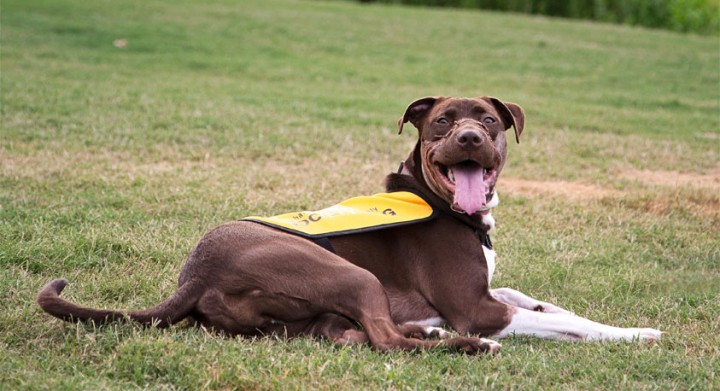 Snoopy. Odie. Scoobie. Marmaduke. Benji. Lassie. And now Caitlyn. What do these pooches have in common? They're household names for various reasons. Just weeks ago, Caitlyn was another dog in an abusive situation after her owner at the time wound electrical tape tightly around her muzzle, cutting off the flow of blood to her tongue and making eating and drinking impossible. After a neighbor discovered the dog and a photo of her face went viral on the Internet, Caitlyn became a pop culture favorite overnight, alerting East Cooper – as well as people everywhere – to the prevalence of animal abuse and the importance of taking a stand for our furry friends.
I had the pleasure of meeting this sweet pup, thanks to the folks at the Charleston Animal Society, who took Caitlyn into custody and sought prompt medical attention on her behalf through Veterinary Specialty Care in Mount Pleasant. The day I met her, she'd recently emerged from massive reconstructive surgery with Dr. Henri C. Bianucci and was resting comfortably with her tender muzzle and tongue on their way to healing. Stuffed animals as well as notes of love and encouragement from the world over surrounded her comfortable bed. I petted her soft fur, grateful that her life had been saved.
She isn't the first dog to be rescued through the group effort of animal lovers. Dr. Bianucci also helped Louis, a curious canine who fell on hard times when he was impaled by a tree branch.
"We were standing in the parking lot, and I was helping Louis get into the car with Kay (Hyman), and she let me know Caitlyn would be here the next day," said the doctor.
Dr. Bianucci, along with Hyman, director of community engagement for the CAS, and Joe Elmore, CEO for the CAS, spoke about the "silver lining" that came from Caitlyn's suffering – more specifically, the awareness raised for animals through extreme abuse cases.
"I believe people have been compelled by her story to see violence and abuse against an innocent dog," Hyman remarked.
"Caitlyn is a remarkable story of survival. There is so much violence against humans and cruelty toward animals in our society. One is linked to the other.  However, there is also an abundance of care and concern," said Elmore.
Dr. Bianucci stressed the significance of Caitlyn being found by a neighbor and the importance of keeping an eye out in hopes of curbing abuse.
"It takes a community to care – someone to recognize when an animal needs help," he said.
"The photo of Caitlyn's muzzle was shocking. I knew it would make an impact on the public – but I never guessed how much. My daughter's boyfriend currently lives in London, and he said that everyone around his office was talking about Caitlyn."
After countless online photos and social media updates of how she's slowly regaining health East of the Cooper, people are captivated by how marvelously this dog has bounced back. Mount Pleasant Magazine staff saw it personally when we asked if Caitlyn could be one of our "cover pets" for this issue. Everyone was amazed and pleased at her progress – she was even at peace with the cats who showed up for the photo shoot.
"It's definitely a good thing that this trauma happened to her while she's young," Aldwin Roman, director of anti-cruelty and outreach at the CAS, pointed out. "She's been able to heal better, even psychologically. Dogs are forgiving. They're like children – they just want to love and be loved."
I couldn't help but think: Here is proof that people have love in their hearts. Perhaps, starting with Caitlyn, we could learn to give it more freely.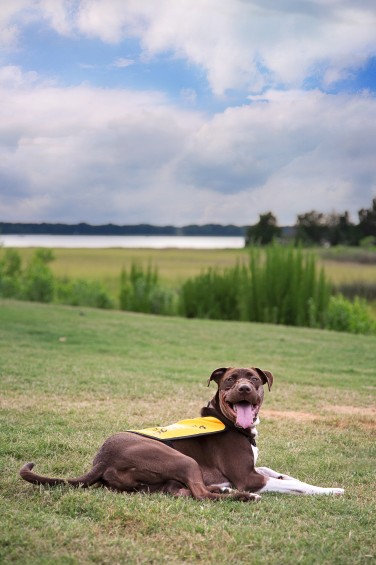 By Denise K. James.
Photos by Cassandra Michelle Photography.