Who Rescued Who?
Tails of Triumph from Pets and Owners
Editor's Note: For our pet issue, we asked Mount Pleasant Magazine readers to share stories about their beloved rescued pets. Below are the sweet "tails" we received from the owners about their four-legged family members. And if your own household has room for more love, consider adopting an animal this summer – these readers can vouch for the rewarding experience.
Tamara McKinney
Darcy the Pup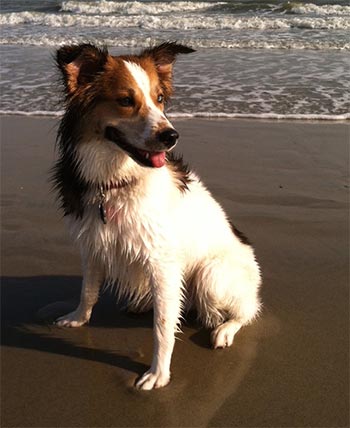 My name is Tamara McKinney, and I wanted to submit my Darcy pup! A little about Darcy: She is 3 years old, and we have had her since she was 4 weeks old. We rescued her from a backyard breeder in Sarasota, Florida. She was living in a filthy house, being mistreated by small children. She had a broken leg at 5 weeks old and has recovered and is now better than ever. She is an Australian Shepherd/Border Collie mix and weighs 28 pounds. She has a great personality and is super smart, sometimes too smart for her own good! She loves Frisbee, the beach, going for walks in downtown Charleston and going swimming. As you can see, she is a very photogenic girl! This photo was taken last September at the beach at the Isle of Palms.

Becky Ziegler
Dory the Dog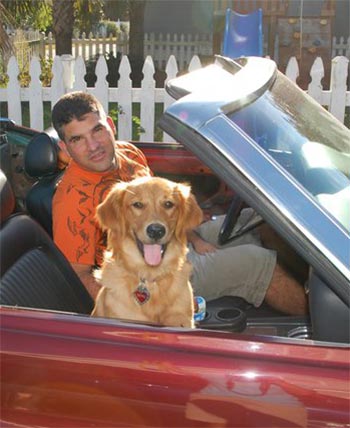 My golden retriever has a 'story.' I didn't personally rescue her, but I adopted her from Lowcountry Golden Retriever Rescue. A sheriff saw two young boys kicking her around like a soccer ball in an alley. The boys were arrested, let out on $1,000 bond with a slap on the wrist. She was just a 3-month-old puppy. She had terrible mange, too. A shelter employee (animal control officer) nursed her back to health and LGRR fostered her before I adopted her at 6 months. We lost a beloved family dog a few weeks before a co-worker sent me Dory's pic and story. I wasn't ready to adopt so soon, but she has taught me so much and I am so grateful!
Today, she lives the life and she is all retriever! She loves the beach and is definitely a water dog. Digging holes and chewing on any stick she comes across are also favorite pastimes. She loves any stuffed toy (her 'baby') and carries them in her mouth everywhere she goes. She looks forward to her walks when I get home from work to go explore with her shepherd 'rescue sister,' Stella.
We appreciate everything more – the beach is more fun and neighborhood walks are great because we meet so many folks who can't resist her cuteness! She is a ray of sunshine in our lives! For me, in particular, she pulled me out of a lingering depression over losing my beloved dog Mandy. So you can say, she 'rescued' me.
She has inspired me in recent years to give dogs a voice. I want to help dogs who are homeless, neglected or abused. I have volunteered by processing adoption applications for Canine Pet Rescue, volunteered in the dog room for the Charleston Animal Society and fostered three precious labs so far from Lowcountry Lab Rescue. Dory has been instrumental in bringing foster dogs out of their shell. She teaches them the ropes and how to play and be a dog. Knowing what some rescue dogs go through, it's incredible the resilience they have, and their ability to trust again is admirable.
I really believe in my heart that dogs are a gift from heaven above! When I think of the depths of their love, devotion and faithfulness to us, it is like a reflection of God's love for us, a true reflection when you see 'dog' spelled backward.
Raleigh Algar
Books the Cat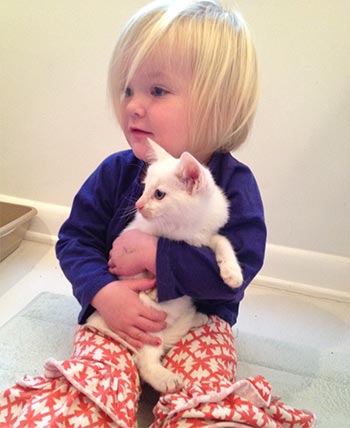 It was a cold day, definitely in the 32-degree range, with a great deal of sleet. My family and I pulled up to the Johns Island Library to get some books and movies for this cold day. We live in Mount Pleasant, but a crazy bunch of circumstances ended us up on Johns Island. So we hopped out of the car, and my husband spotted a tiny white kitten. As I got out of the car, he said, "I guess you will handle getting the kitten while we go inside?" There was never a discussion over getting this kitten in the car and never one about keeping him. It was assumed. I went to scoop him up, and there was a commotion and he ran under a car. Just then, my husband came back out for the library cards and went to the window of the car he was under because they had just started the car to leave. We told the man there was a cat under his car. He hopped out and we all found the kitten clutching the top of the tire in the wheel well. He could not have come any closer to his own demise. So we scooped him up and took him home. His name is Books and he will turn 1 soon! He is a big, healthy, handsome and sweet boy. He has grown up in our home of three children (2, 4 and 6) and our golden retriever puppy Penny, who will be 1 any day now, too – and also our older, blind cat Zoe, who doesn't love him as much as the rest of us.
Gerallyn Grassy
Pants the Cat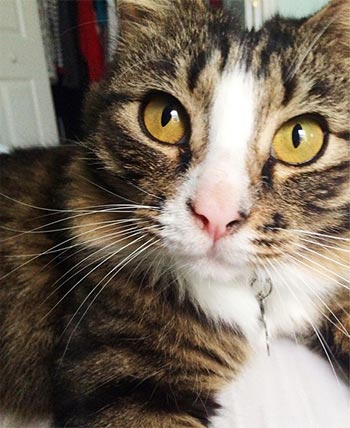 Here are two pictures of my pretty "Pants." He is 4 years old, and we rescued him from a bad situation. He was found, at 2 to 3 weeks old, in between two houses, with no mommie around and a severe animal bite on his head and neck area. I was called to see if I could help. He was malnourished, very skinny and wounded. We brought him home, and I honestly didn't think he would make it through the night. I was at best "fostering" him, until he was well enough to be adopted to his forever home. My daughter (15 at the time) and I  took turns bottle feeding all day and during the night. We nursed his wounds with antibiotics and cream. He is a miracle, and made an amazing recovery. We were calling "her" sassy pants because the vet told us they thought he was a girl. Weeks later, he was healthy and thriving, and it turns out Sassy Pants was a boy. We dropped the sassy, and he became "Pants." At 8 weeks old, he was healthy and ready for adoption. My daughter cried, and begged to keep him, as we of course were in love. I gave in; this is known as "foster failure." Pants is a happy, healthy, neutered 4-year-old and loves his "forever" home, and we do think he is grateful. He constantly keeps us entertained, and even when he plays and bounces off the walls at 4 a.m., we still love and adore him. Pretty Pants is here to stay!
Justine Purvis
Olaf the Kitten

I wanted to share a photo of Olaf with Mount Pleasant Magazine. I adopted this precious kitten from Advanced Animal Care of Mount Pleasant in October. He was found malnourished and dumped behind a business off Clements Ferry Road. I am so lucky to have this little guy in my life. He's so much fun to be around, and he's so curious!
He is 11 months old. He is all white and that is why he is named Olaf. He loves to be cuddled. He has dog siblings that he's always chasing around the house. He gets along very well with his furry siblings. He often acts like a dog. He's very alert of new guests in my home. He likes to go outside with the dogs during play and potty breaks. He's very vocal when it comes to affection and feeding time. It's a joy to have him around since he is such a curious and playful cat. There's never a dull moment with Olaf.

Faith Blackburn
Louis the Dog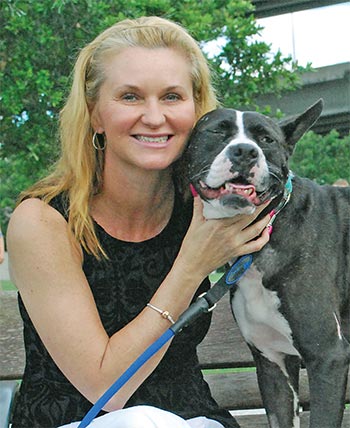 I am fostering and now adopting Louis the dog. I was asked to foster Caitlyn, but I think she needs more one-on-one time with someone.
I've always loved animals. When I moved here and discovered the big yard, I started fostering dogs. I'm a registered nurse, and I can take care of dogs who have special needs. I've always fostered through Charleston Animal Society – they call me when they have a need. I've driven to Pawleys Island before to get nine puppies who were getting ready to be euthanized.
The thing that means the most to me is that after rehabilitation, I know they're going to a forever home to have a great life. I personally pair up the animals I foster with homes; none go back to the shelter. Yes, I fall in love with them, but knowing where they go makes it easier.
Now is the time to reach out to people about fostering and adopting animals. People's minds and hearts are open.