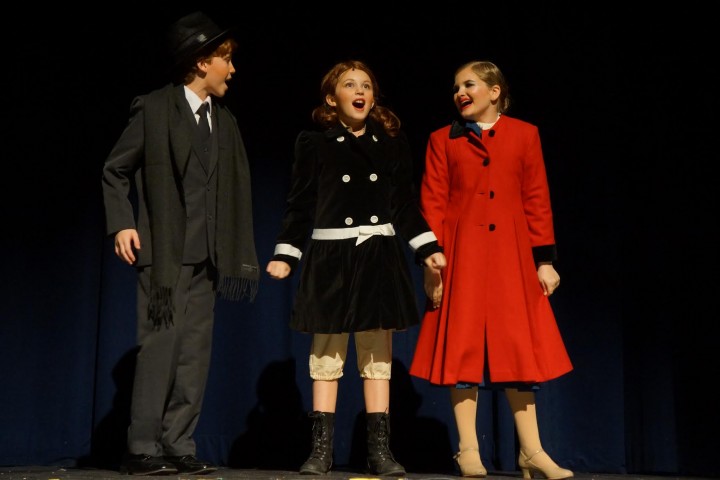 Once upon a time, three creative ladies met one another through various circumstances. All were trained in the arts of music, theater and dance, and all shared the vision to make the world a better place through performance. Eventually, The Musical Theater Center was born from this passion, and there was much rejoicing.
The venture between owner Allyson Lewis and artistic director Courtney Sarre – including Professor Laura Turner from the College of Charleston as the musical director – has now thrived for several years, beginning with Allyson initiating Once Upon a Ballet, the parent company, 11 years ago. At that time Allyson and Courtney were friends and colleagues who'd previously worked together in Washington D.C. As fate would have it, they both ended up in the Lowcountry and eventually recruited Laura – plus many other gifted staff – for the project.
"When I started Once Upon a Ballet, we didn't have this studio – we built it in 2008 – and I was renting space from churches and working out of my car. It was very grass roots," Allyson admitted with a chuckle.
The concept of The Musical Theater Center allows students to study dance, music and performance theater in one place – a program unique to the area, since few children's theater troupes are built around a dance studio.
"When I looked back on my own career, I realized it was important for dance and theater to cross; it makes us more well-rounded as performers," Allyson explained.
"We are developing Renaissance kids," Laura pointed out. "They'll be better speakers and problem solvers – and they'll know how to manage their time and work with others."
The Musical Theater Center has three levels of performance troupes – players, junior company members and company members – depending on age and experience. Earlier this year, students from The Musical Theater Center were awarded an Excellence in Acting Award at the Junior Theater Festival in Atlanta for their 15-minute selection from their upcoming "Shrek the Musical JR." They've also been asked to perform for the American Alliance of Theater Education this August. And every other year, older students have the opportunity to visit the Big Apple and work with adult musical theater professionals.
"We've had an exciting year," emphasized Courtney. "Between November 2014 and August 2015, we will have put on a total of eight musical productions. We've had five students accepted into the Charleston County School of the Arts this year – and we're excited that the Footlight Players have welcomed us into their theater for the 2015-2016 school year!"
When Allyson, Courtney and Laura aren't on the road with their talented proteges, working within the Charleston community is important as well. The Musical Theater Center recently gained nonprofit status, an evolution that all three ladies are excited about, given their desire for greater outreach. Applying for artistic grants in an effort to work with children who might not have the financial means on their own is something they feel is vital.
"So far we have been able to offer $19,918 in scholarships this year alone," Courtney said. "We've also reached more than 5,000 children with our performances for local schools."
Upcoming shows for next season include "Legally Blond JR," "The Little Mermaid JR," "Lion King JR," "Aladdin JR" and "A Year With Frog and Toad."
Learn more about The Musical Theater Center by calling 843-216-6671, emailing [email protected] or visiting www.musicaltheatercentermountpleasant.com.
By Denise K. James.
Photo provided.