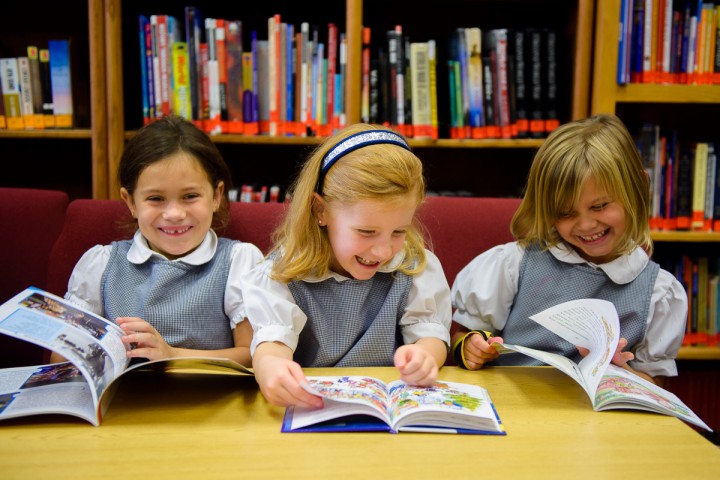 Photo courtesy of Palmetto Christian Academy.
Walking into Palmetto Christian Academy, located on Egypt Road in Mount Pleasant, I'm immediately struck by the strong sense of joy that flourishes through the halls. Smiling children walk single file down the corridor to break for recess. A modern-day pop song can be heard coming from the gymnasium, and, when I go in for a closer look, I discover a physical education class perfecting their dance skills. While academics are of top priority, it's obvious this school knows how to have fun.
"To be in Christian education is to be about something bigger," said Headmaster Mike Lindsey. "Not only does every student graduate with a significant college prep education, it's our responsibility to shape the hearts and characters of young people, so that they can truly embrace who God intends them to be."
With graduates going off to Ivy League universities, it's clear just how dedicated PCA is to prepping future generations for life beyond the classroom. Since opening in 1992 as an outreach of East Cooper Baptist Church, this institution has motivated students to think deeply, critically and biblically. The SAT test scores are consistently in the top percentile across the country – proving that the curriculum and instruction offered is invaluable.
Advanced placement classes allow students to rack up college credits before they even graduate from high school. Twenty-seven students in the class of 2014 earned nearly $1 million in college scholarships.
"The education process doesn't conclude after graduation," said Lindsey. "We want graduates to continue to re-examine the question, "What will I do in this life that is of value?"
From numerous service opportunities in which students give back to the community to a wide array of sports, theatrical performances and top-notch art programs, there are countless chances for self-expression. Encouraging each student to find his or her passion, PCA allows individualism to flourish.
"It is so rewarding," said Lindsey. "Even the challenges are rewarding. Nothing compares to being able to touch so many people's lives."
While the student body is exuberant about being a part of a school that offers a wide variety of academics and extracurricular activities, the teachers are also quite pleased to be the very heartbeat of PCA.
"Year after year, our feedback from staff is always excellent," said Lindsey. "Palmetto Christian Academy is truly a place where teachers love to be. We would not exist without this supportive community of people."
To kick off the school year right, PCA hosts a retreat for high school students so they can build relationships in a camp-like setting. Through team building activities and shared meals, bonds are strengthened, adding greatly to the family-oriented atmosphere of PCA.
"Our goal is to help our students find the best fit for higher education," said Lindsey. "Whether they are scientists, authors, theologians, athletes or mathematicians, the Lord has prepared a perfect place for them."
Cultivating the next generation of lifelong learners, PCA truly nourishes each relationship with every student to ensure achievement at the university level. From small class size to individualized attention, students are given the support they need not only to succeed but to thrive.
For more information on Palmetto Christian Academy, log on to www.palmettochristianacademy.org or call 843-881-9967
By: Kalene McCort.
Photo provided.