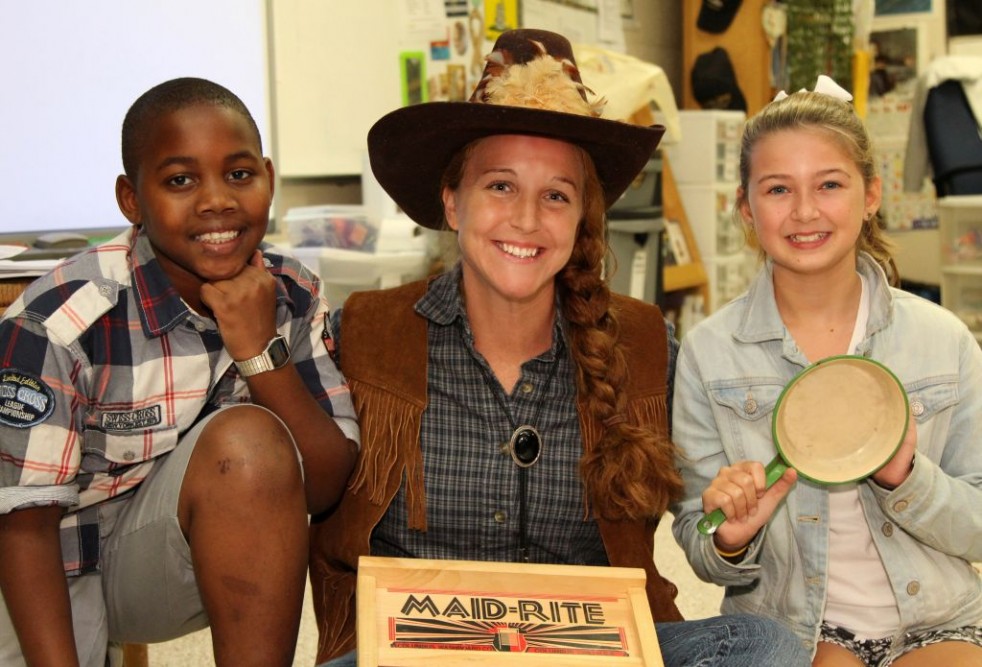 The walls are adorned with military uniforms that haven't been worn in decades or longer. Flags representing units that once served proudly in the Army or Marines hang from above. The shelves are littered with memorabilia from America's past, some of it dating back to the Civil War – a grenade, ammunition, paper money, posters, shoes and lots of books and photographs. One wall is decorated with letters that might have been written by sodbusters, those resilient souls who went west when America was brand-new, battling brutally hot summers, frigid winters, wild animals, destructive insects, floods, droughts and myriad other challenges to carve out their own piece of the Great Unknown.
This shrine to American history isn't a museum – not really – but a fifth-grade classroom at Charles Pinckney Elementary School in Mount Pleasant. It's creator, Mary Huffman, recently claimed 2015 Teacher of the Year honors from the Gilder Lehrman Institute of American History. Though she also teaches her 60 students reading and writing, social studies has been her passion since she arrived in the Lowcountry in 2002.
"History is living and breathing. It's as exciting as you make it," said Huffman. "I love hands-on learning. If I'm going to be here seven or eight hours a day, I want to enjoy it. I look at the kids' faces. They are so excited to learn."
At the heart of the learning experience in Huffman's class is that a guest speaker shows up around once a week – and, usually, it's Huffman herself, dressed as a person living in the period her class is currently studying. Today she is a cowgirl, donning one of "40 or 50" outfits she's created since she landed at Pinckney in 2003. Her goal is to add between two and five costumes each year.
"I bring history to life," she explained. "If I'm excited, the kids are going to be excited. For example, one of my students whittled a bow and arrow and brought them to show the rest of the class."
Judging from comments from some of her students, Huffman's teaching methods are working quite well.
"I like the way Mrs. Huffman dresses up," said Sidonie Mahon, who pointed out that her favorite periods in history are the Holocaust and westward expansion. "It's really fun. A lot of teachers should do it. We learn better. It feels like we're really in that time."
"I love this class," Quincy Lewis added. He said he especially likes the uniforms because his mom and dad were in the Air Force and his stepdad was in the Navy. He also enjoys learning about Oklahoma and Brazil, places he hopes to visit someday. His favorite period in history is the Reconstruction era following the Civil War.
"I love how she dresse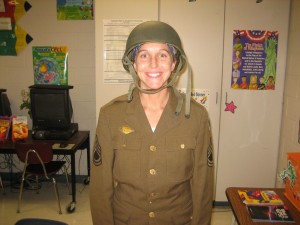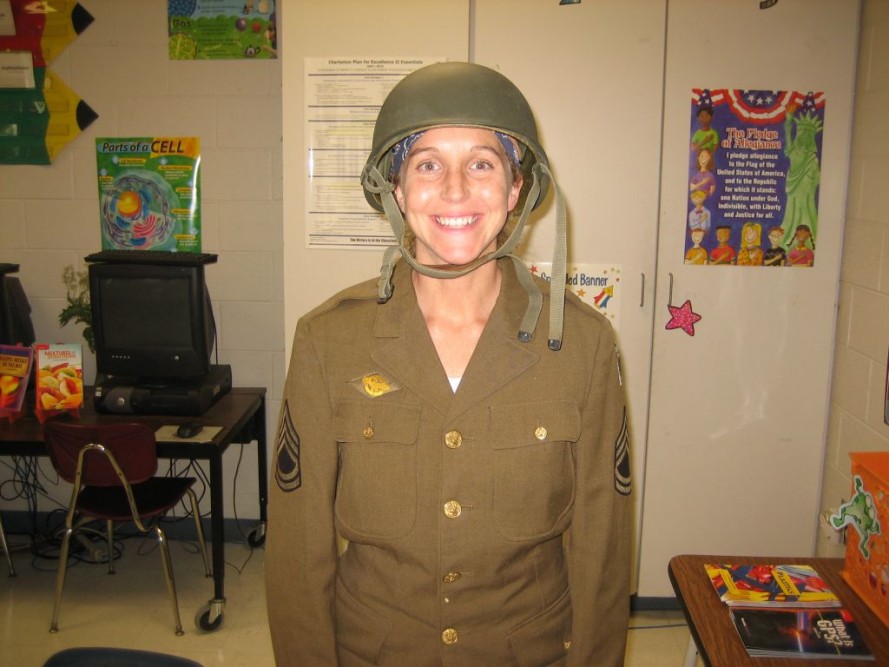 s up. It feels like you're in history," said Sarah Moore, whose older brother and sister preceded her in Huffman's class. "They told me about all the cool stuff."
She added that her favorite time in history was when Chinese immigrants built the railroads that eventually stretched from the East Coast to the West Coast.
Throughout most of the school year, Huffman's historical figures serve as guest speakers, but, in May, she turns the podium over to "real" people – usually veterans. Her husband served in Iraq, and she pointed out that half her students are part of current or former military families.
"I love honoring our local military," she said.
Huffman explained that she obtains much of the memorabilia for her classroom during shopping trips to local antique stores, spending up to $2,000 a year of her own money to enhance the learning experience for her students. Other items have come to her courtesy of her students' relatives. The donation she appreciated most was from the grandmother of one of her students: her late husband's entire collection from the Vietnam War, including his mess kit, canteen and sleeping bag.
"She loaned us the items to show, and then, at graduation, she thanked me for honoring her late husband and said we could have all the items," Huffman explained.
One of Huffman's favorite topics is the Holocaust. True to her hands-on approach to teaching, she gives her students five items they can't live without, then takes them away one at a time, simulating the effect of the anti-Semitic Nuremberg Laws that were introduced by the Nazi Party in mid-1930s Germany. She goes so far as to print identification cards with the names of Jews who actually lived in Europe during the Holocaust, and calls her students by their adopted Jewish names for three weeks. Her goal is to teach them what it was like for Jews who were transported in cattle cars to the Warsaw Ghetto or worse and what it was like to live in the ghetto and finally be l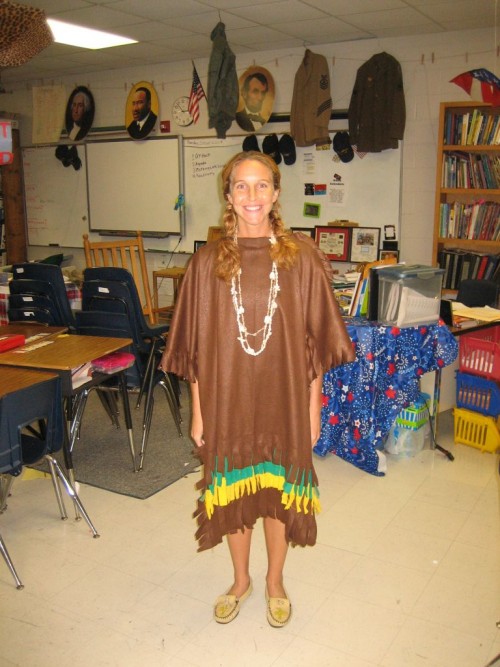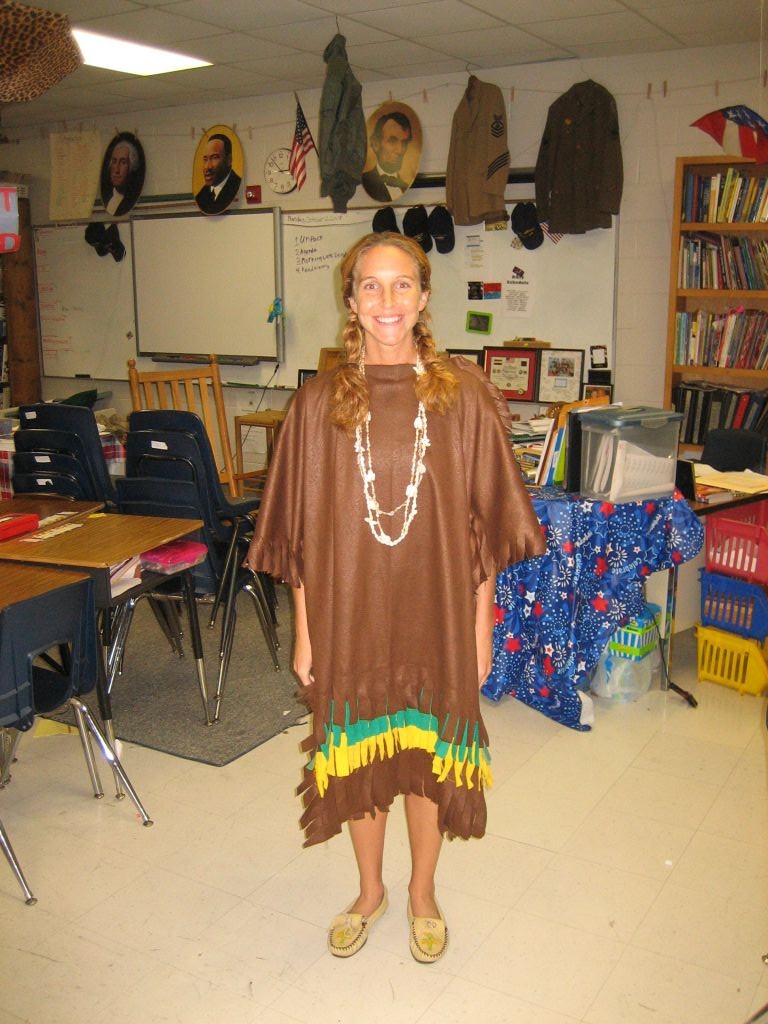 iberated by the Red Army.
When that part of her innovative curriculum is over, she gives her students four items: a tissue, representing tears; a Sour Patch Kid, representing the bittersweetness of surviving while so many others died; a Hershey bar, representing liberation – that's all soldiers had to give the survivors; and a globe, representing liberation and finally being allowed to move to other countries.
"I want them to realize that everyone's OK," Huffman said. "The whole message is appreciation and tolerance. They see it and they feel it."
Huffman, who has been teaching for 14 years, began developing her hands-on approach at Goodwin Elementary School in North Charleston, where she taught for a year when she arrived in coastal Carolina, before moving on to Pinckney.
"Some of the kids lived in bad conditions at home. I wanted to make school exciting for them," she said.
Huffman grew up in the Chicago area and earned her bachelor's and master's degrees at Western Illinois University. She expects to complete work on her doctorate at Walden University in May 2016. Eventually, she wants to teach in college, helping to train future teachers.
A testament to her success as a fifth-grade teacher, she was nominated for the National History Teacher of the Year Award by the family of Mason Yost, one of her students. Huffman was notified in October 2014 that she was the winner of the state award and in August 2015 that The Gilder Lehrman Institute of American History considered her to be the best history teacher in the United States.
"I was floating on air. It showed that all my hard work paid off and how exciting hands-on learning looks. It was an honor to receive the award," Huffman said.
She received the state award in Greenville in September. When she was presented with the national award at the Yale Club in New York City in October, three former students were with her, ready, willing and able to tell the world what they think of their fifth grade social studies teacher: 12-year-old Jason Wolan and 11-year-olds Matthew Wolan and Mason Yost.
The award, which included a $10,000 prize that probably will partially offset all the money Huffman has spent on memorabilia for her classroom over the past 14 years, does nothing to dampen her theory that learning should be fun.
"If the kids are excited, they'll take learning into their own hands," she said. "They'll talk with others in their class and share ideas. Kids become the teacher, not just the learner."
By Brian Sherman.
Top photo by Rick Walo; bottom photos provided.