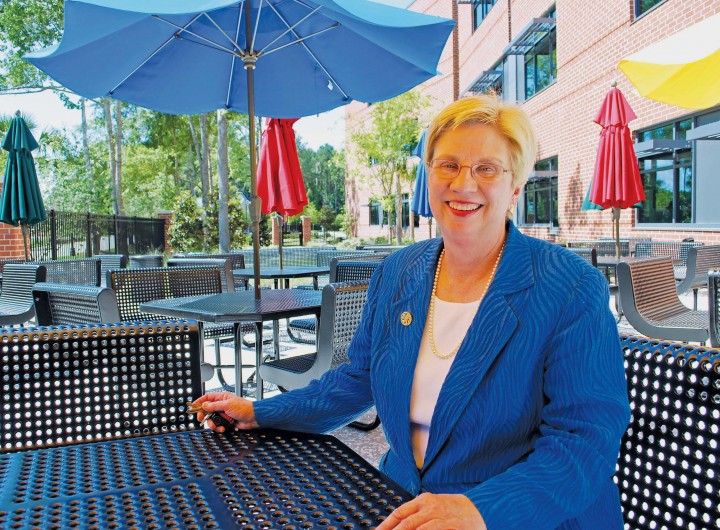 Lucy Beckham looks back on her past with great pride and forward to her future with an equal dose of optimism. During her 17-year tenure as principal of Wando High, the school more than doubled in population, claimed a myriad of state and national honors in academics, sports and numerous other areas and added the Center for Advanced Studies to its bustling North Mount Pleasant campus.
Now Beckham, who was cited as the National Secondary Principal of the Year in 2010, is leaving Wando High School behind and moving on to face another major challenge – sort of.
She didn't go far when she started her new job as executive principal of the county school system's District 2 – her office will be only a few hundred yards away from Wando's main building in the Center for Advanced Studies. She already has a wealth of experience that will serve her well in her new position. Her main responsibility will be to lead the team that determines what East Cooper's new high school will look like, which educational opportunities it will offer its students and how it will partner with Wando High School.
The yet-to-be-named school, slated to open in 2020, will be built at the former site of Wando High, where Mathis Ferry and Whipple Road converge.
When Beckham took the reins at Wando in 1998, the school had around 1,900 students. The current high school, built to accommodate 3,000 students, opened its doors in 2004 with 2,500. That number is expected to bulge toward the 4,000 mark when school starts in August. In addition to the main building, which is barely more than a decade old, and the Center for Advanced Studies, the current Wando campus is home to 29 trailers that have been hauled in to serve as classrooms.
"We were slightly overcrowded. Then we became horribly overcrowded," she commented. "We thought Wando would top out at 3,000 students, then drop back to around 2,800 and that would be its permanent size."
Beckham was tasked with doing something about the problem of too many students and not enough space. She was intimately involved in planning Wando's North Mount Pleasant campus – and, later, the Center for Advanced Studies – a job that prepared her for her current challenge.
"In 1998, I never dreamed we would grow to the point where we'd have a second high school. But we came together as a team. We created a vision for a large high school that would work well and serve the students," she commented.
Though finding enough space to fill the needs of 4,000 or more students might be a major issue, Beckham insisted that size also can be a great asset.
"Because the school is so big, we can offer incredible educational opportunities," she said. "Wando is a 21st century, cutting edge, hands-on learning high school."
She pointed out just a few out of the ordinary opportunities that have emerged for Wando students during her tenure: nine engineering programs; a nationally-recognized biomedical science program; a robust ROTC program; a highly-touted Fine Arts Department; 22 Advanced Placement courses; and programs in cyber security, auto mechanics and health sciences. Some of these courses are taught at the Center for Advanced Studies, which also features cosmetology and photography labs and a film and TV studio.
Under Beckham's tutelage, Wando High School has been different in other ways as well. For example, students are encouraged to take four elective courses toward a major.
"A small high school can't offer all this. They have one or two choices for electives. Our kids have many choices. That keeps them interested and more engaged in school. Wando has an individual graduation plan for each student."
Will the new high school offer every subject now available at Wando? Maybe, or maybe not, according to Beckham. She said that's one of the decisions a committee consisting of a diverse group of community representatives will help her make.
"Our greatest challenge is finding a way to have both schools be absolutely superior," she said. "The new school will expand opportunities in East Cooper. We need to make it work for the kids. We need to have more opportunities, not less."
So what is Beckham most proud of during her 17 years at Wando? Is it all those academic awards claimed collectively and by individual students? Maybe the state championships in boys basketball and soccer and girls volleyball and soccer? Possibly the accolades earned by the school's marching band?
All of the above are important, of course, but the success of individual students is paramount in her mind.
"I'm proud of our students and their journeys as they move toward graduation and beyond," she explained. "I'm always proud to see them succeed. With every opportunity we have offered, the kids have risen to the challenge."
She pointed out that in South Carolina, high school students need 24 credits to finish high school. The Wando High School class of 2015 averaged 31 credits. Another statistic that sets Wando apart from many other schools is that 63 percent of the students in the class of 2015 are on their way to four-year colleges, while another 31 percent will attend two-year institutions of higher learning. Two percent enlisted in the military, while the final 4 percent went straight into the workforce.
Beckham's new job description goes beyond planning for the new high school. She also will help East Cooper's elementary and middle schools study how subjects are taught from kindergarten through high school. And, for now at least, she'll continue to work with Interim Principal Dr. Sherry Eppelsheimer and the administrative team at Wando.
"Dr. Eppelsheimer will run the day-to-day operations of the school, but I will be here to help her," Beckham explained. "I'm still ultimately responsible for Wando High School this year."
"I am turning over the controls of the airplane, but I'll be close by to serve as the navigator in case there are any problems," she added.
Though she might have a few reservations about leaving the job she has held for 17 years, Beckham said she looks forward to playing a role in making both schools, new and old, outstanding places for students to thrive. With five grandchildren currently in Wando's feeder system, three on one side of town and two on other, she has a vested interest, both personally and professionally, in making certain both schools follow the example set by Wando.
"Mount Pleasant is my home. I feel like this is work I'm supposed to do," she said. "I really care about how this story ends, and I decided I wanted to be involved in it. This job is appealing to me because I want to make sure Wando High School continues to soar."
She answered a question many people might be asking at this point: No, she won't be serving as principal of the new school. For now, that's how this story ends.
Story and Photos by Brian Sherman.