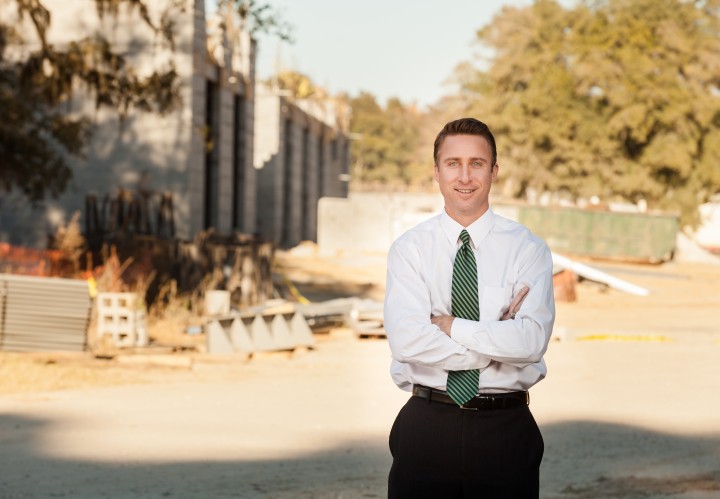 Eric DeMoura has never been one to shun difficult decisions. As a high school senior in Taunton, Massachusetts, he was drafted in the 44th round by the Boston Red Sox, the major league team he still adores. Instead of signing a professional contract and starting what might have been a long and uncertain journey from the low minors to Fenway Park, he chose to continue to play the game he loves and earn a solid education at the same time. He attended Clemson University on a baseball scholarship, worked relentlessly to earn a job as the everyday third baseman and helped the Tigers make two trips to the College World Series.
Though he posted a nifty .354 batting average during his senior season, DeMoura reached the realization that his future was not in baseball but in government. With an undergraduate degree in Political Science in hand, he continued his education at Clemson and earned a master's in Public Administration.
DeMoura still faces difficult decisions today. As Mount Pleasant's town administrator, his major challenge is to keep his adopted home from being overwhelmed by its incredible rate of growth. Working with nearly 600 full-time employees, the mayor and the town council, he must make hard choices that ensure that the town will be able to serve the needs of a burgeoning population while maintaining the quality of life that continues to lure new residents to Mount Pleasant.
To the 40-year-old DeMoura, growth is the most important issue facing Mount Pleasant, and careful planning is the key to easing the town's growing pains.
"People see Mount Pleasant as a place to meet their families' aspirations for a better life," he commented. "The other side is that we must act in ways that make sure we are maintaining the quality of life our residents and business owners are used to. Our citizens rightfully demand quality in everything from public education to recreational services."
Though he expects Mount Pleasant to continue to grow, with its population nearing the 100,000 mark in the next two decades, DeMoura insists that it won't look much different than it does now.
"You'll come across the Ravenel Bridge and see trees. That's what Mount Pleasant looked like yesterday, that's what it looks like today and that's what it will look like tomorrow," he said. "The fact that this community is still as beautiful as it is and the fact that people still choose to want to live and invest here is a success story. In five years, there will be more people and more buildings, but the character will remain because of the planning efforts of this town."
Planning has indeed been a high priority for Mount Pleasant since DeMoura took over for longtime Town Administrator Mac Burdette in October 2010. He immediately went to work implementing the town's long-term plan, a comprehensive vision of how the town should grow, and established a five- to seven-year strategic plan and an emergency plan, so the town will be able to react to emergencies such as hurricanes.
"Being strong financially allows us to weather unexpected ripples," DeMoura commented, pointing out that the town's bond rating was recently upgraded to AAA. "Our finances have never been stronger. If there is a hurricane, we can spend the money to respond. The people are counting on us."
DeMoura gave much of the credit for the town's continued success to his predecessor.
"Mac Burdette was one of the finest local government managers in South Carolina," he commented. "I feel lucky to have had the opportunity to learn from him."
In addition to long-term, strategic and emergency plans, DeMoura and the town's elected officials have established a Capital Improvement Plan, depositing more than $3 million a year into a fund that will help repave streets, replace storm water lines and pay for other projects necessary to maintain the infrastructure of a growing municipality.
"I'm proud of our council for addressing hard problems with our infrastructure," DeMoura commented. "That's important."
While residents of Mount Pleasant probably appreciate freshly-paved streets and better drainage, DeMoura has had to make more than a few unpopular decisions to maintain the town's fiscal integrity. For example, he changed the way Mount Pleasant was paying for health insurance benefits for retired employees.
"That was $12 million we didn't have," he explained. "We were as fair as we could be, but it was painful. Today we are fully funding all the promises we made."
Mount Pleasant drivers can expect to share some pain regarding traffic issues during the next year-and-a-half. Ground on several projects will be broken this year, but, when the dust settles and work is completed, town residents will have an additional fire station, a new park, a new city hall, an enhanced Memorial Waterfront Park and a good start on a third north-south road. In addition, seven or eight streets will be resurfaced and Coleman Boulevard will get a major facelift.
Here, according to DeMoura, is what Mount Pleasant residents can expect to see between the beginning of 2015 and the middle of 2016.
The land has been cleared for the town's sixth fire station. Located in Carolina Park on the north side of Mount Pleasant, it is scheduled for completion in September 2015.
Work is expected to begin on the second phase of Memorial Waterfront Park in mid or late 2015.
Design work will get underway soon on a 250-acre park on Rifle Range Road. A joint project with the Charleston County Park and Recreation Commission, it is scheduled for construction late in 2015.
Construction on the new city hall is slated to begin in March 2015. The three-story, 90,000-square-foot building will be located at the current municipal complex on Houston Northcutt Boulevard. When completed, it will bring most of the town's administrative services under one roof.
Hungryneck Boulevard will be extended to the northeast in two phases, first connecting Porchers Bluff with Hamlin Road. This section will be completed when the new Jennie Moore Elementary and Laing Middle schools open in August 2015. Later, the road will be extended to the southeast to Six Mile Road. At this point, Hungryneck, Sweetgrass Basket Parkway and Billy Swails Boulevard – all part of the same road – will go from the intersection of Highway 17 and Interstate 526 to Porchers Bluff.
Coleman Boulevard will get a new surface, curbs, gutters, much-needed drainage improvements and a landscaped median from Mill Street near Shem Creek to about a quarter mile past its intersection with Chuck Dawley and Ben Sawyer boulevards. In addition, the traffic lights at the intersection will be removed and replaced by a two-lane roundabout. The 16-month project is expected to begin in the spring or summer of this year.
All this will, of course, enhance Mount Pleasant's regional and national reputation as "a place were we work hard to do things the right way," according to DeMoura, who was county manager in Caswell County, North Carolina, and deputy mayor in his home town of Taunton before coming to Mount Pleasant as deputy director of administrative services in 2003. He was appointed deputy administrator of the town in 2006.
Working hard is nothing new to DeMoura. As a high schooler, he remembers trudging through snow in the middle of the Massachusetts winter to hone his baseball skills by hitting balls off a tee. And though he was a football and baseball star in high school, he arrived at Clemson to find himself surrounded by athletes who were bigger, stronger and more talented than he was.
"I was overwhelmed at the level of talent around me," he commented. "I'm proud of the way I worked to get to the level of being an everyday player at Clemson."
He's also proud of the town he now runs.
"We're known as a community that offers a high quality of life. We're not perfect. We make mistakes at times. But Mount Pleasant is a really special place. Communities like this don't just happen on their own. There are people who have to make it happen," said DeMoura, who lives in Mount Pleasant with his wife, Jamie, a native of Easley, South Carolina, and their children: Cally, 10, and Cannon, 6.
"I'm proud of our record the last four years," he added. "We've had a great record of accomplishment together. In government, no one does it alone. It requires partnerships with the town council, the mayor, our tremendous staff and our citizens."
By Brian Sherman.
Photo by Cassandra Michelle Photography.