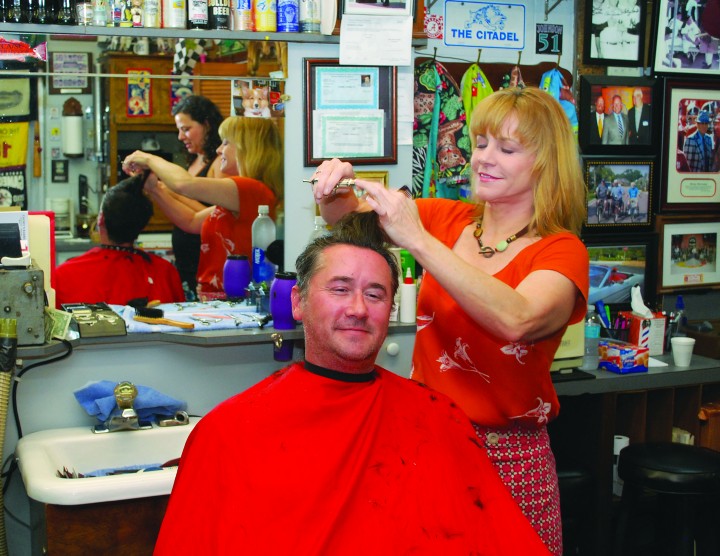 The traditional barbershop as we know it has only been in existence since the early 20th century, and Causey's at Sea Island Shopping Center in Mount Pleasant has been in business for just about half that time.One of the last remaining barbershops in the Charleston area, Causey's opened its doors in 1965 after Danny Causey, a electrician's assistant at the time, went for a haircut while nursing a scalp wound he'd picked up from an overhead nail while on the job. His barber suggested that a satisfying and potentially less dangerous living could be made by cutting hair. Danny didn't have to be told twice.
"I looked around. There were two old men playing checkers and my barber friend was listening to the radio and talking sports. I thought, 'Hey. I like all those things!'" he joked.
Soon thereafter, he and a partner opened their first tonsorial emporium on the site of a former trailer park where Ben Sawyer and Chuck Dawley boulevards now converge.
That partner soon moved on, but Danny Causey is still at it, along with his wife, two sons and one daughter-in-law. Though the Causeys have a second location in Mount Pleasant on Houston Northcutt and a third in North Charleston, their first Mount Pleasant store remains their flagship.
Anyone who has ever visited the original Causey's knows one long-time customer's observation is on the money: "It's like walking into Floyd's Barbershop on 'The Andy Griffith Show.'"
The chairs are all taken, and the waiting area is full as well. A TV natters softly on its stand. Newspapers and magazines cascade from side tables. College and pro pennants, sports memorabilia, odd trinkets, family photos and more festoon the four walls to the ceiling. Throughout it all, the clip of scissors and the buzz of shears blend with the familiar chatter of the customers and their barbers.
To one side stands a sister and brother, no older than 6 or 7, licking away at ice cream cones. Danny Causey learned early on that the way to convince rambunctious kids to sit still for their haircuts was "to bribe 'em."
He likes having happy kids around, but even more he likes to serve Citadel cadets, members of the military and senior citizens, offering all of them a generous discount.
"They're the folks who kept me in business when I first opened the shop," Causey recalled, pointing out that he decided to take a stab at barbering just as untold numbers of American men decided to grow their hair long and forgo regular trims.
A serious sports fan, Danny Causey lists among his favorite moments witnessing Jack Nicklaus win his last Masters and Tiger Woods his first, and attending scores of USC, Clemson and Braves games. He's even put together bus trips to Turner Field in Atlanta for as many as 200 of his friends.
On his bucket list is visiting the National Baseball Hall of Fame and Museum in Cooperstown, New York, which he'll do this summer when one of his favorite players, pitcher John Smoltz, is inducted. Another goal is to cut the hair of 10 men over the age of 100. He's barbered six so far, and his scissors are sighted on a seventh.
Asked to describe Causey's, Danny suggested, "It's like a social club without any dues."
Men, women and children are all welcomed and made to feel at home. Raised voices over religion and politics are neither expected nor tolerated. No reservations are taken, so the rule is always first come, first served.
Even as traditional barbershops slowly vanish from the American landscape, Danny Causey anticipates his family continuing his namesake business.
Asked if he'd change anything about his past 50 years – he's also been married to his wife for the same five decades – he answered, "I wouldn't have lived my life any other way." Floyd Lawson and the folks in Mayberry would be proud.
On Aug. 30, from 1 to 5 p.m., Causey's will reinstate its 1965 haircut price of $1.00, with all gratuities going to East Cooper Meals on Wheels and Windwood Farm Home for Children. First come, first served … of course!
By Bill Farley
Photo by Brian Sherman