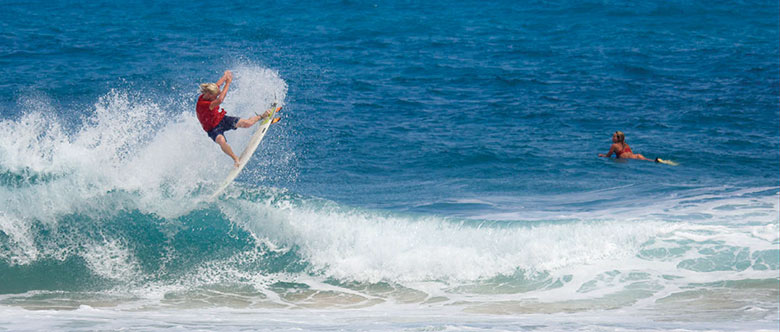 Quinn Knight, a Mount Pleasant resident, sipped casually from his Havana Mule (a Moscow Mule with tequila) and began to talk. His words seemed stress-free and comfortable, as if he had not just gotten off a nine-hour shift at the neighborhood Parrot Surf Shop. Comfortable in his own skin could be a classic cliché that would describe Knight. At his core, he's as free as they come. It's not a stretch to say that in what probably will be the first quarter of his life, he has traveled and experienced far more than most of us will in our entire lives.
The Early Years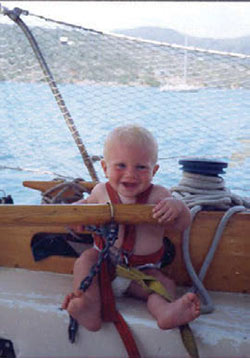 Quinn Knight was born in Minnesota, but, when he was just one month old, his family packed up their boat and headed down the Mississippi River. Later, they would sail across the Atlantic Ocean to their future home of Tasmania, Australia. The journey would end up lasting the first five years of Knight's life.
"I guess I was pretty much born a traveler," he said with a chuckle.
He spent his earliest days helping his dad spearfish and attempting to leap from the sailboat and into the deep blue sea.
"My parents became so annoyed that my dad constructed a harness to restrain me from jumping into the ocean as a toddler," he reminisced.
When he was a teen, Knight and his family relocated to Mount Pleasant. At the time, he was up-and-coming in the skateboard circuit and receiving much attention from sponsors. But one day while skating Knight fell and seriously injured his back.
"After about a year's worth of MRI procedures, I realized that I had a herniated disc in my spinal column," said Knight, attributing his love for surfing to the difference between falling into the water and falling on concrete.
Over the next few years, Knight saved money by working at Parrot Surf Shop whenever he wasn't surfing or in school. In 2013, he graduated from the College of Charleston.
"I had saved up some money at the time so I decided to take a trip," he explained.
Nicaragua: 18 Days
On his trip to Nicaragua, Knight tagged along with a few skate and surf buddies, including Big Wave Tour surfer Will Skudin. The group wanted big waves, and that's what they got.
"One day, when the surf was really giant, we paid local fishermen to let us use their Panga boat," said Knight.
The crew boarded the small fishing vessel and challenged a massive "9-foot shore break."
"It was mayhem," said Knight. "The locals were referring to the waters as 'mar feo' or 'ugly ocean' that day."
The surfers charged ahead through waves that were crashing over the boat.
"At one point our boat was literally vertical as we mounted a massive wave just before it broke. We almost killed ourselves that day," Knight remembered.
East Coast of the United States: Two Months
After Nicaragua, Knight spent a couple of months traveling up and down the East Coast, "sleeping on couches at friends' houses and friends of friends' houses," he said.
"That's what I really love about the skate/surf life. It's a community. Anywhere you go in the world, you can find skaters and surfers and make friends immediately."
Puerto Rico: Two-and-a-Half Months
The day after Christmas in 2013, Knight flew out of Charleston to Puerto Rico to meet a friend who runs a surf school and agreed to shack Knight up for a few days. He spent most of his time "bumming around" because the surf was "the worst waves in the history of Puerto Rico." But lack of surf did not mean lack of fun for Knight, who recalls stealing paddle boards from the surf school with a buddy and paddling over a mile off shore to go spearfishing.
California: One Week
"I pretty much just stopped in Cali to finagle a cheaper flight to Hawaii," he explained.
Kauai: Six Weeks
On Kauai, Knight met up with a friend he went to Moultrie Middle School with who now lives on the island.
"I was only supposed to be there for a couple days, and I ended up staying for a month-and-a-half," he said.
It became clear why he was reluctant to leave Kauai as he told tales of meeting surf icons such as Laird Hamilton and surfing secret spots that "he shouldn't have even brought up."
Oahu: One Week
"I was sleeping in a hostel on the North Shore and got ravished by bed bugs," remembered Knight. "I did end up getting the hostel at half price, so it wasn't all bad."
New Zealand: Three Months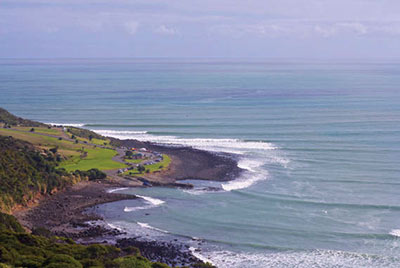 By the time Knight arrived in New Zealand, he had contracted a staph infection from the bed bug wounds. Despite his poor health, he insisted that he was still enjoying himself – chasing the surf up and down the New Zealand coast in a rental car, completely alone.
"I did get to surf New Zealand's most famous wave in Raglan," he boasted.
One morning, Knight woke up with a huge cyst on his neck and finally went to the doctor, who reported that he had 16 open wounds and a serious blood infection. Being quite ill and in a foreign country where he knew no one, Knight followed up a week of bed rest with a ticket to his home away from home.
Tasmania: Six Weeks
Once he reached his former home, Knight spent some time recovering and visiting with his "crazy uncle" and other family members. Realizing he would need to do a lot of traveling to visit all the surf spots Australia had to offer, Knight bought an old red Subaru for $150. With the help of a mechanic cousin and a few YouTube tutorials, he was able to get the car in running condition and take off by himself up the coast of Tasmania.
"That trip was very cold and lonely. All I ate were fish that I caught and some rice," he recalled.
Within a couple weeks, Knight made it to Davenport and caught the ferry over to Melbourne.
Melbourne, Sydney, Byron: Nine Months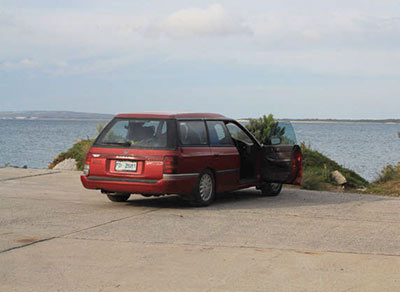 Once in Melbourne, Knight didn't waste much time hopping into his $150 Subaru and heading up Australia's East Coast along the Great Ocean Road. He would drive for days without seeing another car. As he approached Great Otway National Park, he drove over a hill and laid eyes on the biggest waves he'd ever seen.
"I stayed at that camp for three days just watching the waves. Because I was completely alone, I didn't even try to surf and risk drowning. I was just in awe watching the ocean," he said.
Knight then circled back around Australia's southern tip and headed to Sydney and on to Byron. On his journey up the West Coast, he woke up in unbearable back pain that was undoubtedly related to his former skate injury. He was laid up on a hostel couch for a month. Fortunately, he had the opportunity to hang with locals and make friends with the people of Byron.
"I ended up getting a job as a bus driver from a surfing friend I made," he said with a laugh.
On his birthday, two months after his back pain re-emerged, Knight bought a long board and took to the coastal Australian surf. One day later, he dislocated his shoulder while surfing.
"It was one of the worst pains ever because I was still in my wetsuit when it happened and was barely able to get my shoulder back into place," he grimaced.
Back on the Road and Home to Mount Pleasant!
Knight's journey continued when he received an Instagram message from a friend who wanted to take a road trip. Sticking to his cardinal rule – "never say no to an opportunity" – Knight agreed and they set off in his Subaru that he'd nicknamed the Red Dragon. The suspension was shot and every time they went over a bump in the road, a spark shot out the rear end.
"I'm always amazed when I think about how many thousands of miles I drove in a car that I got for $150," Knight said with a smile.
As afternoon turned to evening at the bar on Coleman Boulevard, Knight's stories continued to entrance me. He went on about picking up hitchhikers in the Outback, nearly running out of water, car troubles and a particularly crazy Aussie birthday party.
So how did it all end?
"Well, I sort of just ended up in Melbourne again because of car troubles. Then one day I broke my last surf board, shaved my head and went home."
Story by Cullen Murray-Kemp
Photos courtesy of Quinn Knight