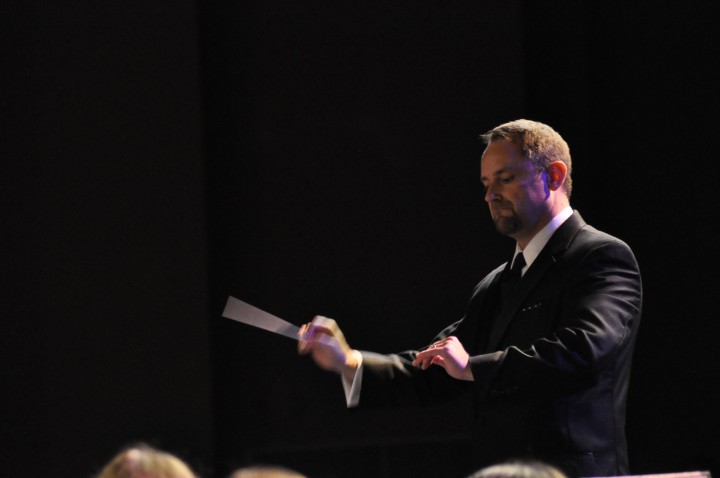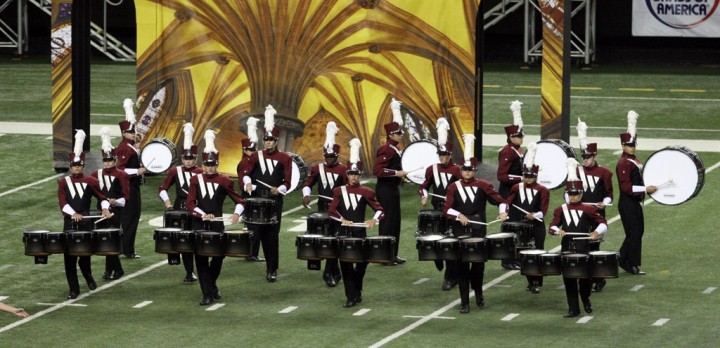 In his first year at the helm of the Wando High School band, Bobby Lambert has done his best to make his own kind of music without changing the direction of the school's award-winning band program.
Lambert arrived at Wando in July 2014, replacing Scott Rush, who held the position for 15 years before moving on to another district. The school's marching band was already on the national high school music map, having earned a spot among the finalists twice at the Bands of America Grand National Championships in Indianapolis. Lambert was well aware that a change in leadership can sometimes bring less than melodious results.
"Changing the band director can get really crazy, really fast," he commented. "Often when there's a new director, there are problems because there's a new way of doing things."
He added, however, that he and just about everyone else involved with Wando's highly-successful band program have survived the change at the top with flying colors.
"Once we were into the first month, parents, students and staff were open to what we were trying to do," he said. "We're successful in that we're all still here."
Lambert came to Wando from a school with a storied pedigree in the world of high school bands. A native of Cherokee, North Carolina, he earned his undergraduate degree in music education at Western Carolina University and his masters in saxophone performance at the University of Massachusetts. He landed his first job as assistant band director at Marian Catholic High in Chicago, which he said had "the most successful band program in the country."
Lambert left his mark during his 13 years at Marian Catholic. He was the director of and designed the curriculum for the school's leadership program, which touched the lives of the 240 students in the band and the entire 1,200-strong student body. He also directed the school's national championship marching band and the highly-decorated concert band. Lambert was honored as a Chicagoland Outstanding Music Educator in 2009 and was inducted into the Marian Catholic Fine Arts Hall of Fame four years later.
After 12 years as an assistant band director, Lambert felt it was "starting to become time" to take on another challenge. Talking with Rush at a band camp in North Carolina a few years ago, he learned that the longtime director might soon be leaving Wando. Lambert was interested, and, before long, he was packing up his family of four and leaving the Midwest for the Carolina coast.
The move east brought Bobby and Alysia Lambert and their two daughters, Maria and Olivia, now ages 6 and 3, closer to home – his parents live in North Carolina while hers are in Summerville. But there was another reason Lambert chose Wando to start "an exciting next chapter in my life."
"One of the draws of coming to Wando was that I'd be working with the great team that was already here," he explained, mentioning his associate directors, Lanie Radecke and Jeff Handel, as well as the directors at the three middle schools that feed Wando.
Radecke was the associate director of bands at Central Gwinnett High School in Georgia and the director of bands at Carolina Forest Middle School in Myrtle Beach prior to coming to Wando eight years ago. Handel was the percussionist for the Dallas Brass, which traveled throughout the United States, performing clinics for students from elementary school through college, before coming to Wando five years ago.
According to Lambert, the team would not be complete without the middle school directors: Jeff Scott and Emily Wilkenson at Cario: Nick Nafpliotis at Laing; and Marie Evans, who recently left Moultrie Middle School.
"They are the foundation of our band program," Lambert said. "We have such great middle school teachers and fabulous middle school directors."
Lambert admitted that he might face some pressure in taking over the reins of a successful band program, but he apparently has responded well to the challenge. The South Carolina All-State Band includes 59 Wando musicians, and 10 students earned national honors for the 2014-2015 school year. Morgan Skelley, Olivia Monty and Hunter Kane are part of the Honor Band of America; Spencer Shellnutt, Amelia Wingard, Emily Caron, Marissa Honig, Jeffrey Williams and Morgan Monty are in the Honor Orchestra of America; and Derek Burbage was chosen for the Jazz Band of America.
Lambert pointed out that all students in the program, 280 to 290 of them, participate in the marching band, and they also perform in other areas of the program, including the concert band, color guard, symphonic band and jazz band.
In addition to supervising all the activities of Wando's band program, the school's band director operates his own business, Lambert Leadership. He travels throughout the country, usually around one weekend a month, making presentations to high school and college band and music programs.
Lambert's duties at Wando include fundraising, which provides a large chunk of the band program's budget. In addition to selling items ranging from oranges to cookie dough, Wando hosts the Lowcountry Invitational, a competition for 15 to 20 bands. The Harmony Sponsorship Program, a partnership with local businesses, also is important.
"The businesses in Mount Pleasant have been incredibly generous," Lambert said.
And Wando High School's marching band has been incredibly successful, both before and after Bobby Lambert's arrival. In 2009, the first time the school competed at the Bands of America Grand National Championships, Wando was a finalist, claiming 11th place among 93 schools from 34 states. Two years later, Wando was 12th, and, in November 2014, under Lambert's tutelage, the school finished seventh in the nation.
During the coming year, Wando will travel to Jacksonville, Alabama, and Atlanta. Winning is not necessarily the ultimate goal, Lambert said.
"It's fun to compete, but the only thing we have control over is our preparation," he explained. "If we've done everything we possibly could, we've won, whether we finish first or 93rd. The pursuit is just as rewarding as the result."
_____________________________________________________________________________________________________________________________________
The Road to Musical Succes
Starts in Mount Pleasant's Middle Schools
Wando High School Director of Bands Bobby Lambert is well aware that the band's long-term success depends on the innate talent and hard work of his students, the enthusiastic participation of their parents and the undying support of the school administration and the East Cooper community.
He also knows that without the help of the band programs that feed Wando, that seventh place finish at the Bands of America Grand National Championships last November probably would have more dream than reality. The directors at the three Mount Pleasant middle schools, Cario, Moultrie and Laing, agree that their programs have been vitally important to Wando's march to the pinnacle of musical excellence.
"Wando really took off when the middle schools took off," said Jeff Scott, band director at Cario for the past 15 years. "You can't have a successful high school band unless the middle schools are just as good. As a team, we approach it from the ground floor up."
Scott knows how important feeder school programs can be. Prior to taking the job at Cario, he spent 12 years in Goose Creek, first at Sedgefield Middle School and then as the band director at the high school.
A graduate of the University of Kentucky, Scott chose music as a career because "I was good at it in high school and I grew up in a poor Appalachian town. Scholarship money goes a long way." He now heads up one of the largest middle school band programs in South Carolina, serving the needs of around 350 students.
Five years ago, Scott enhanced the musical experience for area middle schoolers by establishing the Cario Lessons Academy. Participating students receive private instruction from some of the Lowcountry's most accomplished musicians, including members of the Charleston Symphony Orchestra, college professors and local jazz artists.
Nick Nafpliotis, also a graduate of the University of Kentucky, is starting his 11th year as band director at Laing Middle School, where approximately 120 students are in the program. He credits Wando's success to "ownership."
"Wando is fortunate to have great directors and access to private teachers, but that's not enough to make a program great," he pointed out. "Mr. Lambert, Mrs. Radecke and Mr. Handel foster an atmosphere that makes the students take pride not just in themselves but in the organization as a whole."
"The students understand how their individual efforts can make a huge difference to the group's overall success," he added. "They have a chance to do something truly amazing every time they step onto the field if everyone is prepared and focused."
A native of Marietta, Georgia, Nafpliotis was a member of the highly-regarded Pope High School Band, and he cited his director, Gary Gribble, as an excellent mentor. After earning his undergraduate degree at Kentucky, Nafpliotis taught private lessons for a year in Georgia before taking his current position at Laing.
"I remember loving music in high school but also thinking it was just a temporary thing," he commented. "Then around my junior year, I started to realize that there was no way I could live without it in my life."
Mason Mumford is the junior member of Mount Pleasant's middle school music team. He started his first year as the band director at Moultrie Middle in August, after teaching music for seven years in Easley, near Greenville. A graduate of Furman University, his program will include around 150 students. His wife, Samantha, is the new assistant band director at Cario Middle.
Mumford said a major reason for their move from the Upstate to the coast was the reputation Wando and its feeder schools have established in the world of music.
"There are dedicated, hardworking and resourceful teachers, and a very supportive community as well," he pointed out. "We wanted to be a part of that."
"The work previous directors did is the reason we have Bobby Lambert here," Scott commented. "The reputation of the Wando band brings national attention when there's a job search."
"As middle school teachers, it means a great deal to us that our kids go on to something that successful," he concluded.
Stories by Brian Sherman.
Photos provided.